Instagram users are once again accusing Ukrainian influencer Elena Iwanickaya of animal abuse after she posted a picture on Wednesday of her tattooed Sphynx cat with the caption "Haters missed Yasha."
Yasha, the subject of the Instagram account @yasha_kot_ that has almost 5,000 followers, was tattooed in 2017. The tattoo is of the Egyptian god Anubis, the jackal-headed god of the afterlife. Instagram users in 2017 tagged PETA on social media and called the tattoo cruel. 
In response to the backlash in 2017, Iwanickaya said she had consulted a vet before getting the tattoo and had a vet present while the tattoo was done. "The cat's life is better than yours," the influencer said. "Maybe it is hell for you, but he feels just fine."
According to a 2017 Daily Mail article, Iwanickaya said the cat was put under anesthesia, and the tattoo went 1 to 2 millimeters into the upper layer of skin. "Right after the procedure, he behaved normally and started to go on with his normal routine," Iwanickaya said at the time.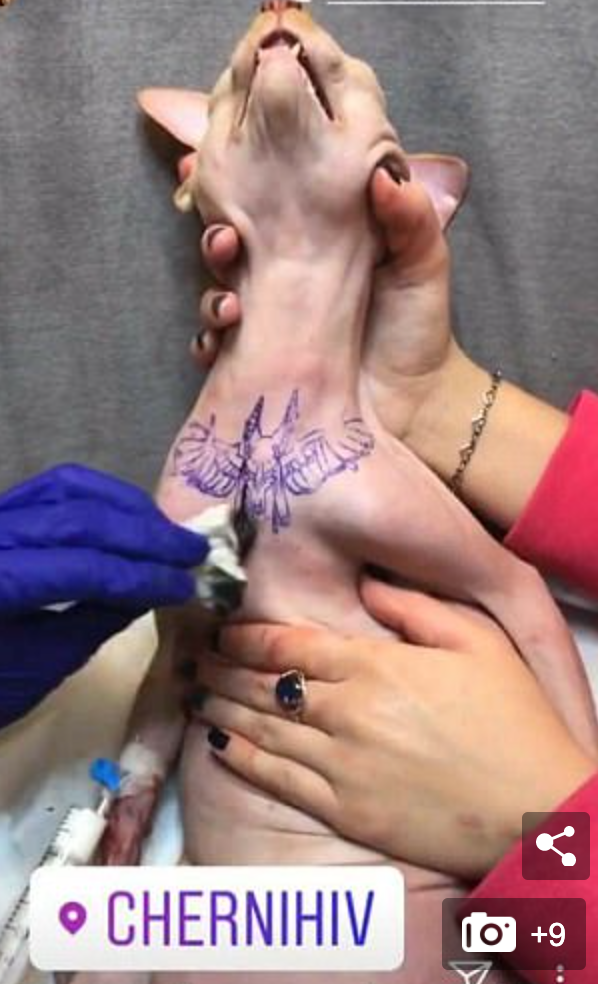 Three years later, Instagram users are still mad at the Ukraine fitness influencer and beauty coach, who has 72,800 followers on her main profile, @elenaiwt.
"Tattoos are for humans who have a choice of whether to do it or not!" user @stnwalkers commented. "Not a cruel instrument to beautify an animal! You are sick."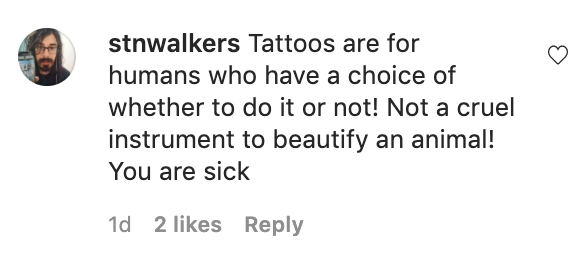 There is no law in Ukraine that specifically prohibits tattooing or piercing, but a 2006 law states that it is prohibited to "forc(e) animals to carry out actions which are unnatural for them and could lead to their injury."
In 2017, in response to accusations of animal abuse, police spokesman Natalia Chovpylo said, "If we establish that the animal was tortured, we will open a criminal case." Iwanickaya was never charged with animal cruelty.  
The U.S., however, has stricter anti-cruelty laws. In 2014, New York Gov. Andrew Cuomo signed a bill protecting the unnecessary harm of pets by prohibiting the piercing and tattooing of pets for cosmetic purposes. Exceptions include tags and tattoos for identification purposes or medical benefit. Any procedure would need to be performed by or under the supervision of a licensed veterinarian.
"While people can decide whether they would like to undergo the pain associated with a tattoo or piercing, animals do not have that luxury," said Linda Rosenthal, a sponsor of the bill. Rosenthal has also sponsored New York legislation to shut down puppy mills. 
According to Rosenthal's chief of staff, Lauren Schuster, Pennsylvania was the only other state to enact similar legislation.
The history of animal marking goes back to 2,000 B.C. when Egyptians marked cattle for proof of ownership, which was also practiced in the 16th century among Spanish explorers in the Americas. Today, the World Society for the Protection of Animals says identification is "an essential tool in the effective management of the owned dog and cat population" but that the chosen method of identification should be "the most humane and efficient of all available options." 
According to the organization, tattoo procedures are painful and can risk infection and disease transmission between animals. The site of the tattoo can take up to three weeks to fully heal, and the animal should be monitored for signs of excessive bleeding and infection.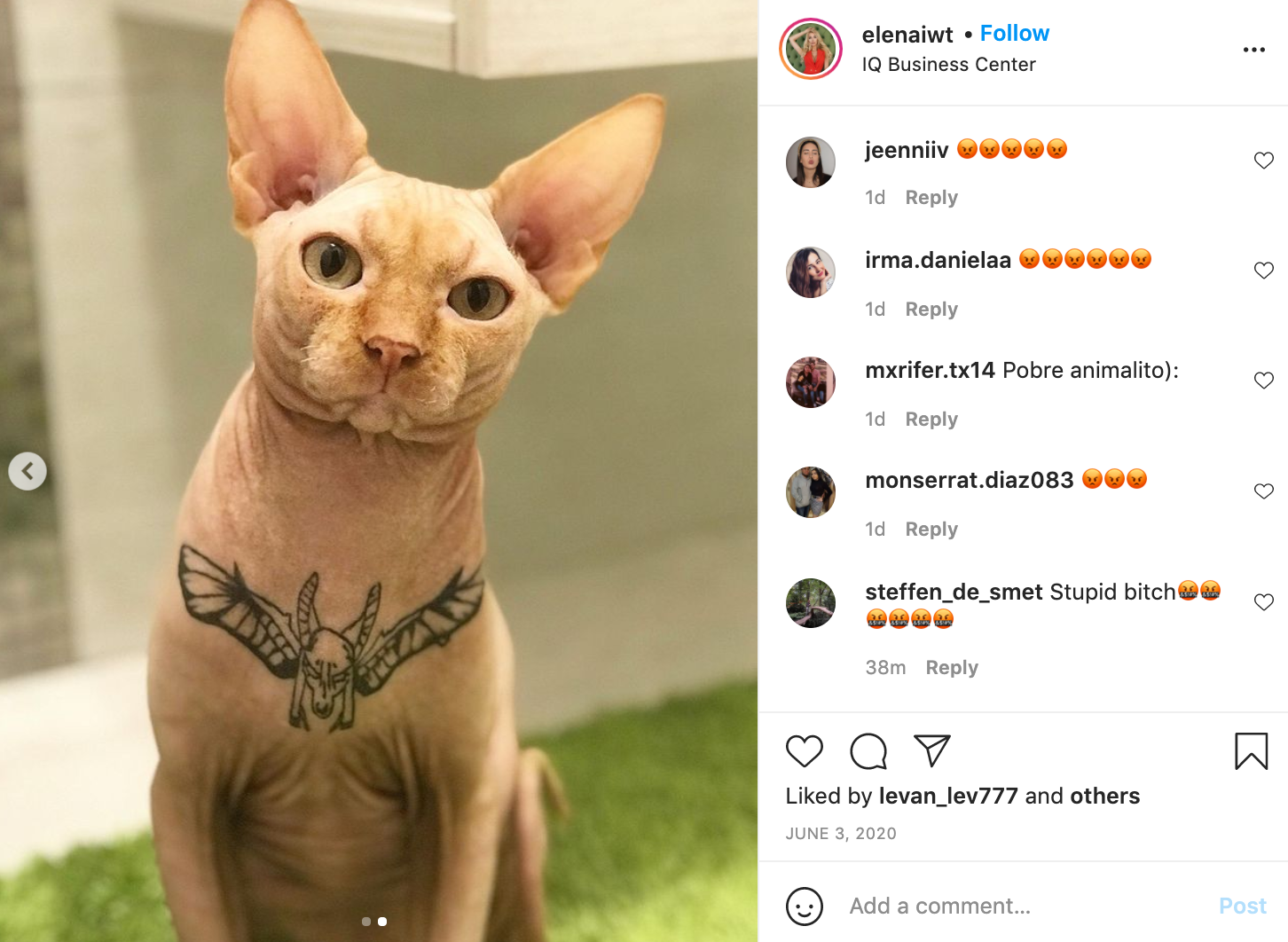 People on Instagram are angry that Iwanickaya gave her cat a tattoo for purely cosmetic reasons.
'"Too bad that despite having such a beautiful body, you will spend the little bit of brain tattooing an innocent animal to make it look 'glamorous,'" committed @payro_maria25.
By Friday afternoon, the cat's Instagram page was made private. Iwanickaya did not immediately respond to Daily Dot's request for comment.
---
Must-reads on the Daily Dot
H/T the Sun