Would you buy denim undies? No? What if they were available for the low, low price of $470 and came with a wedgie? Still no?
Well, the e-store SSENSE is promoting a pair of denim "shorts" from the Parisian fashion brand Y/Project on Instagram. "Two words: denim panties," it captioned the photo on Wednesday. Despite what SSENSE and Y/Project thought, these are two words that almost no one has ever wanted to hear together.
https://www.instagram.com/p/Bvedj9PA33i/
"This def ain't it ladies," wrote one Instagram user in the replies. "Chafing is great," wrote another.
The SSENSE site describes the strange article of clothing as "brief-style shorts," which is a fun way to say they're shorts the size of underwear. These aren't just briefs, these are cheeky briefs, leaving a frankly uncomfortable amount of butt exposed to the world. Not even in a prudish way—just imagine sitting on a public park bench in these "shorts." Even if you like the feel of high-cut underwear—something in a soft cotton or silk—those can often ride up in an uncomfortable way. The idea of experiencing that with a material like denim makes me want to pre-emptively put an ice pack on my crotch.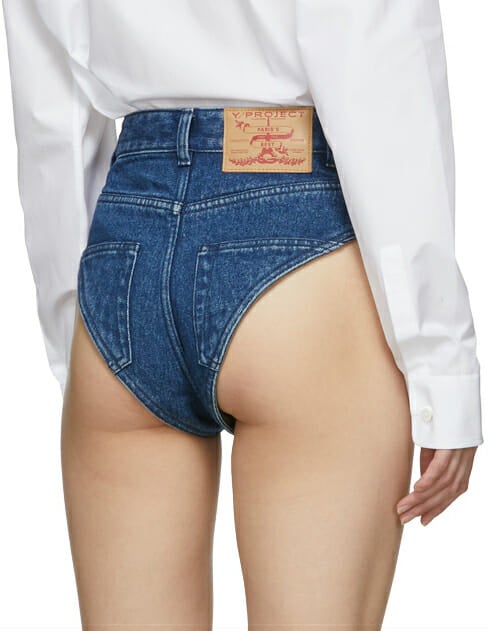 And you know there is no room in those pockets.
At least a little bit in on the joke, SSENSE shared the "shorts" on Twitter, calling them "janties" and saying that probiotics are not included. Even when served with a sense of humor, the janties still baffle the minds of many.
Some designers dont deserve the sewing machine.

— MAKOTI WESMANJE-MANJE (@lykable1) March 27, 2019
https://twitter.com/Whipped_Crim_54/status/1110939039618793472
What in the yeast infection hell is this?!

— Rockelle Price (@RockellePrice) March 28, 2019
If these denim briefs fit your aesthetic, there's some good news. They were originally listed for $470, but have since been reduced to $315, possibly in response to so many people saying they don't want them. If you wait long enough, they might even throw in a wedgie protector.
H/T Daily Mail