It was the tweet heard around the web.
On Saturday afternoon, the Portland Police Bureau tweeted a warning that quick-drying concrete was being added to milkshakes, presumably with the intention of weaponizing and throwing them, during a protest.
Police have received information that some of the milkshakes thrown today during the demonstration contained quick-drying cement. We are encouraging anyone hit with a substance today to report it to police.

— Portland Police (@PortlandPolice) June 29, 2019
The group that was giving away vegan milkshakes, PopMob, began receiving threats and online abuse.
"That cement milkshake tweet was like a death knell. We immediately started getting internet hate," PopMob spokesperson Effie Baum told the Daily Dot.
PPB's warning sent the far-right into a frenzy claiming that leftist activists, including PopMob, which formed to resist the alt-right, were hurling concrete at people.
There was some violence and milkshaking at the event, including the much-reported assault on conservative journalist Andy Ngo, which saw a small contingent of far-right demonstrators from Him Too and the Proud Boys vastly outnumbered by protesters.
PopMob handed out more than 700 milkshakes at their queer dance party/protest. Thus far, no one has made a credible claim of being hit with a concrete milkshake, nor falling ill or dying from drinking one. The organization has unequivocally denied the accusation.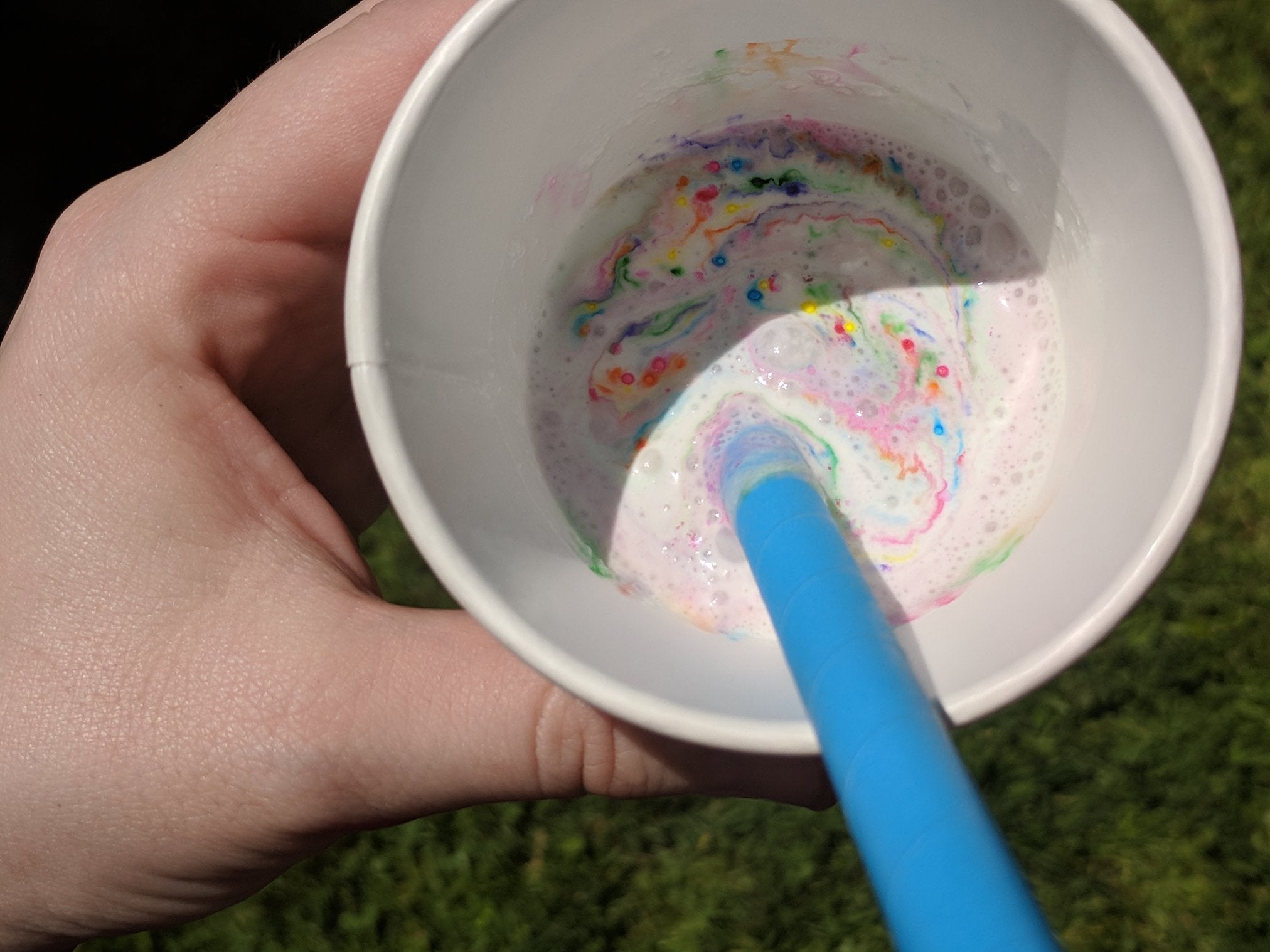 "If the police had a legitimate concern that we were serving milkshakes with cement in them, they were five feet away … could have done something to prevent people from having them," Baum pointed out.
Yet many have come to accept it as fact. It was even cited in an essay by Donald Trump Jr. today.
If police intended to unleash the far-right on PopMob, they succeeded.
Within a couple of hours of PPB's tweet, PopMob's social media was inundated with hate and attacks too fast to block and delete.
"We were told we should be put in a gas chamber … one of the more horrible ones was that cement should be shoved up our twats and harden so we can't have children," Baum said.
People have talked about shooting them; members of their group have been doxed; one person's parents received threatening phone calls. Some are afraid to go home. Co-ops that donated supplies for the milkshakes have been threatened with firebombing. Baum said attacks have come from all over the world.
During Baum's conversation with the Dot, a call beeped in. "It's probably a threat," they said.
Baum said enough of their attackers made the "patently false" accusation that PopMob had incited violence to convince the site they used to raise funds for milkshake supplies to pull their funding.
Portland police have been heavily criticized for failing to provide any tangible evidence, aside from an email it received after the tweet, of concrete milkshakes. It later admitted that its warning was based on a single officer concluding that the unnatural thickness of a spilled milkshake meant that it must contain concrete. Then it claimed that the officer had smelled something funny in it.
To date, the department has yet to retract or apologize for the post. The liberal activists believe that it is perfectly willing to go along with the far right's claims of victimhood.
"In Portland there is a long history of state repression of leftist movements," Baum said. Baum told the Dot that the police help sow disinformation in an attempt to demonize and discredit them.
They also noted that PPB has given them reason to be suspicious.
The department has long employed an officer who made a tribute to Nazi soldiers in a public park. Earlier this year, an officer came under scrutiny when texts between him and alt-right groups the Oath Keepers and Patriot Prayer revealed a relationship many viewed as unnaturally cozy. In recent weeks, an officer was exposed in a Reveal investigation for alleged ties to the Oath Keepers.
In light of these and other events, PopMob is among leftist organizations in Portland that do not trust the police to protect them.
"It is the police basically playing by the far right's playbook," Baum said.
In spite of everything, Baum said that the event was overall a success.
"We showed up with a positive event. We handed out delicious vegan milkshakes. We had a really good time."
READ MORE:
Got five minutes? We'd love to hear from you. Help shape our journalism and be entered to win an Amazon gift card by filling out our 2019 reader survey.