Grindr would probably be the gold standard for geolocationary gay flirting apps in the U.S., though it hasn't really caught on in China. More popular in that country is Jack'd, a Belgian equivalent known locally as jie ke di—which, as Al Jazeera reports, "literally translates to a place where a sex worker finds his or her John." 
Swiftly overtaking both platforms, however, is Blued, described as "the most professional" of dating clients. The startup behind it took in $3 million of funding earlier this year and recently announced that they've attracted 2 million users since launching in August 2012. Of that number, almost 70 percent are active on Blued at least once a month, and a whopping 24 percent log on every day. It's no surprise, then, that they'll soon roll out a lesbian version called Pinkd.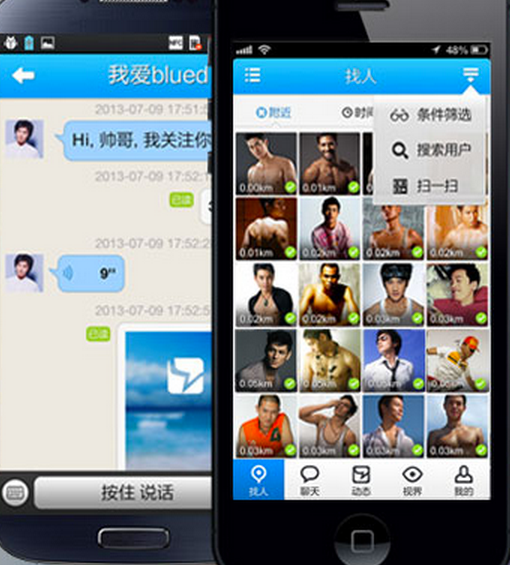 Blued offers the usual array of features, from chat and video to fun emoticons and even a sharing function; its CEO, Geng Le, also notes that its Android capabilities give it an edge over some international competitors. The entrepreneur estimated that China is home to 13 million gay men—which seems a bit low in a nation of 1.361 billion, or nearly a fifth of the world's population—and aims to draw 10 million of them into his network.
It's an optimistic figure, as the People's Republic has been slow to accept open homosexuality: consensual intercourse between two men or two women has only been legal since 1997, and homosexuality remained on the Ministry of Health's list of mental illnesses until 2001. Same-sex couples can't claim the same state privileges as married heteosexuals, including the right to adopt children, and positive portrayals of such relationships are routinely censored.
Further complicating matters is a surge in HIV/AIDS diagnoses that can be traced to sex. Not long before World AIDS Day, which falls on December 1, the Chinese government released alarming statistics about the city of Beijing's mounting "epidemic." The percentage of HIV infections resulting from sexual transmission doubled—41.5 percent in 2007, up to 96.7 percent in 2013—meaning drug use is no longer the leading cause of contagion there. Men who have sex with men accounted for 22.8 percent of the infected in 2007, but 69.1 percent this year.
Nevertheless, Geng is confident that a matchmaking app like Blued can be part of the solution, not the problem. For one thing, it takes some anonymity and danger out of a casual encounter. And while the state-owned Xinhua news agency expressed fears that app-facilitated flings could combat efforts at AIDS control, the Internet has also proved an invaluable tool for educating people on how to protect themselves. 
"If HIV/AIDS is an issue, it's because of bad sexual practices," Geng said. Either way, his software has surely resulted in a lot more one-night stands, both risky and safe alike.
H/T Al Jazeera | Photo by Scott Stafford/Flickr