When period underwear company Thinx released a new campaign last week, artist, musician, and "higher self" meme-creator Bunny Michael was shocked to find that the images resembled their own art.
Michael, who is nonbinary and uses they/them pronouns, created a side-by-side comparison of the images and posted their concerns to Instagram.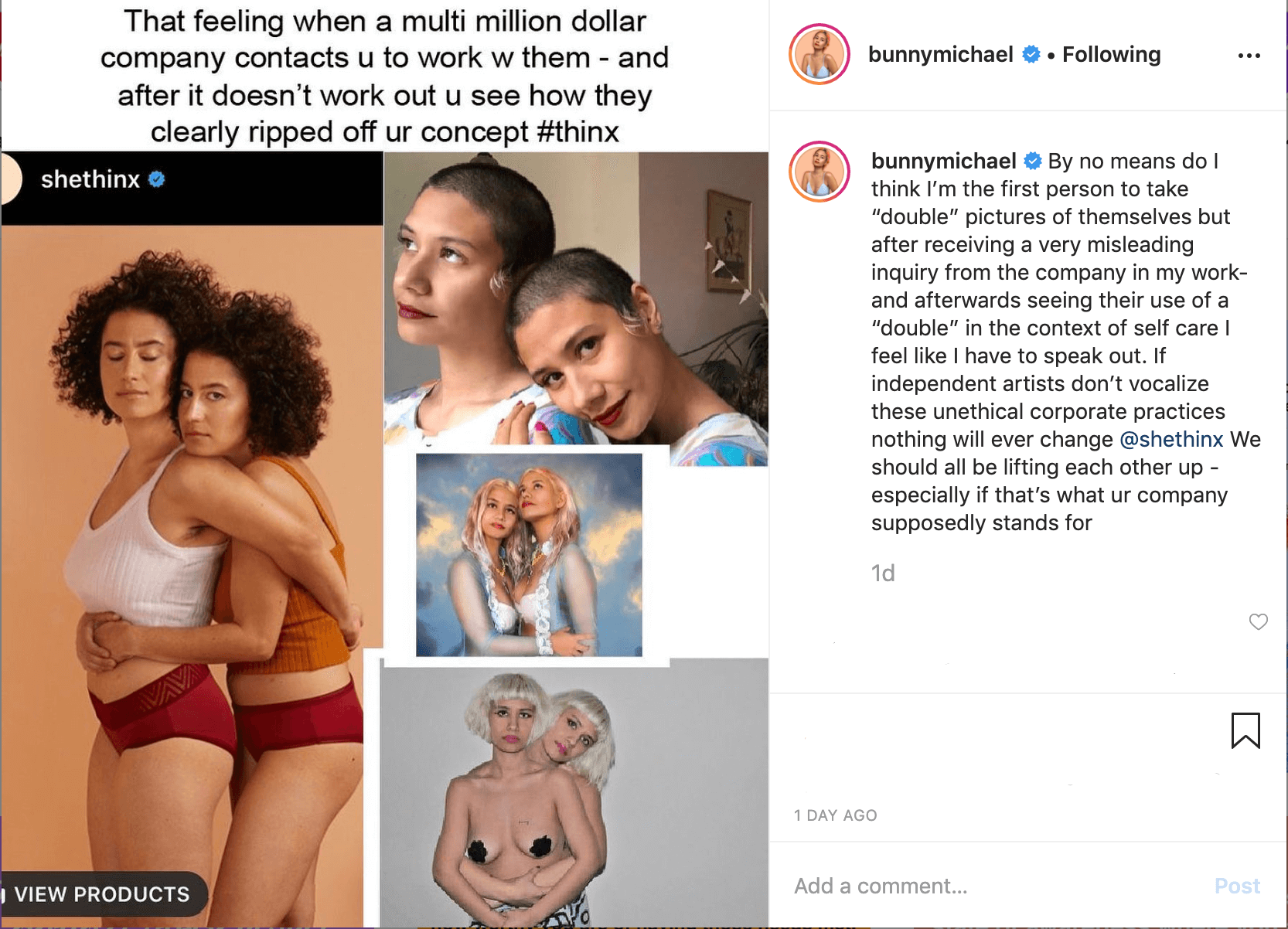 Thinx's photographs feature "doubles" of comedian Ilana Glazer promoting the company's Crimson line. In one image, Glazer relaxes on the sofa as her body double and triple serve her tea and cakes, all in red underwear. In another image, Glazer forms a massage train with her many selves. In a third image, Glazer embraces herself from behind while resting her chin on her other self's shoulder. 
According to Michael, the images closely resemble the signature concept of their own "higher self" memes, in which they use double-exposure portraits to illustrate the relationship to the self. Michael acknowledges that they are not the first person to create "double" photos but found the similarities alarming because Thinx reached out to work with them in April. Michael documented what happened in an Instagram Story. 
"[Thinx] knew my work, especially in the context of self-care," Michael told the Daily Dot.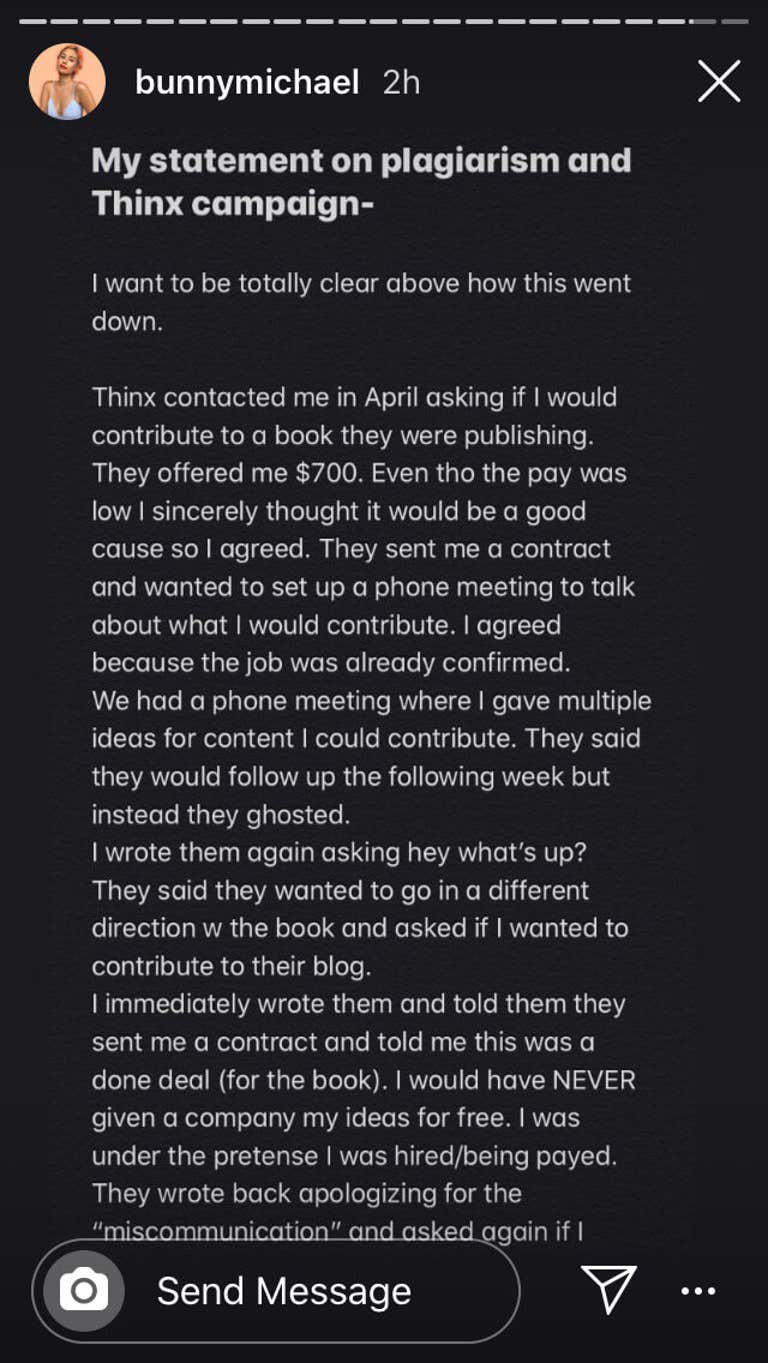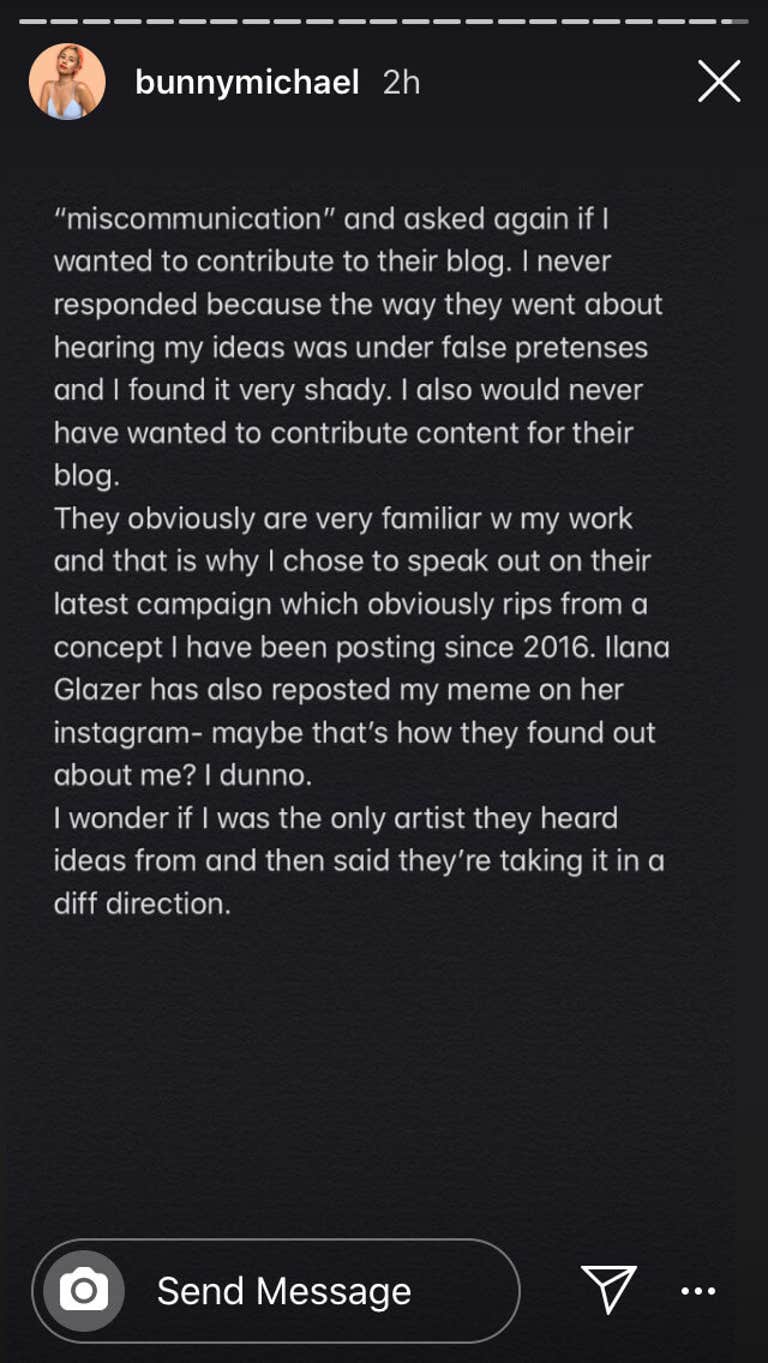 According to Michael, Thinx offered them $700 to be a contributor for a book project. Michael said Thinx sent a contract and coordinated a phone meeting, during which Michael shared creative ideas with Thinx employees. But Thinx failed to follow up on the meeting, and when Michael reached out again, they were told Thinx would no longer be doing the book project. The company invited Michael to write a blog for its website instead.
"I felt it was kind of shady," Michael told the Daily Dot. "I wouldn't have voluntarily given creative ideas to a company unless I knew that they had hired me." Michael expressed their frustration and Thinx apologized, again offering a blog assignment. Michael did not respond.
"It's an unethical practice that happens all of the time, and the more awareness and more consequences are built around it, the more companies will step back," Michael said. Since their post about Thinx, Michael has received tremendous support from fans and followers. They said they exchanged messages with Glazer, who had previously reposted Michael's memes. "She apologized," Michael said. "She was like, 'I'm gonna think about this and thank you for posting this.' She was very sweet and supportive and she always has been."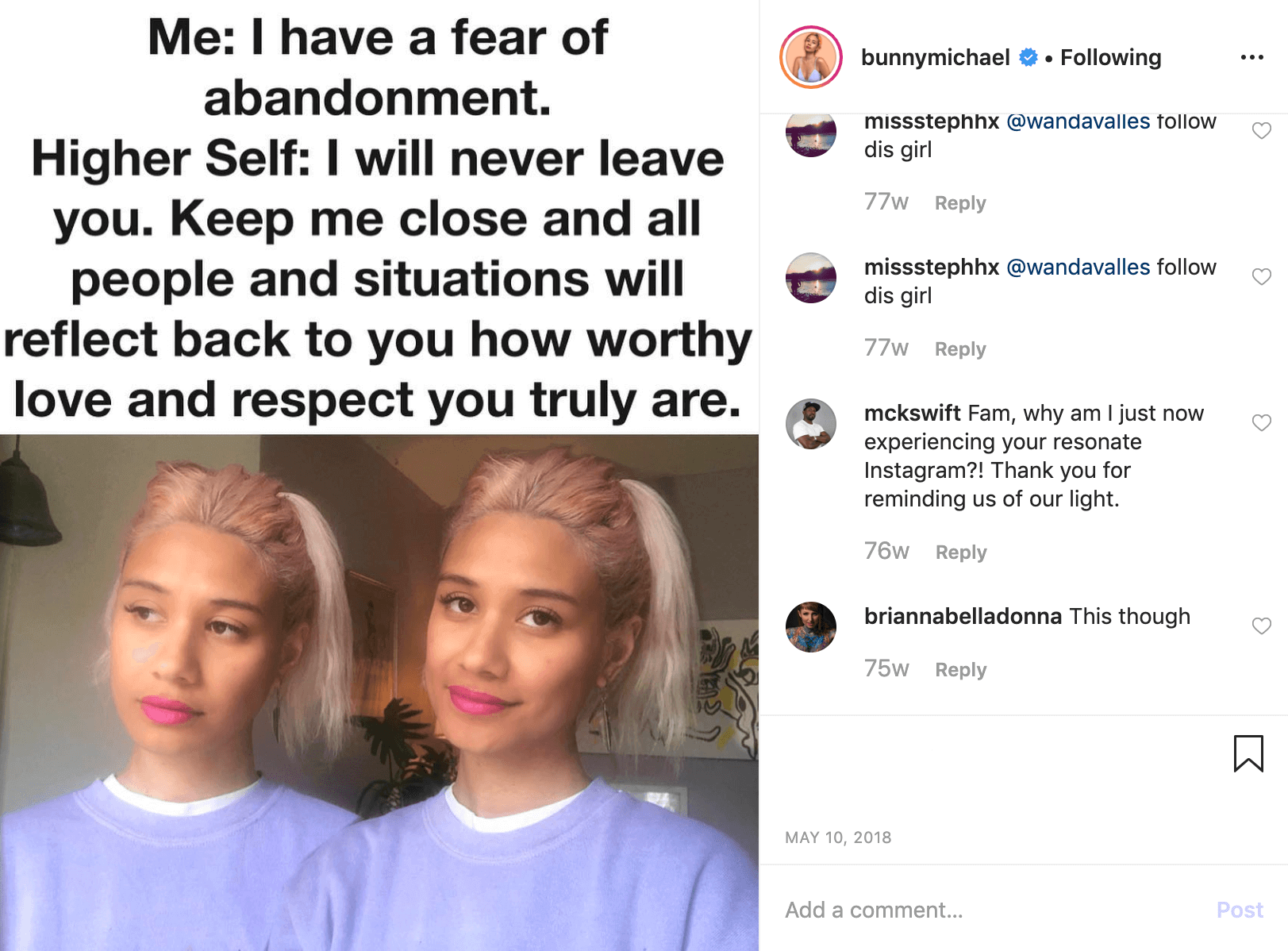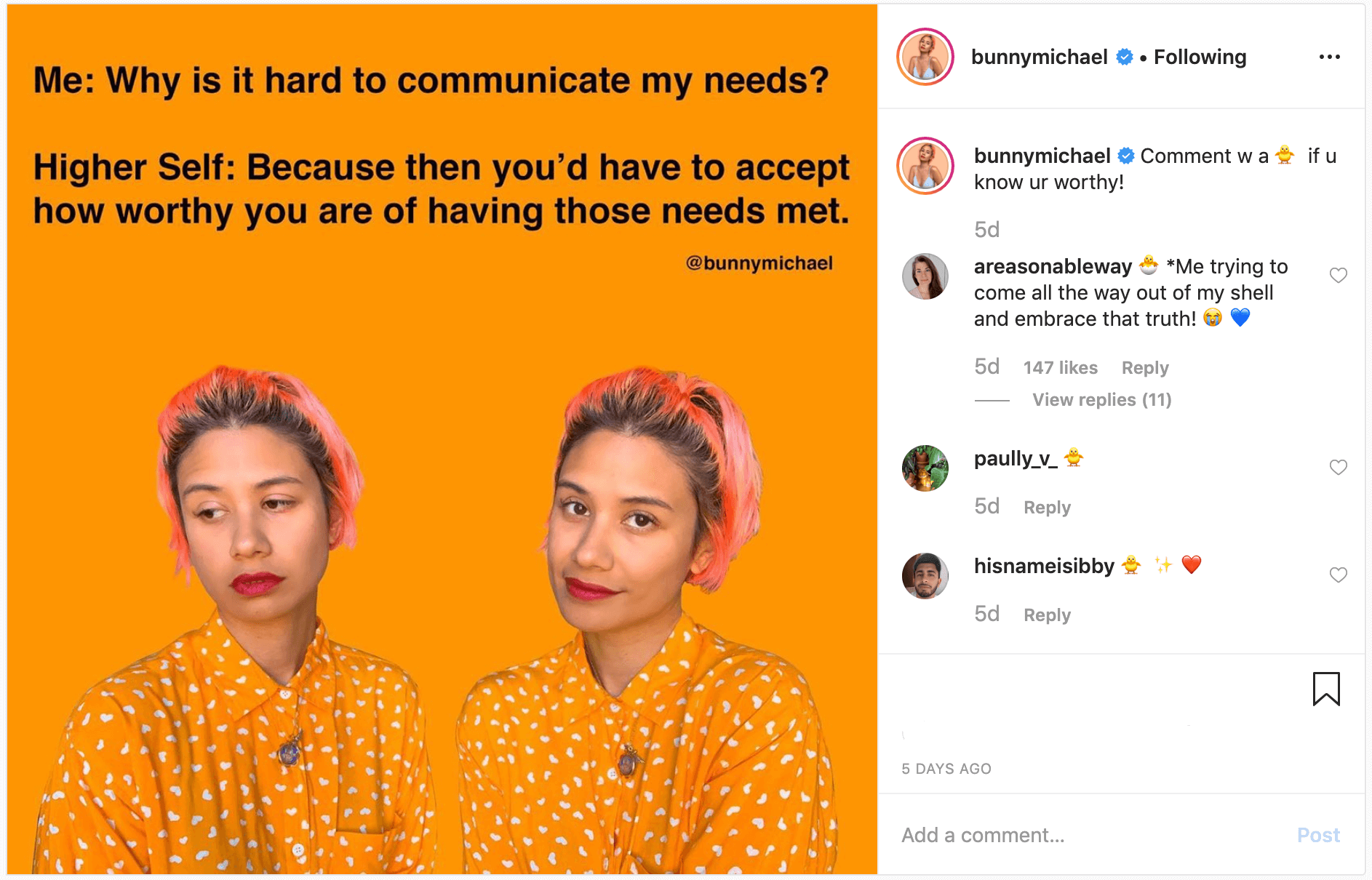 Update 6:50pm CT, Nov. 11: Thinx responded to Michael's accusations via email on Monday. It maintained that the campaign is not a plagiarism of Michael's work, citing the images with three and four Ilanas as key differences. Of their response, Michael said, "It's a bummer and I feel gaslighted."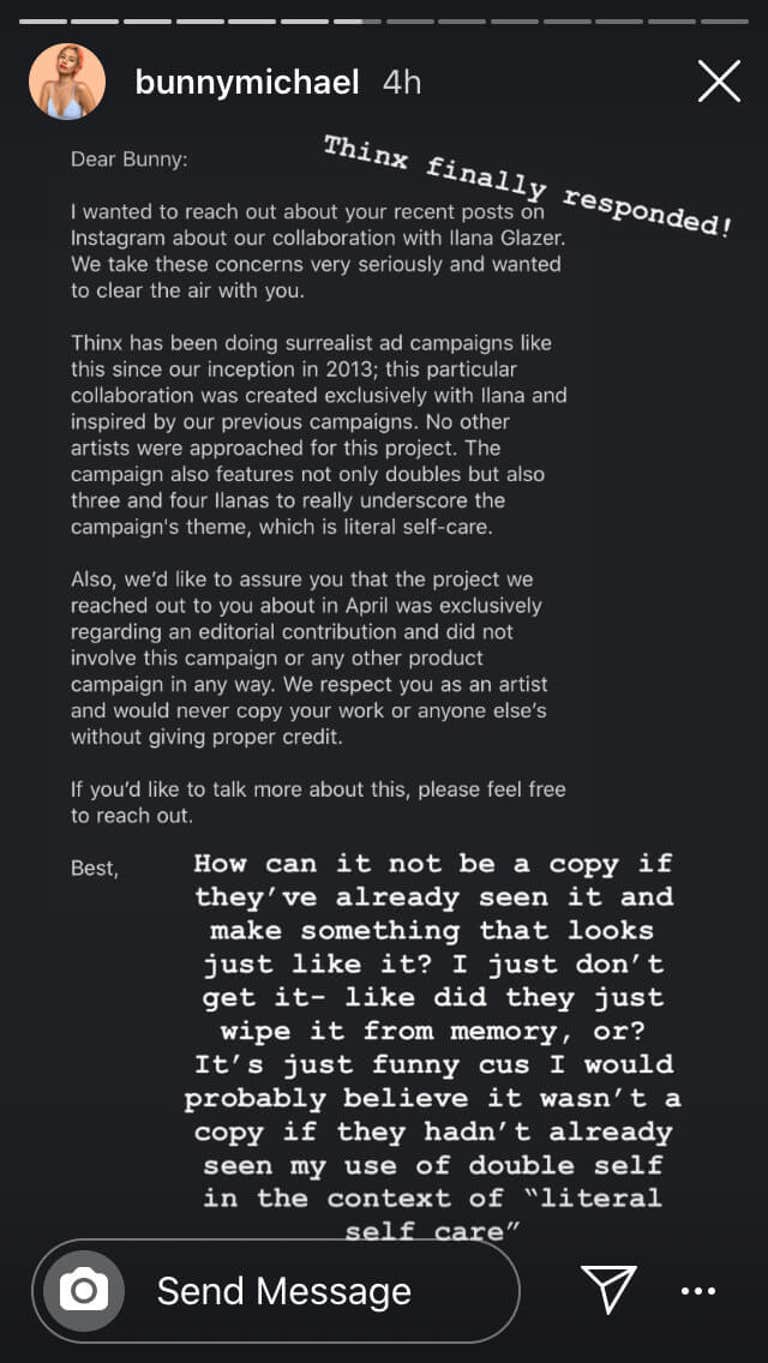 Michael has over 111,000 Instagram followers, including famed astrologer Chani Nicholas and artist Stephanie Sarley, who recently accused Miley Cyrus of plagiarizing her art. Michael has two self-published two books, Me and My #HigherSelf: A Book of Memes to Channel Your Inner Wisdom, and Love Notes from Your Higher Self.
"Finding your higher self is a process of remembering who you truly are and remembering your worth," Michael told the Daily Dot. Michael also noted that they don't have a problem with others expanding on the "higher self" theme. "I'm totally excited when people come up with their own 'higher self' content," Michael explained. "That's so cool to me. I love that it inspires other people's work."
However, Michael added, "When it comes to corporations that are not being forthcoming—especially when their values are supposed to be to uplift people like me, a nonbinary person of color, I embody what they're saying they support—I feel like that hypocrisy needs to be pointed out."
Thinx and Glazer did not immediately respond to the Daily Dot's requests for comment.
READ MORE: