Breastfeeding is among the most natural behaviors a human can do, but that doesn't stop women from being harassed or shamed for nursing their babies in public. So when she was asked to "cover up" while breastfeeding, one mom decided to push back with a hilarious response.
https://www.facebook.com/photo.php?fbid=10215738847691566&set=pb.1454539318.-2207520000.1533674948.&type=3&theater
"A friend's daughter-in-law was told to 'cover up' while feeding her baby, so she did… I've never met her, but I think she's AWESOME!!!" family friend Carol Lockwood wrote in a Facebook post. "I'm SO over people shaming women for nursing!!!"
The picture shows Melanie Dudley, a stay-at-home mom of 4-year-old twins and one 4-month-old from Austin, Texas. In an interview with Yahoo! News, she explained that she was vacationing with her family in Cabo San Lucas, Mexico, when she was asked to cover herself while breastfeeding.
"I'm usually discreet, but we were seated in the back of the restaurant," Dudley told Yahoo! News. According to Lockwood, the weather was above 90 degrees and humid that day.
When a man approached her, asking her to cover up, she did just that. She asked her husband to hand her a cloth, and she put it on top of her head for him to take a picture. Her witty response has gained over 100,000 reactions and almost 200,000 shares on Facebook, most of which are supportive.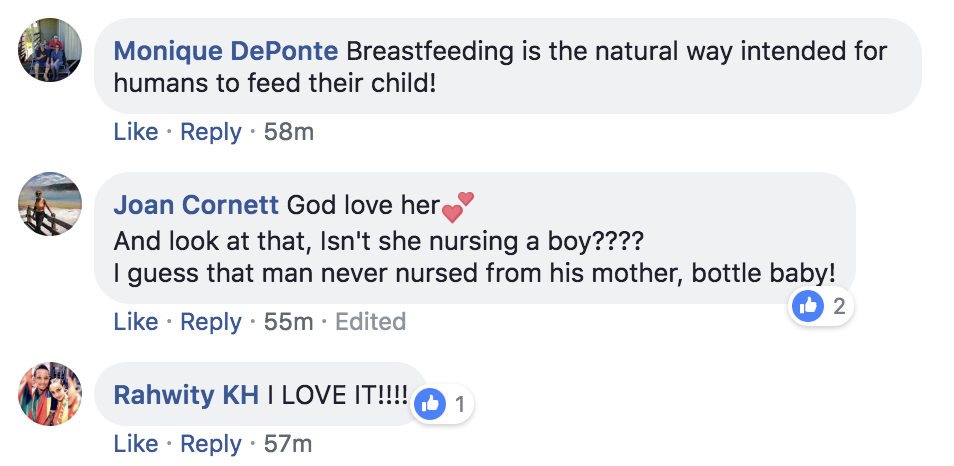 Maybe next time, men will think twice about asking a woman to "cover up."
H/T WCNC
---
Get more weird internet in your ears. Introducing 2 GIRLS 1 PODCAST:

Alli Goldberg and Jen Jamula (two actors who perform bizarre internet content on stage) have hilarious and humanizing conversations with Bronies, top Reddit mods, professional ticklers, video game archaeologists, dating app engineers, adult babies, cuddling specialists, vampires, Jedi, living dolls, and more.
Here's an episode you might enjoy:
Or subscribe to 2 GIRLS 1 PODCAST in your favorite podcast app.
---