"Dayum!" "#BlueRidgeGirls" "#HumpDay!"
These were the three captions in an Instagram story written next to rears of women exercising at Blue Ridge CrossFit in Fletcher, North Carolina—a video that's since received massive social media backlash for appearing to sexualize the gym's female members.
According Fletcher ABC affiliate station WLOS, Blue Ridge CrossFit gym owner Tom Tomlo allegedly posted the video to the gym's Instagram story on Friday. It featured a morning workout session in which female gym members in stretchy, black workout pants bent over and did various exercises.
Next to the women's bottoms (which were not censored with the black circles seen in the article art above) Tomlo had written the three phrases with a peach emoji and smiley emoji with star eyes near the first person's rear; more peach emoji, a smiley emoji with sunglasses, and a "rock on" hand emoji near the second; and a winky face emoji with its tongue sticking out near the third.
The video has since vanished from the story, as story posts only remain uploaded for 24 hours unless otherwise directed by the poster. Tomlo, a former U.S. Marine who co-founded two other CrossFit locations, told the news station that the comments were supposed to be "lighthearted and fun."
However, another member of the gym didn't find his comments on women's rears so exciting.
The member, who hasn't been named, took screenshots of the Instagram story video and posted them to Blue Ridge CrossFit's Facebook page, with the caption, "This is not okay."
It makes sense as to why someone might feel uncomfortable seeing gym members exposed in such a manner—the photos are detailed, showing sections of the women's rears behind the fabric as it's pulled and made sheer when they bend over. Additionally, "dismembered" imagery, such as advertising that focuses on a women's legs, her breasts, or her torso, without showing the woman's face, is often used to objectify and dehumanize women, stripping women of their visual agency to be a complete person and instead being used however the audience sees fit.
Though Tomlo says that the women in the videos gave him permission to take them, none of these women have come forward or confirmed their active participation in the post with WLOS. Additionally, while WLOS reported that the video was shared on the gym's Instagram account, some critics allege the video was posted to Tomlo's personal account. There is no identifying account information on the screenshots of the video to confirm which account the video was posted to.
Tomlo's "lighthearted and fun" demeanor all but vanished when he posted his initial response to the criticism, writing that the critique was "bullshit" and that the poster must have "lost [their] fucking mind." He also took issue with being called out in public and told critics they could meet with him privately or find another gym.
"…Some people chose to get butt hurt today and make a public post in this group…You must have lost your fucking mind if for one moment you think this is a platform or community for you to create some bullshit like that…I do not play those games and we do not acknowledge that type of petty, feeble minded garbage," Tomlo wrote. "Creating some sort of delusional and ignorant drama is not your option here…BRCF is a world of reality and and (sic) build with positive minded, forward thinking, rational human beings and it will stay that way."
While the initial post and Tomlo's response have seen been removed from the gym's Facebook page, a North Carolina resident had taken screenshots of both the post and response, and posted them publicly on the platform.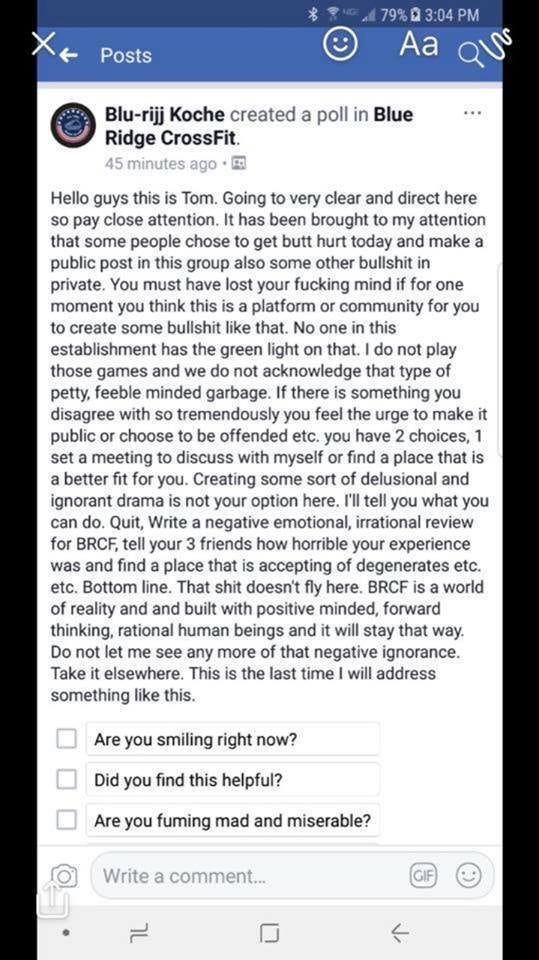 The post has since been shared more than 200 times, while others have taken these screenshots to share on Blue Ridge's Facebook page, as well as on positive reviews. Hundreds of more people have left one-star ratings on the gym's Facebook and Yelp pages, citing Tomlo's post for their reaction. The gym has reportedly also lost members and coaches because of the video and reaction, according to a former member who left the gym on Friday after being a member for three years.
"I hope CrossFit takes note of this disgusting behavior. These women at Blue Ridge CrossFit had their picture posted in a sick and objectifying way and then were lambasted by the owner, Tom Tomlo, for speaking out," the poster wrote in a post sharing the photos. "The rest of the CrossFit community has your back, ladies. Speak up, speak out. We are stronger together."
In an interview with WLOS, Tomlo said the images were taken "out of context," and that he didn't mean to offend anyone, but that the responding vitriol is a "misunderstanding."
"We do pictures of guys' butts around here, we have an informal loving family and it's not a negative thing," Tomlo said. "We were having fun. We were videoing, talking about booties that day."
A scroll through Blue Ridge CrossFit's Instagram accounts and Tomlo's two personal accounts show no videos or photos "focused" on male or female rears. The Instagram story currently on Blue Ridge's account shows two people exercising as a baby watches them from a distance, but does not focus on either person's behinds.
"I can't control the way this is being portrayed, and I'm regretful for it," Tomlo said. "I feel horrible that people would feel that I would look at a woman that way and do something that would be purposefully demeaning of her."
While WLOS asked Tomlo to contact the women in the video to speak with the news station to confirm they consented to the videos and the additional phrases and emoji added to the post, Tomlo hasn't contacted the station. Tomlo and the CrossFit national organization haven't responded to request for comment from the Daily Dot, either.
Update 2:50 CT, Jan. 17: In Tuesday evening's news broadcast, WLOS shared an interview with Amanda Turlington, a former gym member and one of the women in the video posted by Tomlo. In the clip, Turlington said she didn't know Tomlo had been filming her at the time and didn't approve for him to use her body in the video in that manner. She said she doesn't go to the gym to be sexualized, or have her body on display. Turlington also said this wasn't the first time Tomlo had posted content like this to the Instagram story and has previously posted videos of Blue Ridge's 6 a.m. classes with the hashtag "#morningwood."
"What my hope is with the video is that it's showing especially women in a strong light. That strong is beautiful… That's what I want coming to the gym and being on the Instagram story to be," Turlington said. "But when you show women in vulnerable positions like that and sexualize it with hashtags and various inappropriate emoji, you're taking a strong athlete and demeaning her to a piece of meat, and that is something that I will never be OK with."