Big Earl's Bait House and Country Store in Pittsburg, Tex. makes its stance pretty clear with a sign outside the restaurant: "Welcome to Big Earl's, where men act like men, women act like ladies." However, two men recently discovered just how that's enforced.
On Tuesday morning, Collin Dewberry and his partner Kelly Williams ate breakfast at the establishment. As they were leaving, the waitress, who is also owner Earl Cheney's daughter, allegedly told them they would not be allowed back in the restaurant. Their offense? They were apparently rubbing legs.
The owner told KLTV that the men had been harassing his daughter: "She's a young lady, didn't know what else to say, and they just kept on and she finally said we just don't like fags."
Soon after the story broke, the reviews on Big Earl's Yelp page started to look a bit different. While some patrons stepped in to declare their love of Big Earl's and their "family" values, those protesting the restaurant's policy flooded the page with their own messages.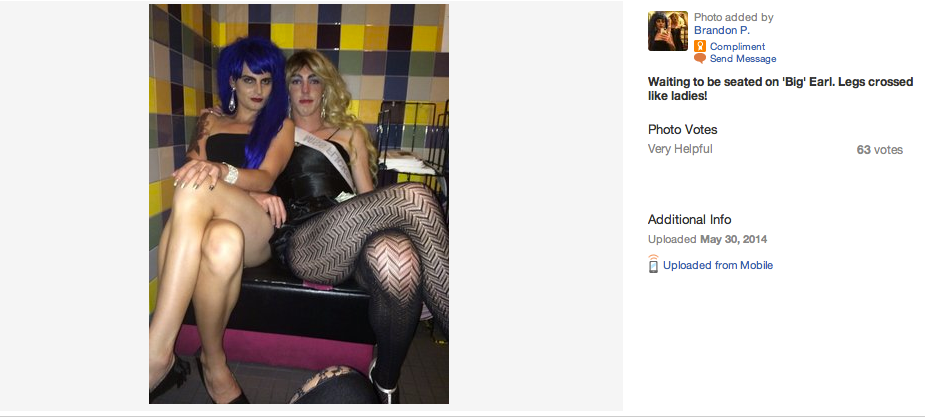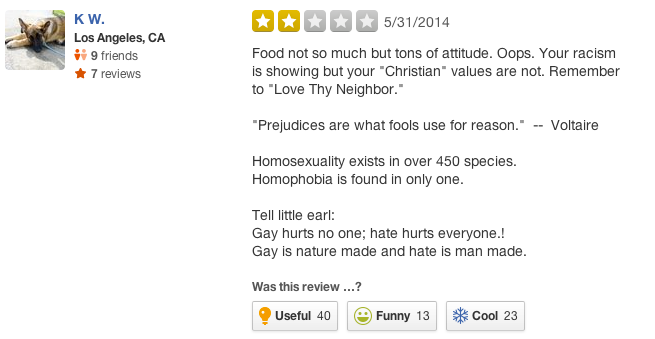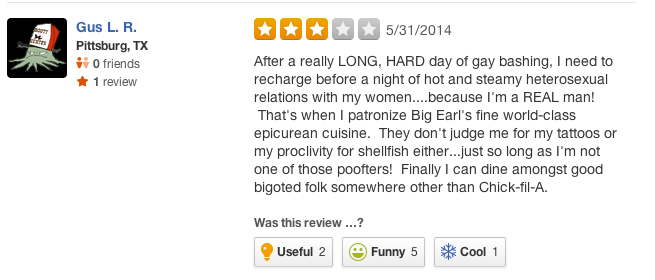 This isn't the first time Yelp has been used to mock bigoted restaurant owners. Back in February, an Oklahoma restaurant faced a similar critique. 
Big Earl's Facebook page also took a hit, as the outraged left hundreds of one-star reviews and, as on Yelp, touted the restaurant as a gay bar. Members of the Texas LGBT community are apparently planning trips to the restaurant, and Christina Cheney, Earl's daughter, said they're "aware that they are attempting to come out here. We're ready for them; we have informed the Sheriff's department and the state."
In response to the outcry, Big Earl responded on the restaurant's Facebook page. However, it looks like they probably won't be changing their stance anytime soon:
"The numerous phone calls received tonight from people that feel the same way we do has been outstanding. We have new customers due to the news story, and will continue to feel the same way."
Photo via rottnapples/Flickr (CC BY 2.0)