A New York man claimed to kill and decapitate 17-year-old female gamer Bianca Devins before posting photos of the gruesome murder to her Discord account.
Police in Utica, New York, are investigating the homicide of a 17-year-old who has been identified as Devins. According to multiple Twitter threads, the victim went by @escty on Instagram and her suspected killer, Brandon Clark, was on Instagram as @yesjuliet. A man claiming to be Clark posted photos of Devins' decapitated body on her Discord channel and some variation of the photos on his Instagram story.
According to local news reports, Clark was admitted to the hospital with lacerations after he himself called 911 following the homicide. Devins' body was discovered on Sunday morning.
A woman named Chels, who did not want to share her last name, told the Daily Dot she knew Devins for three years and said that the slain woman in photos circulating online is Devins.
"I learned about her murder when the attacker posted it to her Discord server," Chels told the Daily Dot via Twitter messages. "I was able to confirm it was bianca the moment i saw her nose and eyebrows. they are pretty distinct features."
Chels says she knew Devins through Discord and that they connected over their mental illness. She shared screenshots with the Daily Dot of a group chat on Discord where both Chels and Devins participated. In the chat group, when one user asked "bia" who was coming to the concert with her, user "bia" responded, "My friende [sic] brandon he drives."  
"I was asking bia for something as she was talking about how brandon was driving her to the concert," Chels confirmed. 
In the immediate aftermath, misinformation proliferated on social media. Local news outlets reported, without initially identifying the victim or the homicide suspect, that it was a "domestic incident" and Devins was Clark's "ex-girlfriend."  
Amid rumors that the two met on Discord, Devins' sister wrote on Instagram, "it wasn't just an 'internet boyfriend' this was a close family friend whom we've met and trusted so much. I do not want false information being spread around." 
Chels told the Daily Dot that Clark was a friend who Devins "knew irl" and that he had met Devins' mother. 
Instagram confirmed with the Daily Dot that @.escty belonged to the victim and said in an email, "We disabled the @yesjuliet account for violating our policies. We have also taken steps to prevent others from re-uploading the content posted to that account to Instagram."
Even after Clark's account was disabled, and while condolences poured into Devins' account, fake accounts cropped up offering to share the photos of the murder. By early afternoon on Monday, the Daily Dot reviewed at least five accounts that offered to post photos of the murder. 
Asked their purpose in sharing the photos, user @yesjuliet_photo1 told the Daily Dot, "Someone sent them to me and I want to show the people because some of them are curious of what happened with the murder."
Other accounts were explicit ploys to gain followers. "Will post photos at 5k," reads the bio of @yesjulietphotos.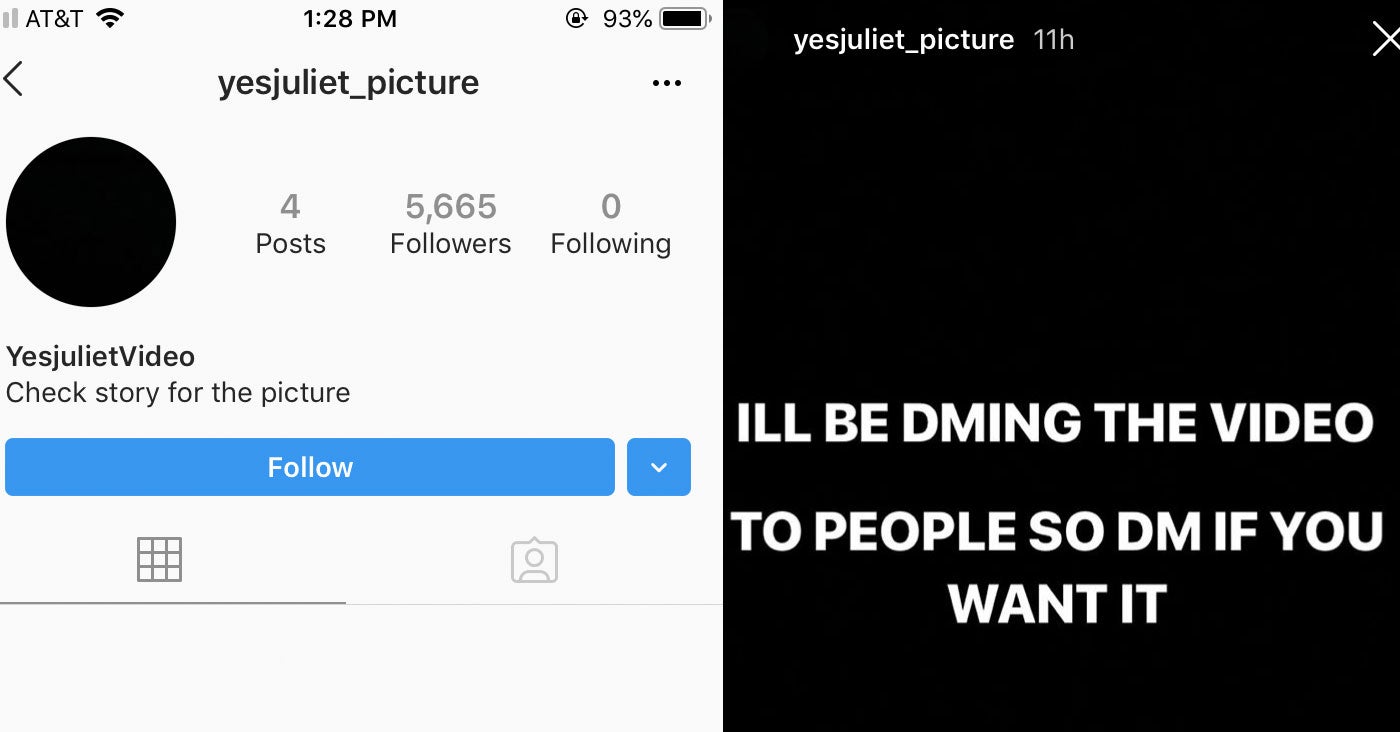 Meanwhile, a Twitter thread by controversial gaming reporter Ian Miles Cheong offered an exhaustive account of the killing based on Discord posts.
He hinted at his intentions on Instagram under the username @.yesjuliet in stories that have since expired.

There is a short news report of the murder. The case is ongoing. https://t.co/nlIzJv19U2 pic.twitter.com/RO0RUAl71k

— Ian Miles Cheong (@stillgray) July 15, 2019
Bianca's murder may freak you out but it is far from extraordinary. If you've had any similar experiences with incels and beta orbiters on IG/Twitter/Discord who've threatened, sexually assaulted or otherwise treated you in a dangerous way, please speak up.

— Ian Miles Cheong (@stillgray) July 15, 2019
Cheong told the Daily Dot he found out about the killing after the photos were shared on Discord and then verified the information through Instagram. He added that 4chan's R9K and other incel forums outside of 4chan are applauding the murder.
While Devins' murder has now become bait for people to attract followers and an item of mockery for incels, her family remains distraught over her death and the spreading of the gory images across the internet. 
Her sister posted a tribute to her on Instagram on Sunday. "You were the best sister anyone could've ever asked for," she wrote. "Thank you for always being there for me. Thank you for being the best sister I could ever imagine."
Devins' stepmother reportedly wrote on Facebook how disgusting it is that people are sharing the images on social media, according to Heavy.com. 
"It is absolutely disgusting that people are sharing, screenshoting the pictures of Bianca's (tragic) death!! Wtf is wrong with you people!!??" she wrote on Monday. "I have seen the pictures. I will FORVER have those images in my mind when I think of her. When I close my eyes, those images haunt me."
When asked whether or not to honor the family and their request, user @yesjuliet_photo1 told the Daily Dot they "did not know" about the family's request to remove the content.
An Instagram representative said the social media company is reviewing accounts and has technology in place that can identify any attempts to re-upload these images and remove them before anyone sees them. At least four accounts were active as of publishing this article, with at least two of them sharing the photo of Devins' slashed throat.
Editor's note: This article has been updated. 
READ MORE:
Got five minutes? We'd love to hear from you. Help shape our journalism and be entered to win an Amazon gift card by filling out our 2019 reader survey.