Production for ABC's Bachelor nation spinoff Bachelor in Paradise has come to a halt after "allegations of misconduct."
According to the Hollywood Reporter, the fourth season recently began filming following a social media announcement on June 3, and was slated to premiere Aug. 8.
"We have become aware of allegations of misconduct on the set of Bachelor in Paradise in Mexico," Warner Bros. told the publication in a statement on Sunday. "We have suspended production and we are conducting a thorough investigation of these allegations. Once the investigation is complete, we will take appropriate responsive action."
The spinoff follows previous contestants from the Bachelor and the Bachelorette, who convene at a resort in Sayulita, Mexico on the chance they might find love with one another. ABC announced the initial 16 cast members last week, though the lineup shuffles each week on the show to form new relationships and complicate existing one.
Of the initial 16 contestants are Corinne Olympios, who made it to the final four on bachelor Nick Viall's season and has been seen twice on this season's Bachelorette as a friend of bachelorette Rachel Lindsey, and DeMario Jackson, whom Bachelor nation fans recently witnessed Lindsey send home after allegations that he had an unfinished relationship.
According to Steve Carbone, known as Reality Steve, a blogger who shares spoilers before each season, the allegations involve Olympios and Jackson. A fan photo shared to Instagram shows the cast at an airport in Mexico save for the two in question. The cast was allegedly told they were being flown to Houston.
Here's most of the cast at the airport an hour ago. Being told they're being flown to Houston. Still don't know what's going on pic.twitter.com/eNgGp0tyZ1

— RealitySteve (@RealitySteve) June 11, 2017
Carbone then alleged that the production halt is actually a full season cancellation and that it's "not a good situation," but shared that from what he was told, no one was hurt.
https://twitter.com/RealitySteve/status/874036798015524864
(MAJOR SPOILER): I'm not at liberty to throw accusations out. But yeah, drinking, sex, cameras, etc. You get the picture. (3/3)

— RealitySteve (@RealitySteve) June 11, 2017
I know you're immediately thinking the worst. I honestly don't think it's that. At least not what I heard.

— RealitySteve (@RealitySteve) June 11, 2017
From what I was told, no one involved was hurt. Production had to stop, the show is basically cancelled & there's an investigation going on.

— RealitySteve (@RealitySteve) June 11, 2017
Los Angeles Times film reporter Amy Kaufman supported Carbone's allegations with a source of her own, alleging that a producer on the show had sued the production for misconduct related to an encounter between Olympios and Jackson. According to Kaufman, the pair didn't have sex but stated that "things turned into 'soft core porn'" on the first day of production. The following day, the producer in question had filed a "third party complaint.
The Bachelor shows often rely on one-on-one camera interviews with cast members interspersed between reality show footage. Kaufman Olympios and Jackson were allegedly shown footage of their hookup during their interviews in the days following.
Corinne came up to DeMario at the bar and kissed him. They proceeded to the pool, where they got naked.

— Amy Kaufman (@AmyKinLA) June 11, 2017
The following day, Monday, a producer who witnessed this hook-up did not show up to work.

— Amy Kaufman (@AmyKinLA) June 11, 2017
https://twitter.com/AmyKinLA/status/874043323941478400
My source was told a producer filed a "third party complaint," to clarify my above comment.

— Amy Kaufman (@AmyKinLA) June 11, 2017
Neither Olympios nor Jackson have posted about the allegations on Twitter or Instagram, though Jackson has liked one curious fan's tweet.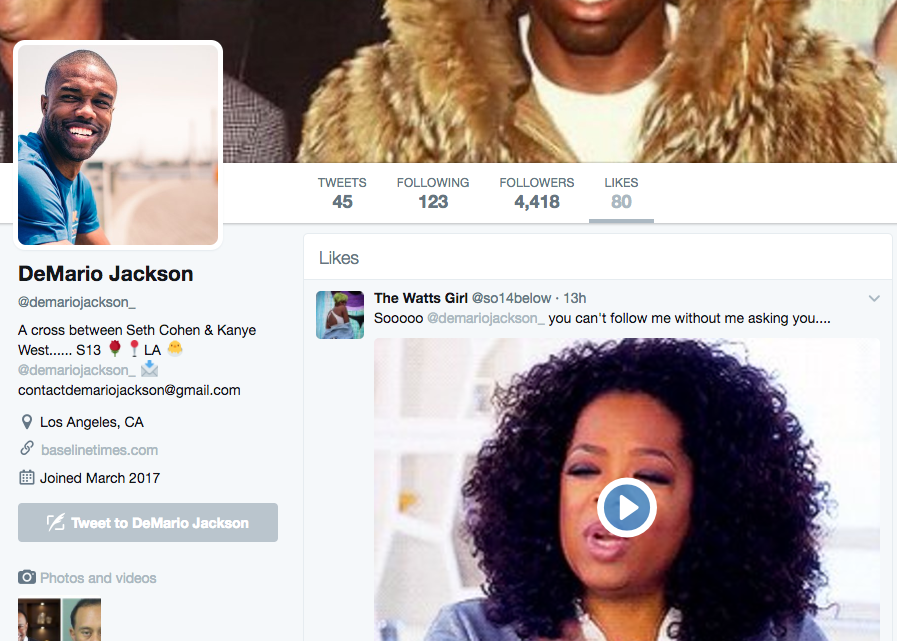 Olympios, Jackson, and a representative for Bachelor in Paradise did not immediately return email requests for comment.
This headline has been updated.