A federal appeals court has upheld a block on President Donald Trump's second executive order banning travelers from several Muslim-majority countries, setting the stage for a likely Supreme Court battle.
While the decision serves yet another blow to Trump's efforts, it arrives on the backdrop of terrorism fears following a suspected suicide bombing in Manchester, England, that left 22 people dead.
The United States Court of Appeals for the 4th Circuit decided on Thursday to uphold a lower court's block on Trump's ban on travelers from seven countries—Iran, Libya, Somalia, Sudan, Syria, and Yemen—largely due to the president's statements during the 2016 campaign and statements by members of his administration. The order also suspends the U.S. refugee program for 120 days.
"Congress granted the President broad power to deny entry to aliens, but that power is not absolute," wrote Chief Judge Roger Gregory in the court's 205-page opinion. "It cannot go unchecked when, as here, the President wields it through an executive edict that stands to cause irreparable harm to individuals across this nation."
The opinion goes on to cite Trump's "Statement on Preventing Muslim Immigration" from 2015 as evidence of the president's intentions with the travel ban.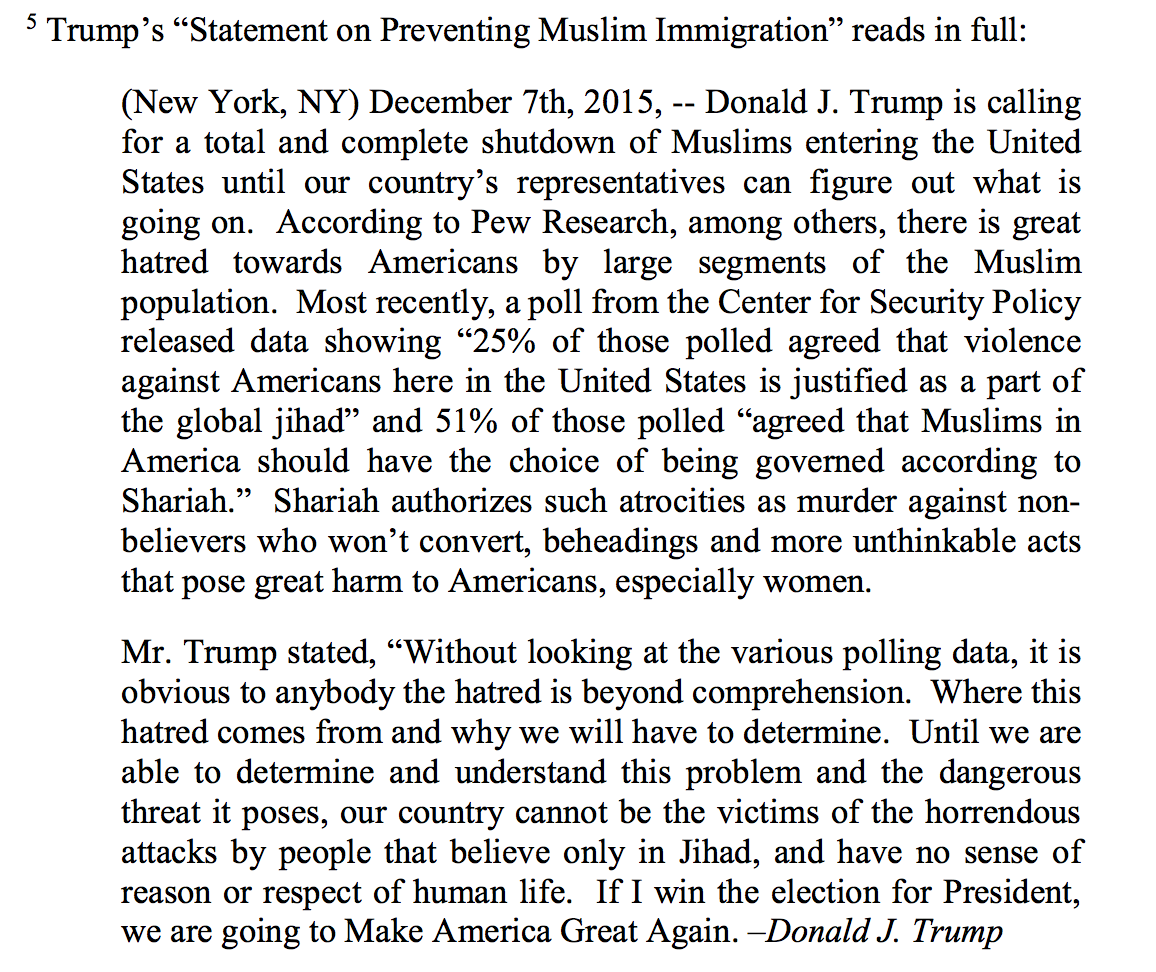 The Trump campaign has removed the president's call for a "Muslim ban" on its website, but left the statement online until Monday, May 8—the same day the 4th Circuit heard oral arguments in the case.
The American Civil Liberties Union, which led the legal challenge against the travel ban, celebrated the win on Twitter.
BREAKING: We won in 4th circuit Muslim ban case! More to come.

— ACLU (@ACLU) May 25, 2017
Cheers just rang out in @ACLU hallways. #NoMuslimBanEver.

— Hina Shamsi (@HinaShamsi) May 25, 2017
The latest travel ban is a revised version of the president's initial travel ban, which was defeated in court in early February.
The travel ban is also embroiled in a legal fight in the 9th Circuit, which has yet to release its decision. Regardless of how the 9th Circuit rules, it is likely the case will head to the Supreme Court.
Read the full 4th Circuit decision below: