Loni Jane Anthony, 25, an Australian mom-to-be, is 26 weeks along in her quest to give birth to an enormous banana. On Instagram and Tumblr, she's become something of a celebrity for making a lifestyle out of bright-purple smoothies and bikini selfies. She's certainly maintained the toned body of a Pilates instructor while pregnant. Good for her! But, uh, is this baby going to be OK?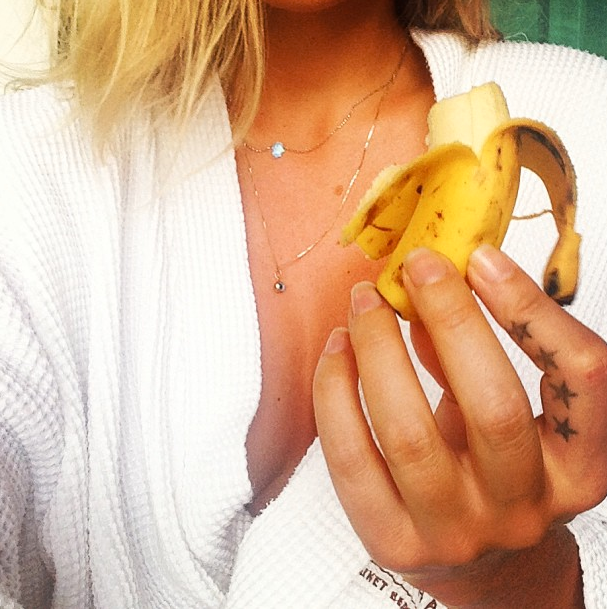 Anthony claims her 10-bananas-a-day meal plan saved her life. She says she had health problems in the past because of her poor diet, but three years ago, she overhauled her eating habits.
She typically starts her day with a liter of warm water at 6am. At 8, she might have half a watermelon. Then, around noon, she starts packing in the potassium, cramming down seven bananas and some coconut. Sometimes she'll have about five mangoes. At 2pm, a liter and a half of lemon water. For dinner, pasta and a "huge salad." For dessert, maybe some of these banana-strawberry popsicles.
It took her a while to get the balance right, she says:
i havent had any sickness although from 8-12 weeks i did have moments of fatigue and low appetite and low motivation but other than that this pregnancy has been great to me:) its so much to do with diet and how you treat yourself. i did have a few days at the start where i overloaded with fats or salt and to much food or not enough food and the result was never good.
She's a disciple of what's called the 80:10:10 Diet—80 percent carbs, 10 percent fat, 10 percent protein. It came from a real doctor, a guy named Douglas Graham, who calls himself a "raw foodist" but not a fruitarian. 
"Why are people so interested in me?" Anthony wonders. "I'm just sitting here eating my bananas."
Possibly because, as Ami Angelowicz at the Frisky points out, "it doesn't sound safe for her baby. … Common sense and the little knowledge I have about nutrition tells me that you have to consume more than bananas and mangoes each day when you're eating for two."
If the "300 Sandwiches" wife-in-training can get a book deal out of her stunt blog, surely Anthony can too. But she should look out—there's another online movement that raises the banana-eating stakes by 300 percent. 
"Fuck 10 bananas a day," reads the banner on 30bananasaday.com, "the high-carb raw vegan lifestyle."
Photos via Instagram