Yo introduced the pager-like concept of sending "Yo" to your friends, but now there's a parody app that borrows from everyone's favorite gentle character on Game of Thrones.
"Yo, Hodor," is an iOS app (sorry Android users) that works similarly to Yo except that instead saying "yo," you can now "Hodor" your friends and complete strangers. Hodor, of course, is a very large yet simple character from Game of Thrones, who, for unknown reasons (at this point in the books and TV series), can only say the word "Hodor." It's also his nickname.
Is the app kind of pointless? Yes, but the nonsensical word just makes the concept even better.
Tyler Hedrick, an iOS developer at Medium, spent about four hours building the app after Yo blew up in popularity.
I wrote an app called Hodor because Hodoring someone is so much cooler than Yoing someone. #yo #hodor #got pic.twitter.com/5VQ8F4Er33

— Tyler Hedrick (@tyler_hedrick) June 20, 2014
Well, he's got a point.
I immediately signed up as OLDNAN and convinced my boyfriend to sign up, but I lost access to the username after failing to receive the Hodors and reinstalling it. The second time around, I signed up as SUMMER (the name of Bran Stark's direwolf), where I'll be Hodoring for the foreseeable future—at least a few days. Or minutes.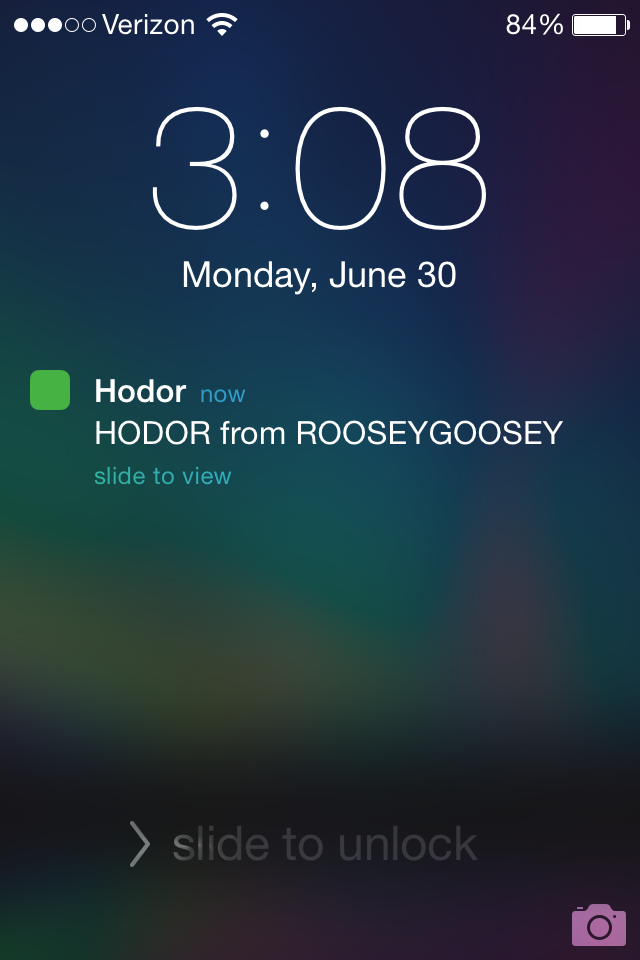 The second time around my Hodors went through, and it just might be the single greatest thing to happen to my relationship.
Unlike Yo, your phone number isn't required, so in order to find someone on Yo, Hodor, you'll have to know the username—or add them randomly like I did, which is why I'm in the middle of Hodoring BRANSTARK.
Hedrick expressed concern to TechCrunch that HBO or Yo might sue, but we hope not.
"The sound clip I use for push notifications was taken from the show, so they technically own that, too," he said. "I'm not sure what's going to happen, but I assume they would give me a cease and desist before trying to sue me."
In the days since the app launched, Hetrick has been astounded by the sheer amount of Hodors being sent, especially in the last day or so.
The number of Hodors being sent o__O pic.twitter.com/Yc2XBiVjHk

— Tyler Hedrick (@tyler_hedrick) June 30, 2014
Many of the Game of Thrones-based names are taken as people discover the app, but I've found some names that have yet to be claimed, so get on that quickly.
WALDER (Not only the first name of the head Frey who executed the Red Wedding, but it's actually Hodor's birth name as well.)

STONEHEART

NED

CATELYN

RICKON

MEERAREED

JOJENREED

LANNISTER

TARGARYEN

VISERION

RHAELGAL

LEAF

VARYS

SERPOUNCE

STANNISTHEMANNIS

WORLDCUP (It's only a matter of time before someone makes a function to automatically Hodor someone after every goal, right?)
H/T Techcrunch | Photo via d0bermanner/YouTube