Hello.
How was your week? Pumped full of more shit and crap than you ever thought you could possibly stomach?
Then you must have spent it on Twitter. But just in case you weren't already feeling ill, here are a few more terrible tweets for you to consume.
Why you'd want to, I do not know.
Here are the worst political tweets of the week, broken down by the Daily Dot's politics team, Andrew Wyrich (AW) and David Covucci (DC).
Worst Political Tweets of the Week
1) Laura Loomer dreams about her funeral's guest list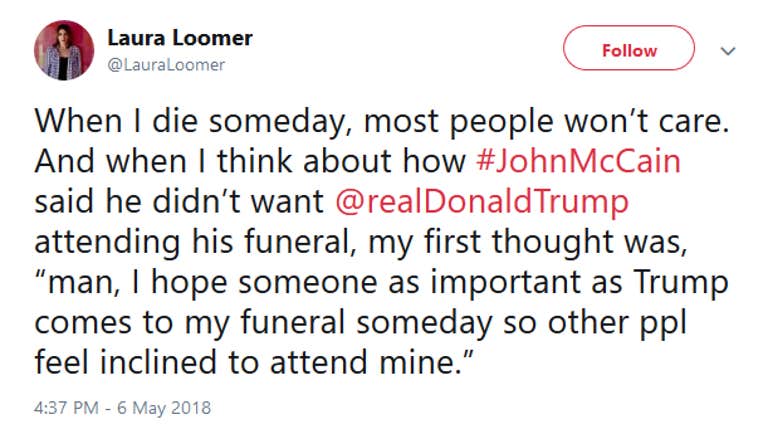 DC: This is not how attending funerals works. This is how attending cool parties works.
AW: Yeah, that's a weird way of thinking about funerals. You won't know who comes to your funeral… you'll be dead. Shouldn't worry about the guest list, Laura.
2) Trump Jr. wants his daddy's attention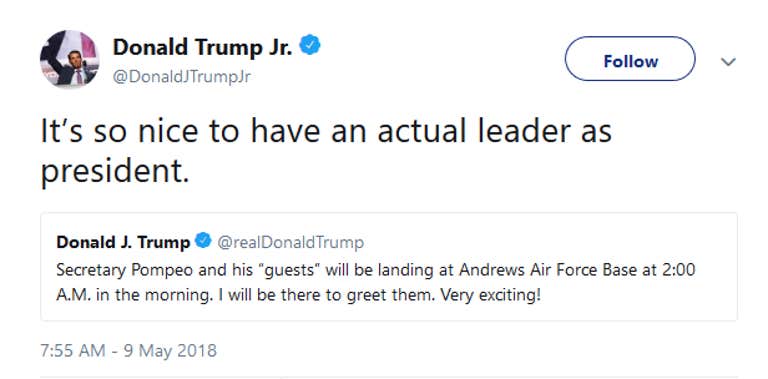 AW: First time Don Jr. has made the list! You'd think he'd make the worst political tweets list more often. How badly do you think Don Jr. wants that @realDonaldTrump retweet, David?
DC: He's never gonna get it. I think, and I looked this up once, he's been retweeted fewer than 20 times by his dad. Which, in fairness is more than my Dad ever tweeted me, but my dad doesn't use Twitter.
AW: He should have retweeted the emails Don Jr. put out about the Trump Tower-Russia meeting.
3) Newt Gingrich blasts pundits blogs by tweeting his own pundit blog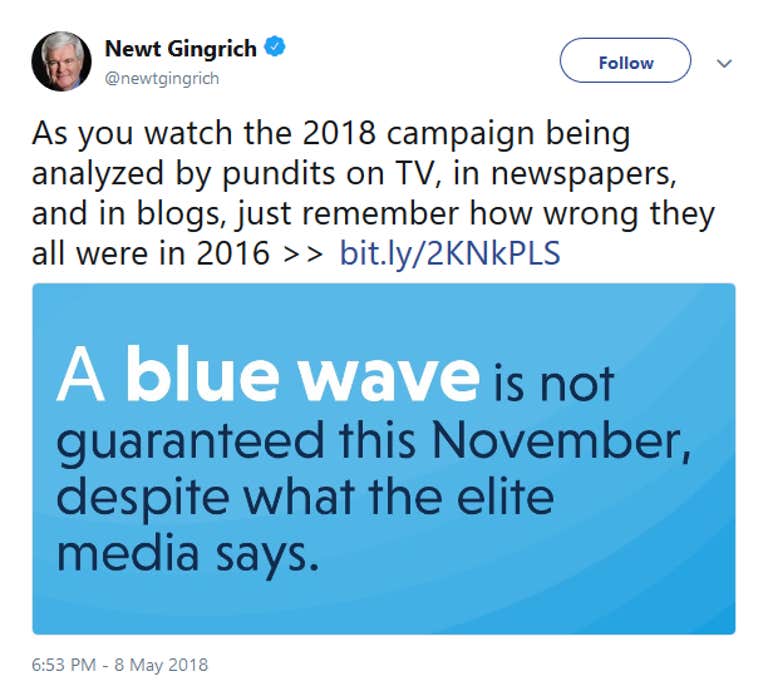 AW: Newt Gingrich is literally linking to his blog… analyzing the 2018 midterms. Which apparently is "Gingrich Productions," a.k.a my latest edition to the "must follow" list.
DC: Does any Republican know what the life of a journalist is really life?
AW: No, probably not.
DC:  I'm like, eating soup I made Monday with a ladle out of a pot because I haven't gotten around to straining it yet. (It's Wednesday). Is that elite?
AW: The type of soup will determine if you're elite or not. What kind of soup is it?
DC: It's stock from a chicken carcass. It's not even soup.
AW: Yeah, I don't even know what kind of soup I would consider "elite." Maybe something with truffle oil? I dunno.
DC: It's peasant food.
4) Lee Zeldin is thirsty for that Trump approval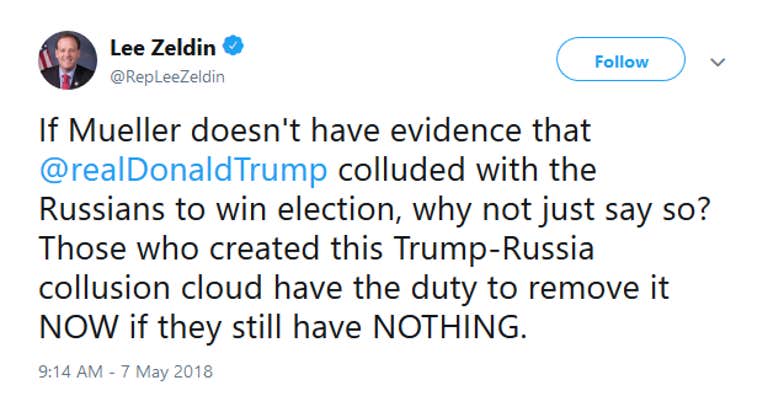 AW: Republicans have been coming out swinging and calling for the investigation to end recently. Just a hunch, maybe they're not done investigating?
DC: In fairness, though, I think the FBI should provide me with detailed updates of all the evidence it has in every investigation it has open right now.
AW: Oh, I thought you were part of the Deep State, David. I figured you had access to all of that with your Deep State ID card you got in the mail after Trump was elected?
---
Like this week's worst political tweets list? Want to hear more from the Daily Dot's politics team?
Tune in each week to We're All Gonna Die, a politics podcast by the Daily Dot, where the team talks the most viral moments in politics each week, memes, and more. 
Listen to our previous episodes and subscribe to We're All Gonna Die on iTunes.