The U.S. government is secretly recording all phone calls made in Afghanistan, WikiLeaks has claimed.
On Monday this week, investigative news site The Intercept revealed that the U.S. government has secretly been "intercepting, recording, and archiving the audio of virtually every cell phone conversation" in the Bahamas, using a top-secret system called SOMALGET, and implemented without the knowledge or consent of the Bahamian government.
SOMALGET is part of a broader MYSTIC program to collect communications metadata, which also also operates in Mexico, Kenya, and the Philippines, according to The Intercept, as well as a fifth country—whose name the investigative site chose to withheld because journalist Glenn Greenwald was "very convinced" releasing it would lead to "deaths."
This fifth country is, like the Bahamas, subject to "full-take" surveillance capable of recording practically all phone calls within the country.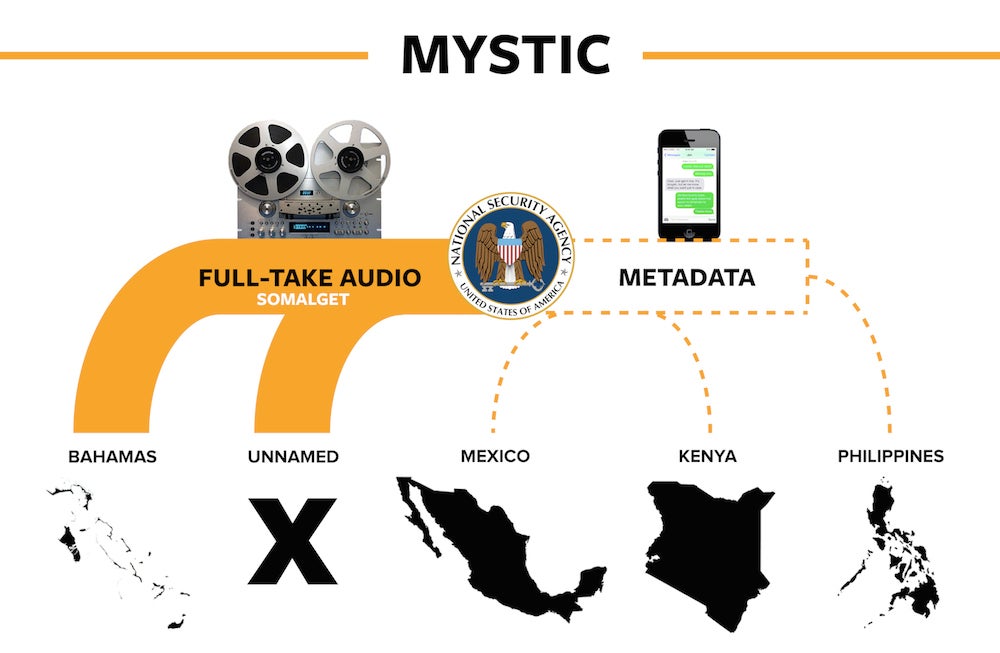 Illustration via Josh Begley/The Intercept
In response to this withholding of information, which WikiLeaks deemed "censorship," the whistleblowing advocacy organisation threatened to release the name of the country themselves, and announced a 72-hour deadline for doing so.
It also accused Greenwald et al of acting like "racists" for not revealing the fifth name:
@ggreenwald The fact is Firstlook is acting like a bunch of racists who believe citizens of US dominated countries do not have rights.

— WikiLeaks (@wikileaks) May 19, 2014
WikiLeaks eventually overran its self-imposed deadline due to "media cycle reasons" before releasing the name—Afghanistan—in a statement on their website at 5am GMT today.
It is unclear how WikiLeaks was able to obtain this information—or indeed whether it is true. When the Daily Dot previously reached out to the organisation for clarification we did not receive a response. In WikiLeaks' statement it maintained it cannot disclose how due to "source protection"—but its claims can be "independently verified" through "forensic scrutiny of imperfectly applied censorship on related documents released to data and correlations with other NSA programs."
WikiLeaks has poured scorn on The Intercept's "specific, credible concerns that [naming Afghanistan] could lead to increased violence," and instead argued that to voluntarily withhold the information is to effectively "aid and abet" the U.S. government avoiding prosecution for a "serious crime against a population." The whistleblowing organization, headed by the fugitive Julian Assange—currently sheltering in the Ecuadorian Embassy in London after accusations of sex crimes—argues that similar claims were previously used to "refuse to release further photos of torture at Abu Grahib [prison] in Iraq" and amount to a shield against accountability for wrongdoing.
It's too early to know what the reaction in Afghanistan will be, but the Bahamian minister of foreign affairs has reached out to the U.S. for an explanation, and "vows to release a statement regarding the revelations," The Intercept reports.
SOMALGET retains all telephone audio recordings for 30 days.The Washington Post revealed the existence of the parent program, MYSTIC, in March 2014—but at that time declined to name any of the countries monitored.
These revelations come from the documents that NSA contractor-turned-exiled-whistleblower Edward Snowden leaked to journalist Glenn Greenwald, the reporting on which kicked off a global debate about the acceptable limits of government surveillance.

Edward Snowden takes a selfie, along with journalists Glenn Greenwald, Laura Poitras and Greenwald's partner, David Miranda.
Other notable previous revelations include the fact that the U.S. government was tapping German President Angela Merkel's phone, that a system codenamed PRISM is secretly hoovering up the communications data of millions of Americans, and that NSA officials have lied to Congress.
Photo via The U.S. Army/Flickr (CC BY 2.0) | Logo via WikiLeaks/Wikimedia Commons | Remix by Rob Price