On Monday, one of the founders of the Women's March, Teresa Shook, called on Linda Sarsour and the organizations' other co-chairs to step down. It wasn't the first time that 38-year-old Sarsour has gotten negative press, but it did signal an intensification of the criticism against one of the most visible figures of the movement.
Though a major voice, Sarsour, a Palestinian-American, has been accused of turning a blind eye to groups she associates with that have pushed homophobic and anti-Semitic rhetoric. 
Who is Linda Sarsour? 
Linda Sarsour is expected to be among those heading the third annual Women's March next January. But the recent backlash against her has shown that she doesn't have the support of all women.
In February, Sarsour and other Women's March leaders were in attendance at an event hosted by Louis Farrakhan, the anti-Semitic and homophobic Nation of Islam leader. During that event, Farrakhan told the crowd "the powerful Jews are my enemy," according to a Daily Beast report.
Actress Alyssa Milano recently told the Advocate that she would not attend the Women's March because of Sarsour's close ties with Farrakhan, saying "Any time that there is any bigotry or anti-Semitism in that respect, it needs to be called out and addressed. I'm disappointed in the leadership of the Women's March that they haven't done it adequately."
She also said she would not attend next year's March.
READ MORE:
Accusations of anti-Semitism
Shook, who co-founded the Women's March, wrote on Facebook that Sarsour and the organization's chairs "have allowed anti-Semitism, anti-LBGTQIA sentiment and hateful, racist rhetoric to become a part of the platform by their refusal to separate themselves from groups that espouse these racist, hateful beliefs."
In response, the Women's March called Shook's post "irresponsible."
Sarsour was also accused of anti-Semitism after she said that criticism of newly elected Muslim-American congresswoman Ilhan Omar's support of an Israel boycott and sanctions is coming from "folks who masquerade as progressives but always choose their allegiance to Israel over their commitment to democracy and free speech."
Accusing Jews of dual loyalty is one of the oldest and most pernicious antisemitic tropes. No surprise to see it coming from @LSarsour. How long will progressive leaders continue to look the other way in the face of this hate? pic.twitter.com/cY6Mg7KhB4

— American Jewish Committee (@AJCGlobal) November 16, 2018
This wasn't the first time that she's spoken against Israel, which enjoys support from most of the American political spectrum. Sarsour is an outspoken supporter of Palestine. In early 2017, she told the Nation that she doesn't believe it's possible to be pro-Israel and a feminist.
Linda Sarsour's early activism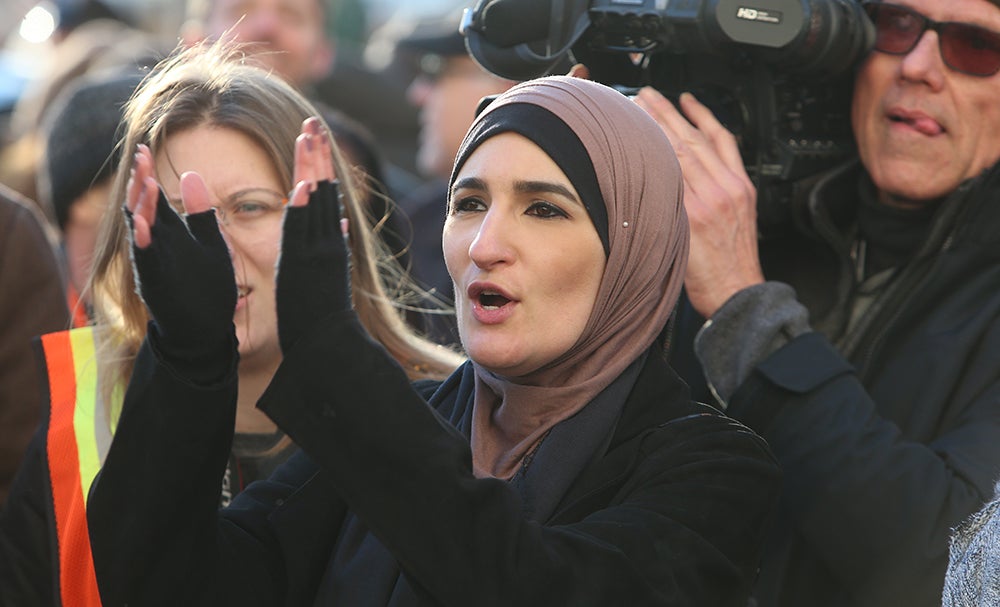 Most profiles of Linda Sarsour note that she became involved in activism after 9/11 when Islamophobia spiked.
In 2005, she led the Arab American Association of New York and became closely associated with a number of other organizations, including Black Lives Matter. If there was an opportunity for her voice to be heard and an injustice worth fighting, Sarsour was there. She also organized a march from New York to Washington after Eric Garner was killed by police.
But her profile really rose during the 2016 election and the Trump era.
Sarsour was a Bernie Sanders supporter during the 2016 campaign season and her rousing speech at the 2017 Women's March propelled her further into the spotlight and made her a mainstream voice. Last August, Sarsour appeared with Bernie Sanders at a rally in Detroit.
During the Brett Kavanaugh hearings, Sarsour organized a rally in Washington opposing the judge. While there, she introduced Sen. Kirsten Gillibrand and was arrested along with other prominent women, including Amy Schumer.
READ MORE:
Criticism from the far-right
Sarsour is a Brooklyn native but also deeply religious, she was married at 17 in an arranged marriage and she doesn't drink. In part because of her orthodoxy, she has become a punching bag for voices on the far-right.
In 2017, Sarsour was invited to deliver the commencement address at the City University of New York and alt-right troll Milo Yiannopoulos showed up to stir up trouble. He told the crowd that "Linda Sarsour is a Sharia-loving, terrorist-embracing, Jew-hating, ticking time bomb of progressive horror."
During Politicon this year, conspiracy theorist Laura Loomer attended a panel that included Alyssa Milano and jumped up to shout "I want to ask you right now to disavow Linda Sarsour because she is a supporter of Sharia law. And under Sharia law, women are oppressed, women are forced to wear a hijab."
Websites like The Daily Caller, Breitbart and Infowars have something of an obsession with Sarsour, a search of her name on their platforms brings up dozens of results. But Sarsour has always defended herself vigorously against criticism and has continued to remain in the spotlight, even as the accusations of anti-Semitism pile up.
It seems unlikely that the Sarsour will heed the calls to step down.