The White House circulated a hilarious satire column on Friday, mistaking its mockery of President Donald Trump's budget plan to be complimentary.
The "1600 Daily" is the official email newsletter for the White House, written to keep subscribers up to date on the president's everyday activities. Additionally, the newsletter also regularly features a list of positive and affirmative news stories. In Friday's edition, however, it linked to Washington Post columnist Alexandra Petri's blisteringly sarcastic comedy piece.
The article, entitled 'Trump's budget makes perfect sense and will fix America, and I will tell you why,' takes aim at Trump's recently announced budget, with exaggerated voice and caustic humor.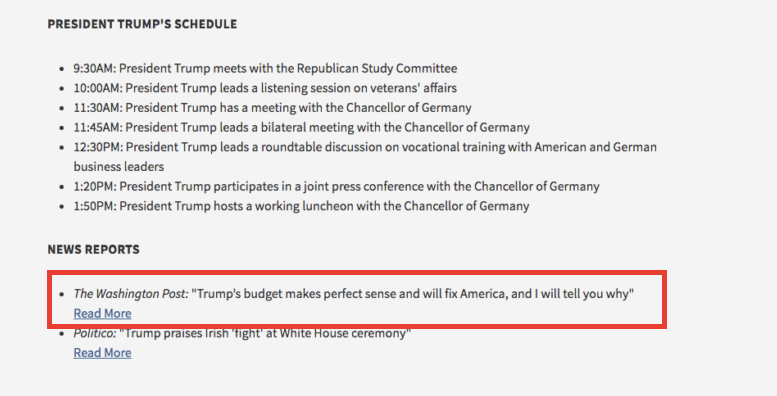 "This budget will make America a lean, mean fighting machine with bulging, rippling muscles and not an ounce of fat. America has been weak and soft for too long," Petri writes in the analysis. "BUT HOW WILL I SURVIVE ON THIS BUDGET? you may be wondering. I AM A HUMAN CHILD, NOT A COSTLY FIGHTER JET. You may not survive, but that is because you are SOFT and WEAK, something this budget is designed to eliminate."
Speaking the the Daily Beast, Petri said that she "can't stop laughing" and was delighted to be included.
"I am honored to finally be real, true news, which is all I've ever striven for," she said. "It goes to show that as long as you confirm what the Trump White House wants to believe, you too can be cited in an email—and you can even work for the mainstream media and do it!"
Petri went on to express how relieved she was that the White House newsletter only "uses reliable sources."
*sigh* no one reads any more

— Alexandra Petri (@petridishes) March 17, 2017
It's an embarrassing slip up for the administration, given its constant criticism of the media and the Trump's own caps locked cry of 'FAKE NEWS.'
For now, the White House has not acknowledged the faux pas and has not responded yet the Daily Dot's request for comment.
Update 2:49pm CT, March 17: The article has been deleted from the White House website.