President Barack Obama addressed the nation earlier today to lay out his administration's plans for tougher gun control legislation.
Chiefly among these would be laws that would renew the ban on assault weapons, limit the amount of rounds a magazine can carry to 10, and require anyone looking to buy a gun be subjected to a background check.
Unsurprisingly, the press conference has whipped conservatives into a frenzy. One only needs to casually glance at the angry and rabid tweets coming from the folks over at #tcot, a hashtag used by "top conservatives on Twitter." 
But not everyone was incensed by President Obama's announcement. 
"Fortunately, America has a President who gets it. Obama showed real leadership today. #GunControlNow," tweeted Piers Morgan, the CNN news anchor whom the White House chose not to deport despite a popular petition signed by tens of thousands.
Also lending their support to Obama were Leo McGarry, Josh Lyman, Sam Seaborn, and Josiah Bartlet. Yes, those are all characters of from Aaron Sorkin's The West Wing, the left-leaning hit drama that centered around the White House staff of fictional President Josiah Bartlet (played by Martin Sheen).
These characters, much like other Sorkin creations, have enjoyed a second life in the six years after the show went off the air, thanks to Twitter. 
Now, the fictional Twitter accounts are using their social media soap boxes to back up President Obama, which makes perfect sense: The subject of gun control became a recurring theme in the show's six seasons. 
Below we've compiled the reactions of some of the White House's most famous walk-and-talkers.
The most surprising tweet comes from former Chief of Staff Leo McGarry. We say surprising because (SPOILER ALERT!) McGarry died in the first half of the show's final season. In the Twitter universe, he lives on.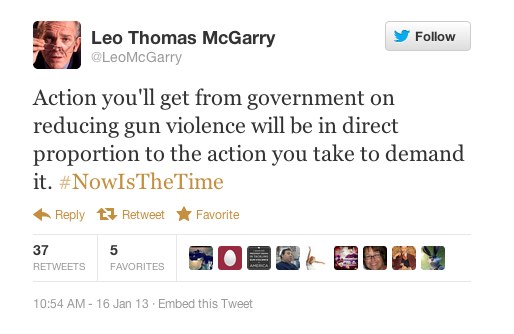 Photo via @LeoMcGarry/Twitter
Meanwhile, Sam Seaborn (Rob Lowe), speechwriter turned California congressman, was less opinionated, choosing instead to sum up President Obama's main points.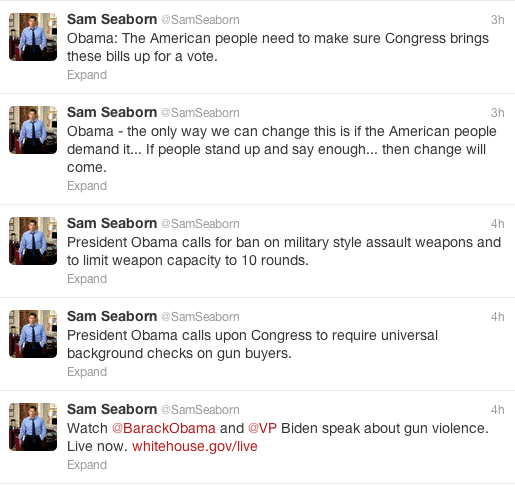 Photo via @SamSeaborn/Twitter
Also chiming in was the always opinionated Josh Lyman (Bradley Whitford), who served as Deputy Chief of Staff for the Bartlet administration and later Chief of Staff for President Matt Santos. Surprisingly, Lyman was more reserved, simply retweeting other people's comments. You would think he'd have more to say (SPOILER!) given that he was wounded during a presidential assassination attempt early in season 2.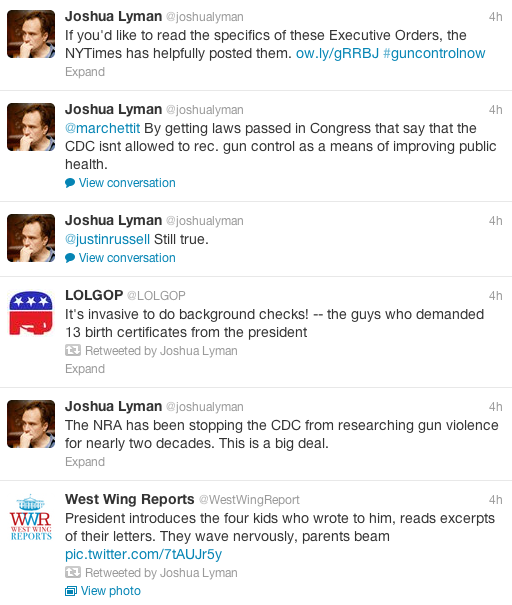 Photo via @JoshuaLyman/Twitter
Even Bartlet himself chimed in—although his tweet came before President Obama's announcement.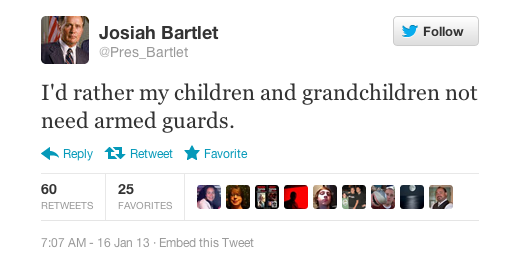 Photo via @Pres_Bartlet/Twitter
Photo via YouTube