It's no secret that as we get older, our bodies lose the agility and strength they once had. But one company has set out to prove that age is just a number with a new device that tracks physiological age just by measuring the pulse in your finger.
IHeart, which has been in development for three years, kicked off an Indiegogo campaign earlier this week and has already raised more than $10,000 of its $25,000 goal. The device is a fingertip oximeter that measures a user's pulse for 30 seconds to determine internal health. A Bluetooth connection allows the device to immediately sync its readings with an app that shows users their physiological age.
"[The founders] created an algorithm that measures aortic stiffness, and this is something that's proven to be a marker of cardiovascular disease and bodily degeneration," Sarah Goodman, director of marketing and public relations for iHeart, told the Daily Dot. "It's a marker of how your health is internally."
Goodman said that iHeart is very responsive to human activity, which allows the device to measure aspects of internal health, which users can then compare to their chronological age. "Coffee has a negative effect on [physiological age], but exercise, green tea, vitamin C, and omega 3's have a really positive effect on it," Goodman said. "Your blood pressure has an effect on it." Even actions as simple as standing up and sitting down force your physiological age to fluctuate, she said.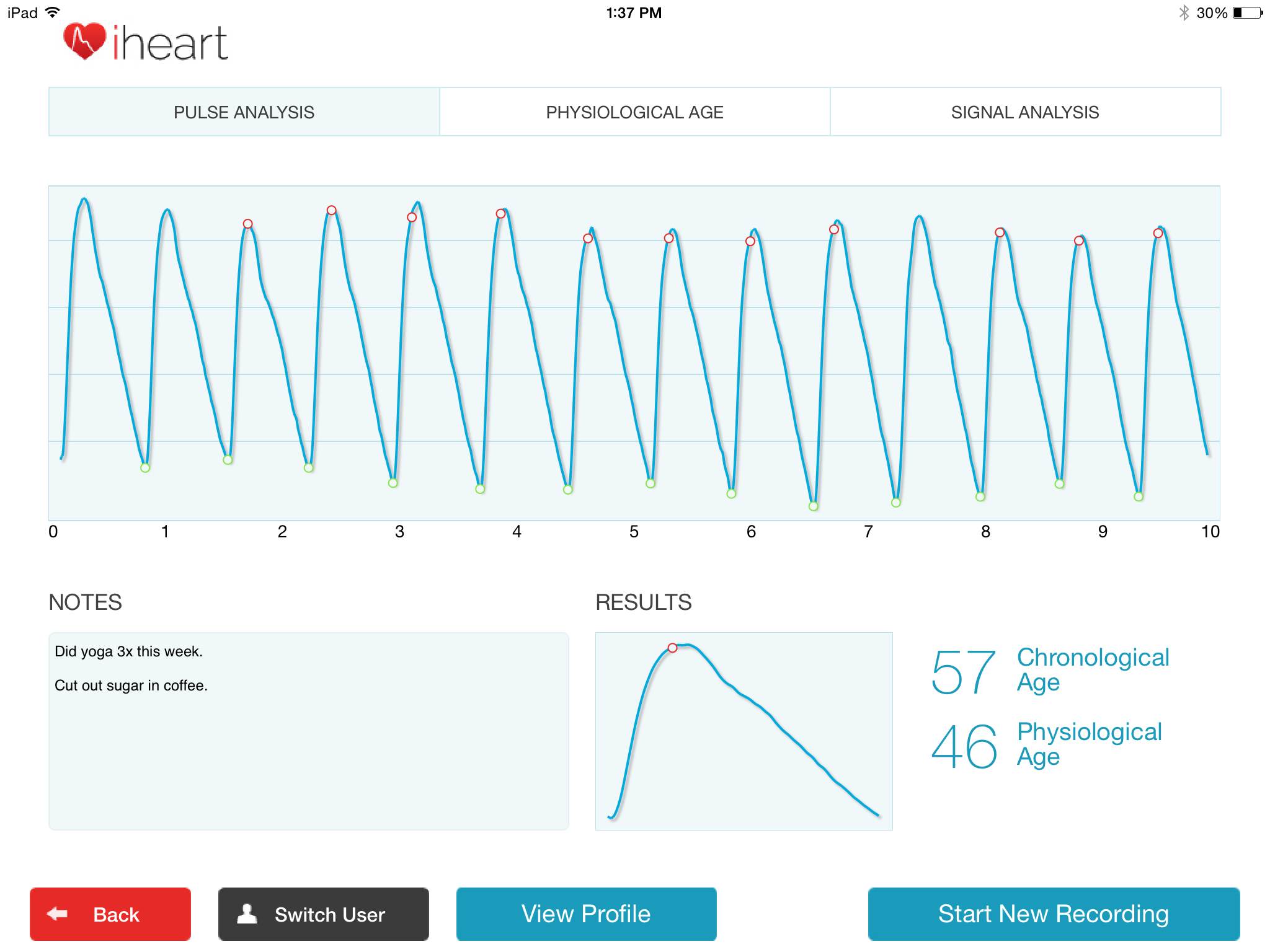 For each measurement, notes can be added about what a user was doing before that time, what they had for lunch, and so on, allowing them to see what factors could have affected their age reading. (If you're particularly proud or audience-motivated, you can share your results with Facebook or Twitter.)
The trove of health-based wearables already available emphasize results based on external measures, but Goodman says that iHeart instead bases progress on internal measures. The goal is for users to improve their baseline reading, or one's physiological age, before starting the day. Of course, eating healthier foods and getting consistent exercise are factors that influence the age reading, but now users can actually see the effect those choices have on their bodies, Goodman said.
"Everything can always be reversed," Goodman said. "You can always get better."
The money earned in iHeart's campaign will pay for the manufacturing and shipping of the first batch of devices, expected to go out Feb. 1. IHeart's app is currently available only for iOS, though the team hopes to expand to Android in the future. The campaign ends on Dec. 26.
Photo via iHeart