Google Glass has a serious image problem. Thanks to a variety of factors, from alienation of the technology's most prominent fanboy, Robert Scoble, unsavoury characters misusing the technology on the Shanghai subway system by taking creepshots of unsuspecting women, Glass is decried as impractical, for "creeps", and its loudmouthed "glasshole" advocates risk alienating the undecided. 
Far and away the most prominent criticisms of Glass stem from privacy concerns. But now, an Amsterdam-based artist thinks he has a solution.
Artist and Glass user Sander Veenhof has developed an augmented-reality app for the "wearable" that aims to protect the user's privacy. That's right—protect.
The app, called Watch Your Privacy, does this in two ways.
First, it alerts the user to any Glass-wearers in the vicinity, so they can take evasive maneuvers if deemed necessary. The website says the app detects other sets of Google Glass by "instantly registering and updating the latitude/longitude coordinates of each Google Glass user," which means it does not offer a way to avoid any and all "glassholes." The possibility of being able to track all Glass wearers seemed too good to be true, even if, ironically, one had to wear Glass in order to do so.
The second, more interesting, function of Watch Your Privacy is real-time CCTV monitoring. Using Glass' tiny screen, or HUD (Heads Up Display), the app displays the location of known CCTV cameras and their field of view, based on data drawn from a collaborative map built on OpenStreetMaps. It looks like this: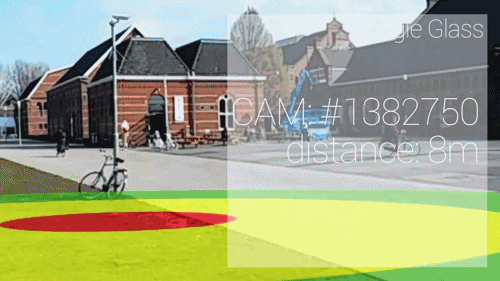 GIF via prosthetic knowledge/Tumblr
For those that don't have $1,500 to drop on electronic gizmos, a link to view the map alone is here, and the source code can be found on GitHub here.
For his part, Veenhof recognises the potentially hypocrtical stance of using the privacy-invading Google Glass to detect other surveillance technologies. The artist told Wearable World News, "Wearing a problematic device in order to detect the other problematic devices is a bit weird."
You could say that.
Photo via tedeytan/Flickr (CC BY-SA 2.0)