What you see in the high-definition video below is not what it appears to be. Your eyes will tell you that it's an elderly woman being shot at various artsy angles, but what you're actually seeing is the result of a high-powered, 94-camera scan of a model named Beryl Nesbitt, who is now immortalized as a perfect virtual reality character. Believe it or not, nothing in the video is actually real.
The project is a collaboration between Barney Steel from Marshmallow Laser Feast, the visual effects artists at Analog, and the 3D-scanning gurus at FBFX—they're the ones with the ridiculously powerful camera rig that you can see below.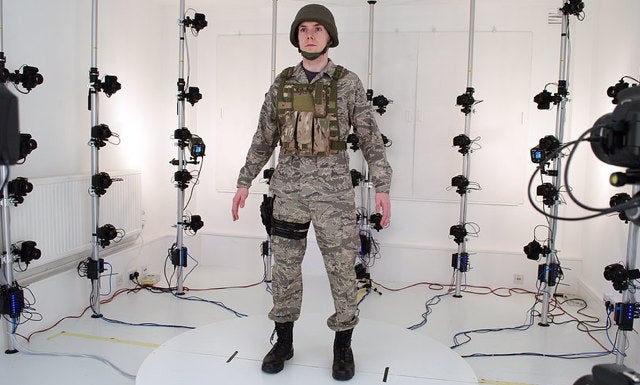 Those are 94 high-resolution cameras that capture every nook and cranny on a person or object in just 1/9000th of a second. Once the texture is applied to the 3D model, the result is a digital person so lifelike that they almost seem real enough to reach out and touch.
Past FBFX clients include Nike, filmmakers from 20th Century Fox, and even Marvel, whose 3D-scanning requests were used in the summer's biggest box office hit, Guardians of the Galaxy. In short, it's one of the most insanely powerful camera systems around, and it can make a clone of you quicker than you can blink.
In this case, Ms. Nesbitt's virtual doppelgänger was used in the music video for the song Duologue by the band MEMEX, but director Barney Steel notes that it's also the start of a more in-depth venture into virtual reality filmmaking. If this four minute showcase is any indication, great (and maybe terrifying) things lie ahead.
H/T the Creators Project | Photo via FBFX