Not much is known about 64-year-old Stephen Paddock, the man who opened fire from the Mandalay Bay in Las Vegas and committed the worst mass shooting in American history.
What is known is that he is not Geary Danley, a man who was branded by a right-leaning site and Twitter users as the shooter in the immediate aftermath of the event, painting the mass murder as an act of anti-Trump violence.
After police released news that they were looking for Marilou Danley as a person connected to the shooting, people rushed to identify her connections. Boards on the notorious forum 4chan then incorrectly identified the shooter as Geary Danley, who may have been married to a Marilou Danley. (It's unclear where the connection was made. A Facebook page that appeared to belong to Marilou Danley is no longer online, but it's being reported that it contained a post saying the two were married.)
The Facebook page for Geary Danley showed he was a fan of organizations like Black Lives Matter and broadcaster Rachel Maddow, which was enough for a conservative website to declare the shooting an act of anti-Trump violence, calling him a "far left loon" before police had even identified who opened fire.
The Gateway Pundit ran a story with the headline, "Las Vegas Shooter Reportedly a Democrat Who Liked Rachel Maddow, MoveOn.org and Associated with Anti-Trump Army."
Once police confirmed the suspect was Stephen Paddock, the site deleted the post from its page.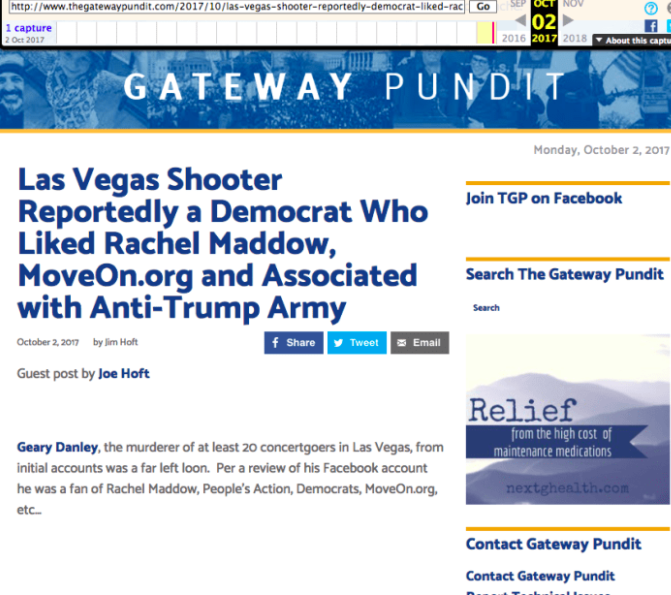 Accounts on Twitter, however, were quick to jump with the possibility that the Vegas shooter was anti-Trump.
And now his name and photos are being circulating by far-right Twitter accounts, accusing him of being a "neo-liberal" and "alt-left' pic.twitter.com/D1UDGOkag1

— Ryan Broderick (@broderick) October 2, 2017
https://twitter.com/erikaheidewald/status/914813662619164672
Despite being deleted, Google still points users to the Gateway Pundit's post when searching "Geary Danley."
This is hardly the first time that an internet mob has misidentified a subject. In 2013, internet users infamously misidentified a missing Brown University student, Sunil Tripathi, as having committed the Boston Bombing.