More and more, Facebook posts linked to illegal activity have led to arrests for the crimes alluded to or depicted. But law enforcement doesn't just go around friending anyone with a prior conviction or two; instead they write up official documents that give them a strong basis for requesting user data directly from Facebook HQ, which often complies. 
That's in the U.S., anyway: The company's latest transparency report indicates that it received 12,598 requests pertaining to 18,715 accounts there from July through December 2013, allowing investigators at least partial access 81.02 percent of the time. By comparison, they were 52.81 percent compliant with government demands in Sweden, while just 33.9 percent of requests in France were met in some capacity. Bulgarian officials asked for account information only twice, securing it once.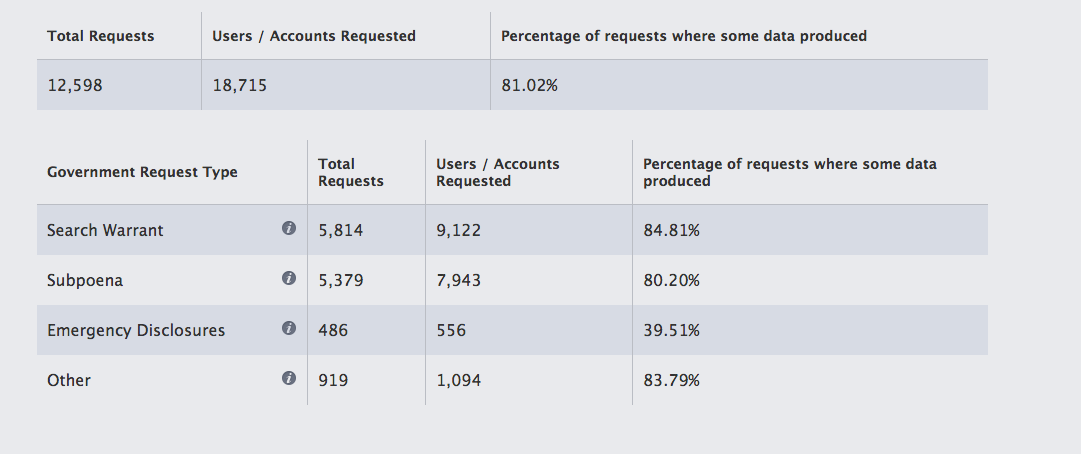 American law enforcement, then, has been especially aggressive—and successful—in seeking to expose people's digital footprints. And while those requests connected to search warrants, subpoenas, and emergency disclosures don't sound all that bad, the "Other" category into which nearly 1,000 requests fell does seem rather ominous. 
"As we have long emphasized," wrote Facebook General Counsel Colin Stretch in announcing the report, "we push back on requests that are overly broad, vague or do not comply with legal standards. When we are required to provide information, in most instances we share basic information only—such as name and IP address."
Stretch added that Facebook would continue to advocate "for the additional transparency and accountability measures necessary to rebuild people's trust in the Internet" following continued revelations as to the extent of domestic government surveillance.
H/T The Register | Photo by gregwest98/Flickr (CC BY 2.0)