A branch of Turning Point USA (TPUSA) is being slammed for a stunt it pulled on the first day of Black History Month. The Clemson University branch of TPUSA hosted what it called an "affirmative action bake sale" in which the price of cookies was different for various races.
TPUSA is an organization that endeavors to convince students to become conservative. It was founded by college dropout Charlie Kirk.
The event at Clemson, first reported by local news affiliates, was held on campus during lunchtime on Wednesday.
A photo of the sign posted on the table for the "affirmative action bake sale" shows a range of prices listed in descending order by race: Asian, White, Hispanic, Black, and Native American. Asian students would pay the most, while Native American students' price was listed as free.
Clemson students and members of the public were appalled by the stunt.
A Twitter user opined, "This is disgusting."
Another pointed out that Clemson is built on the grounds of a plantation.
Many noted the significance of scheduling the event for the first day of Black History Month.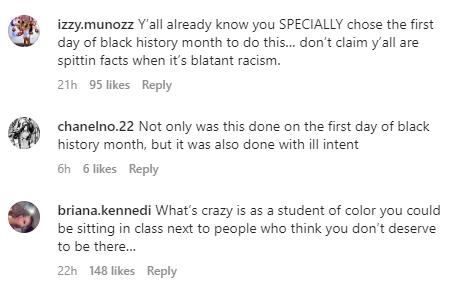 In a statement posted on Instagram on Thursday, TPUSA Clemson said that it didn't actually sell any cookies. It claims that the bake sale was designed to oppose affirmative action and "bring attention to the discrepancy that higher education institutions exhibit towards different races, specifically in the college admissions process."
However, the branch told WYFF that it didn't actually know whether Clemson uses affirmative action in its admissions. It said it was targeting the admissions processes at universities like Harvard University and the University of North Carolina.
A few cheered them on, but comments on TPUSA Clemson's Instagram posts about its "affirmative action bake sale" were overwhelmingly negative.
One person commented, "Grow up and learn how to treat your fellow students with respect and decency. Everything you guys do is to stir the pot and get a rise out of people, why can't you just base your platform out of kindness and compassion?"
"Funny how it's mostly the privileged white people who pay their way into their kid's schools & have every upper hand in society but y'all are trying to say minorities glide right in? SIDE EYE," wrote another.
In its statement, TPUSA Clemson insisted that it had no "ill intents towards anyone when planning this event."
"We were not suggesting in any way that individuals at Clemson did not work hard to be here," it added.
This isn't the first time a TPUSA branch has hosted one of these events. In 2017, the University of New Mexico branch of the group held an "affirmative action bake sale." That event inspired similar backlash.
Clemson University has not commented on the matter as of this writing. It's not clear whether it knew about the bake sale in advance.
Still, some are holding the school responsible for TPUSA's actions.
"SMH," a Twitter user commented. "I'm definitely selling my season tickets."


We crawl the web so you don't have to.
Sign up for the Daily Dot newsletter to get the best and worst of the internet in your inbox every day.