Gird your loins: President Trump's military parade is currently scheduled to take place on Veteran's Day, November 11, 2018.
While Trump was said to have wanted tanks and artillery on parade to celebrate his inauguration, he became smitten with the pomp and pageantry of France's annual Bastille Day military parade when he attended the occasion in Paris on July 14th, 2017.
That parade saw thousands of troops marching in front of a VIP audience that included French president Emanuel Macron, augmented by 241 horses, 63 airplanes, and 29 helicopters.
When is President Trump's military parade?
Trump called the parade "a tremendous day," and soon directed his own staff to plan a parade for Veteran's Day. As of August 2018, the estimated cost for the entire parade is $92 million, according to a U.S. defense official with insider knowledge of the parade details, CNBC reports. This is an $80 million increase from the original slated cost of $12 million.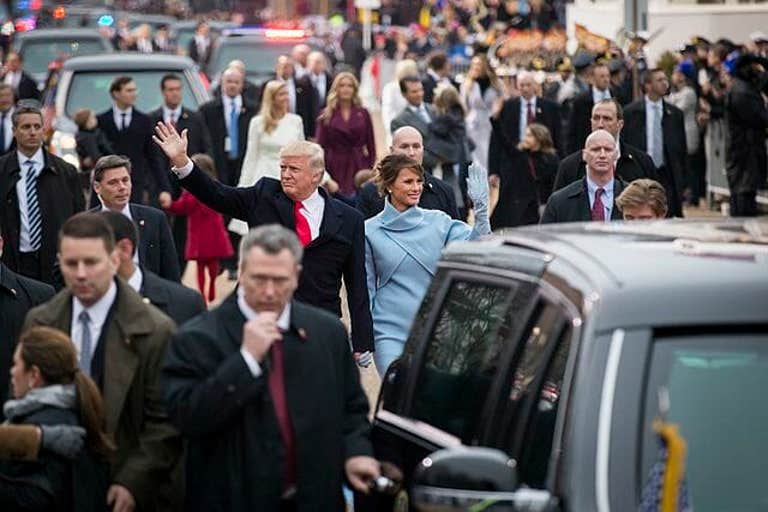 READ MORE:
What will Trump's military parade feature?
In a memo released in March, the Department of Defense announced that it will feature "wheeled vehicles only, no tanks," to prevent damage to Washington's aging roads, will proceed from the White House to the Capitol, will include marching soldiers in period uniforms, and will have a "heavy air component," mirroring what Trump saw in Paris. 
Parade details for Nov. 11. Will have uniforms. Some planes. Maybe old planes. Tanks are banned. pic.twitter.com/W7xyhLYo9Y

— Thomas Gibbons-Neff (@Tmgneff) March 9, 2018
However, the parade won't feature the massive displays of military might found in modern-day North Korean or Russian military parades. This would include massive columns of tanks, armored vehicles, and mobile ballistic missile launchers.
The cost for the expanded parade was pegged at $30 million at one point, and none of the unclassified Pentagon memos about it have nailed down a final amount.
When was the last military parade in Washington?
The last major military parade in D.C. was on June 8, 1991, celebrating the US-led coalition's defeat of Iraq in the Gulf War. The "National Victory Celebration" featured almost 9,000 soldiers, along with tanks and missiles thundering down Constitution Avenue toward the Pentagon.
The event was something of a nightmare for city planners. The parade caused over $12 million in damage, including massive grooves carved into roads unable to bear 67-ton tanks. The hundreds of thousands of spectators who crammed together to watch the parade also left over a million pounds of garbage.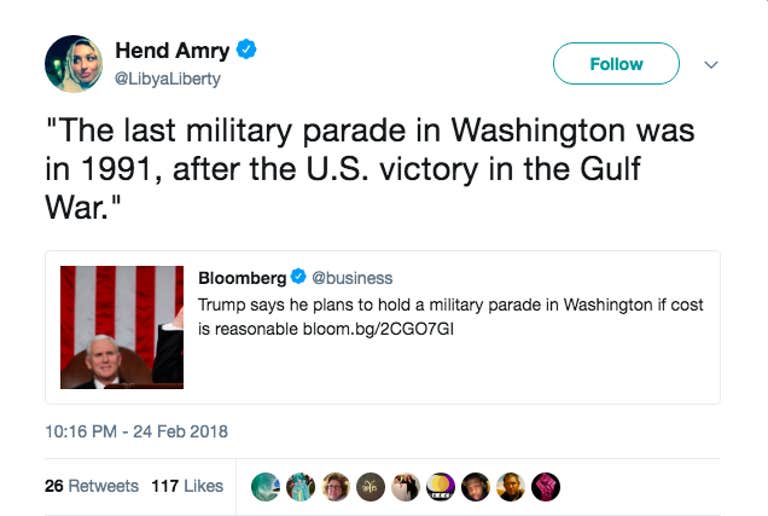 READ MORE:
Have there been other major military parades in U.S. history?
Military parades have had a mixed tradition in America's history. They were once fairly common occurrences on Independence Day, but the Founders had an unease with the idea of a large military being integrated into civilian life, and more recent parades have only taken place after major victories or the end of a war.
The end of the Civil War brought a two-day parade to D.C. to celebrate the Union's triumph. Plus, it was a good way to dissipate the depression after Abraham Lincoln's assassination. The "Grand Review of the Armies" saw the 150,000 troops and 25,000 horses march across Washington in a 15-mile-long column, but only after taking over the entire city with their encampments—and leaving thousands of pounds of horse manure in their wake.
Both World Wars saw huge military parades to commemorate victory, and while the World War II parade was held in New York City in 1946, it featured a final display of the military power that the country had built up over the past few years, including countless rows of tanks and artillery to celebrate an army headed for a peacetime contraction.
Such parades are still a staple of Russian culture. In 2015, a parade was held to both celebrate the victory over Nazi Germany and to show off Russian military hardware.
https://www.youtube.com/watch?v=zJphZHWvTcY
Which other U.S. presidents have incorporated military parades?
The inaugurations of both Dwight Eisenhower and John Kennedy also saw the U.S. flexing military muscle.  
Both presidents watched squadrons of missile launchers, tanks, and cannons roll down the streets of D.C., including a nuclear warhead-firing howitzer for Eisenhower, and towed boats for Kennedy.
But Eisenhower was also uncomfortable with such spectacle, cautioning the crowd at a 1946 parade in New York that "any man who is forced to turn his attention to the horrors of the battlefield, to the grotesque shapes that are left there for the burying squad — he doesn't want war. He never wants it."
Without a military victory to celebrate, Trump's parade will probably resemble those overseen by presidents in the early 19th century. It will certainly be an occasion to celebrate America's military history and goose the president's approval ratings. And likely not much more than that.
Editor's note: This article is regularly updated for relevance.