President Donald Trump proclaimed Wednesday as a "National Day of Prayer," and when the Republican Party tried to capitalize on that, it didn't go over well with people online.
Trump, in a proclamation, said the "National Day of Prayer" was a time to "offer gratitude for our many blessings and to acknowledge our need for divine wisdom, guidance, and protection." He also took credit for people saying "Merry Christmas" more since he took office during an event to mark the day of prayer.
Trying to jump on that religious bandwagon, the official Twitter account for the Republican Party, @GOP, decided to post an image of Trump closing his eyes–presumably in the midst of praying–with a quote from him where he says the United States was "founded on prayer" that communities "are sustained by prayer" and that the country would be "renewed" with "hard work, a lot of intelligence and prayer."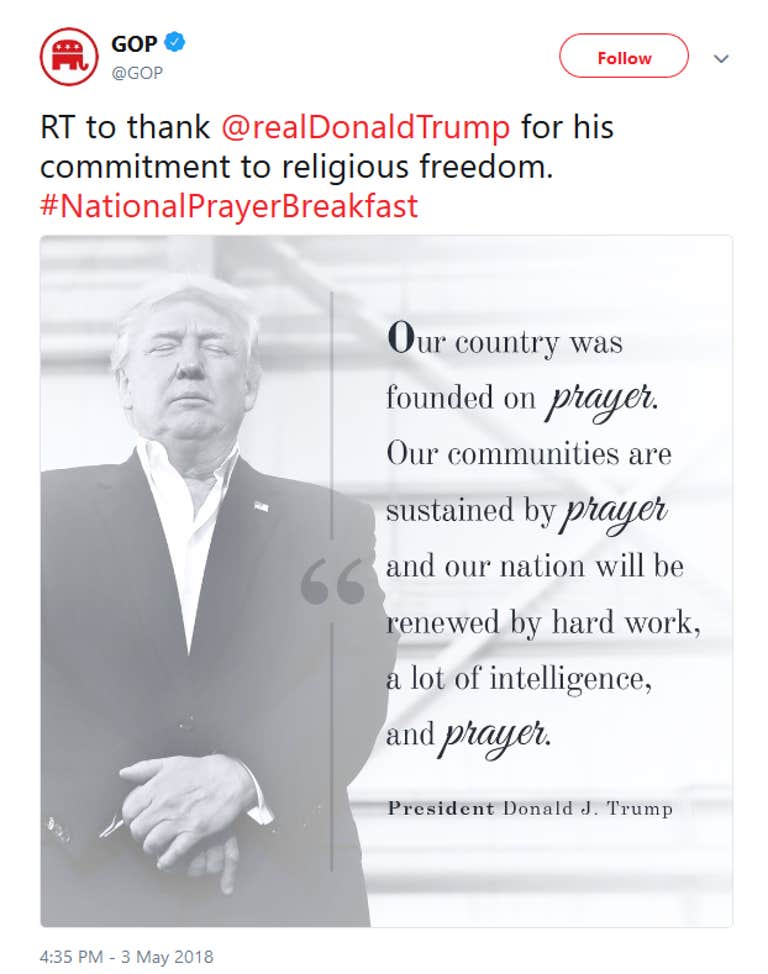 Given Trump's history of making derogatory comments about people of the Muslim faith, the irony of the president insisting that prayer would renew the country was not lost on people online.
The mocking quickly followed.
God just threw up https://t.co/r5jwfKHHy7

— Dolly (@ApsyAngst) May 4, 2018
He made the same face when he was with Stormy Daniels. https://t.co/1HyPkRz5jX

— Crutnacker (@Crutnacker) May 4, 2018
Is this a parody account? Or is this the Onion in disguise?

Pathetic. https://t.co/vdcQtmnZrL

— Kevin (@SophiesGrandpa) May 4, 2018
satire really hitting hard today https://t.co/I5ZxRBqpBy

— Grant Sharratt (@grantsharratt) May 3, 2018
Once again, I'm laughing out loud. Twitter is the source of so much humor these days. Trump committed to "religious freedom?" Trump? This is hysterical. Does a single day pass during which this dishonest man does not debase & abuse the office he holds? https://t.co/GiVvH1Mzwy

— Anne Rice (@AnneRiceAuthor) May 3, 2018
Lol, religion freedom as long as you're Christian cause we all know how you guys feel about muslims

— Shebrador (@Shebrador) May 3, 2018
May 3, 2018
May 4, 2018
Yikes.