Following the FBI's raid of Michael Cohen, President Donald Trump's personal lawyer, on Monday, the president took to Twitter to express his frustration with the situation by exclaiming "attorney–client privilege is dead!"
Cohen's office and hotel room were raided by FBI agents. The agents reportedly collected documents regarding his $130,000 payment to adult film actress Stormy Daniels in exchange for her silence about an alleged affair with Trump.
On Tuesday morning, Trump called the raid a "TOTAL WITCH HUNT!!!" and declared that "attorney-client privilege is dead!"
Attorney–client privilege is dead!

— Donald J. Trump (@realDonaldTrump) April 10, 2018
The raid was reportedly referred to the FBI by Special Counsel Robert Mueller.
While Trump's dramatics have riled up his most ardent supporters, he's forgetting that there are laws that surround attorney-client privilege in extreme circumstances.
The U.S. Attorney's Office for the Southern District of New York authorized the federal agents' search warrant to carry out the raid, and the Washington Post reports that Cohen is under investigation for possible bank fraud and election law violations. This means that the U.S. Attorney's Office thought there was enough evidence to green-light a search warrant.
Moreover, while attorney-client privilege is often upheld, there are instances where attorney's premises can be subjected to searches.
As the Department of Justice explains, there are guidelines for searching attorneys who are "believed to be in possession of contraband or the fruits or instrumentalities of a crime," including: trying to first find alternatives and the "least intrusive approach" to get information they want.
A search warrant for a lawyer must also be approved by the U.S. Attorney or the Assistant Attorney General; and as Ken White, a former federal prosecutor, explained on Reason, the whole thing has an "elaborate review process."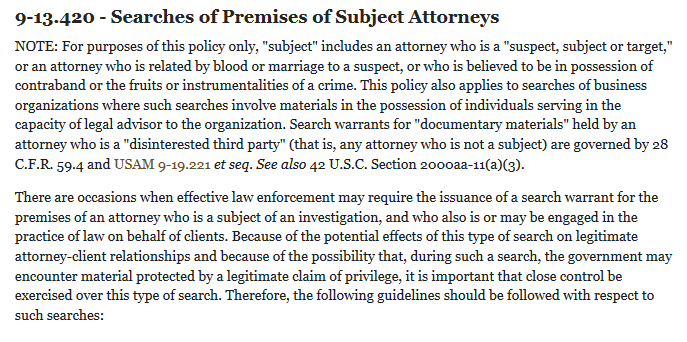 NBCNews suggests that federal agents may have opted against a "least intrusive" approach because they felt it "might result in the destruction of evidence."
Former U.S. Attorney and Deputy Assistant Attorney General Harry Litman told USA Today that it was "unusual" for an attorney's office to be raided, but highlighted that the probable cause to execute the search warrant would have to relate to Cohen–not his client, Trump.
"You can't use it as end run around to get to the client," Litman told the newspaper.
He said a "taint team" would review documents that might fall under attorney-client privilege before giving them to prosecutors.
Despite there being clear legal footing for such a raid to take place, Trump's deceleration of a "witch hunt" and the death of attorney-client privilege has ignited some of his most ardent supporters.
Katrina Pierson, who was recently named to Trump's 2020 re-election campaign, went on a tweet storm following Trump's Tuesday-morning tweets, and–of course–brought up Hillary Clinton.
Paging all Americans!!! https://t.co/VW7FQzDeVR

— Katrina Pierson (@KatrinaPierson) April 10, 2018
Where is the Clinton Attorney raid?

— Katrina Pierson (@KatrinaPierson) April 10, 2018
But she wasn't the only one standing firmly in Trump's corner.
Good morning to everyone except attorny-client privilege

— Jack Posobiec (@JackPosobiec) April 10, 2018
If by raiding the office of @realDonaldTrump's attorney, the @fbi violated Trump's attorney-client privilege, this is about to get really ugly.

— Laura Ingraham (@IngrahamAngle) April 9, 2018
Attorney client privilege is apparently meaningless in this era of get Trump at all costs

— Buck Sexton (@BuckSexton) April 9, 2018
You can probably expect some sort of Trump 2020 fundraising email to use this soon.