Tesla unveiled its impressive all-electric Semi last night, but it's what was sitting inside the truck's bed that is getting all the attention.
Toward the end of the lively keynote, Musk produced his characteristic "one last thing" moment that shocked everyone in attendance: a next-generation Tesla Roadster.
Tesla Roadster
Musk claims it will be the fastest production vehicle in history. The performance specs are unheard of for a road-ready vehicle: a 0 to 60 time of 1.9 seconds, 0 to 100 in 4.2 seconds, and a top speed of more than 250 miles per hour.
To give you an idea of how fast that is, the Koenigsegg Agera RS holds the record top speed of 277.9 mph, and no production car—Porsche, McLarren, Ferrari, Lamborghini—has ever broken the 2-second 0 to 60 barrier. Tesla's own 0 to 60 record is 2.5 seconds, achieved by the Model S P100D in "Ludicrous" mode.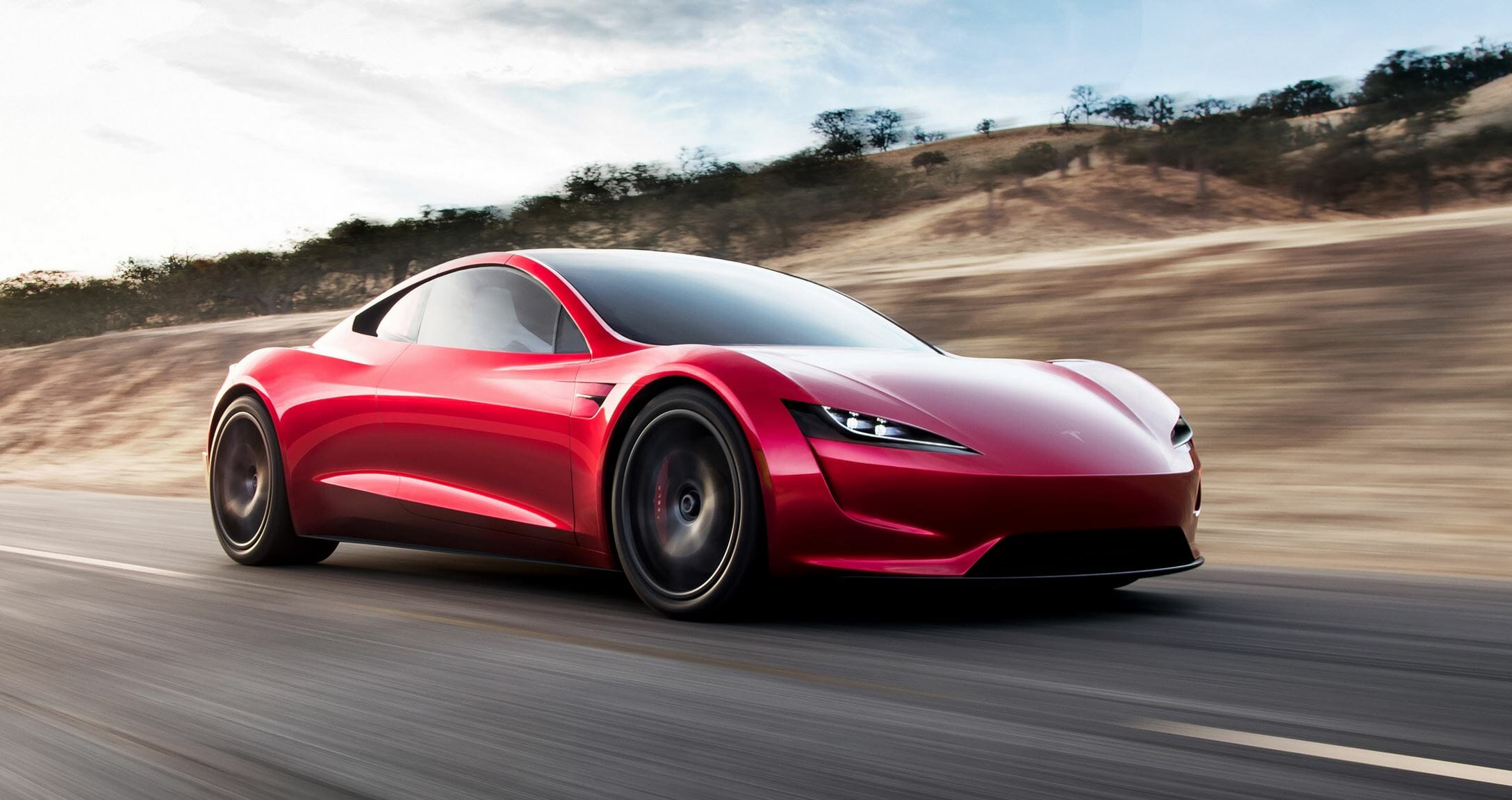 If that's not impressive enough, Musk says the Roadster shown on stage was a base prototype model and there's a chance the full production model could further improve those numbers.
That speed is useless if it can't get you anywhere. Fortunately, the Roadster also has a record-breaking range of 620 miles thanks to a huge 200kWh battery pack. That's enough energy to get you from Los Angeles to San Francisco and back without charging, Elon Musk pointed out.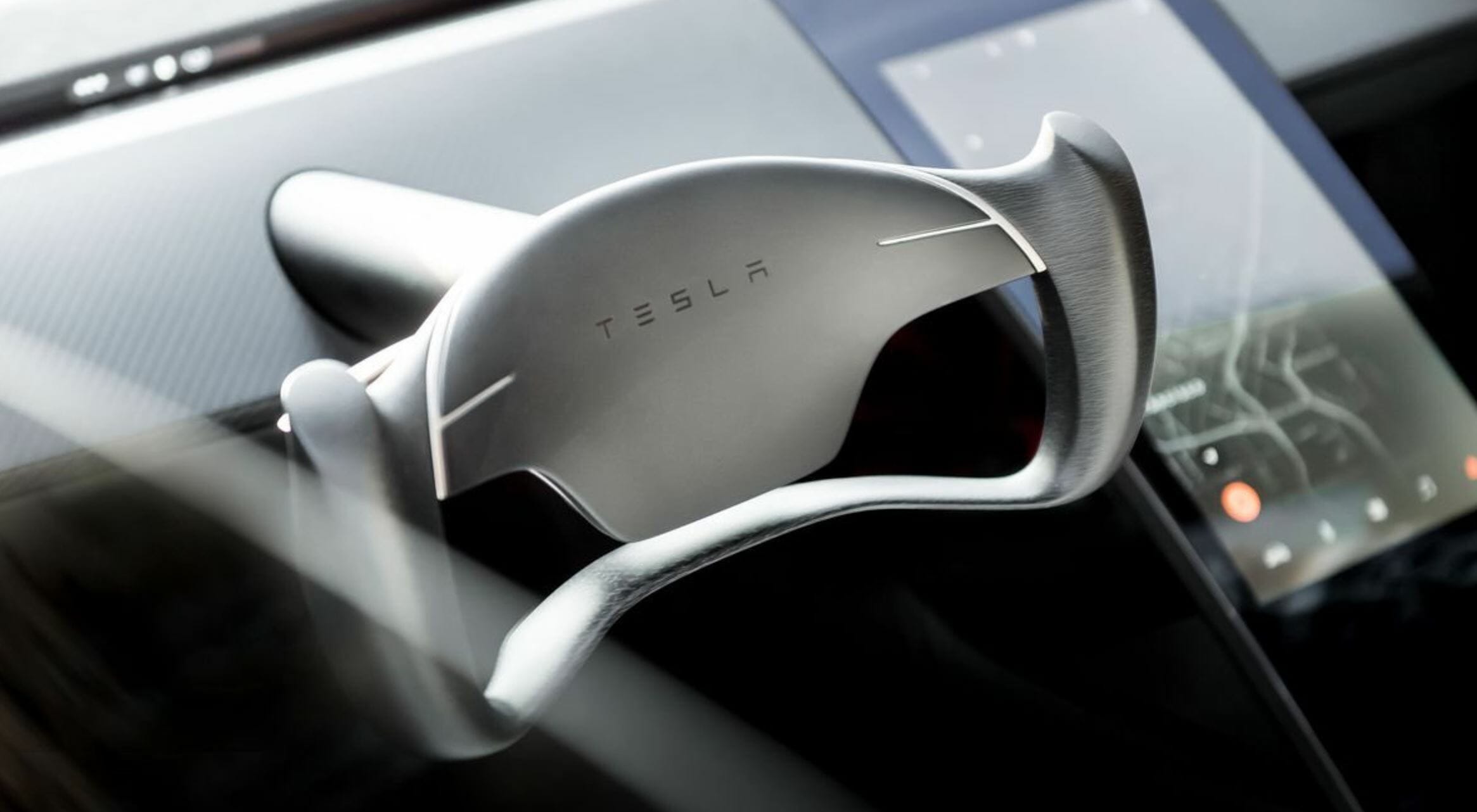 "These numbers sound unreal, but they're not," Musk boasted on stage. "The point of doing this is to give a hardcore smackdown to gasoline cars."
What's just as hard to believe is that the Roadster is a four-seater. Yes, hidden somewhere under the rear window is a second row of seats, though Musk warns it may not fit everyone, "OK, you can't put giant people in the rear seat… a giant person squashed or a small person can fit in the back."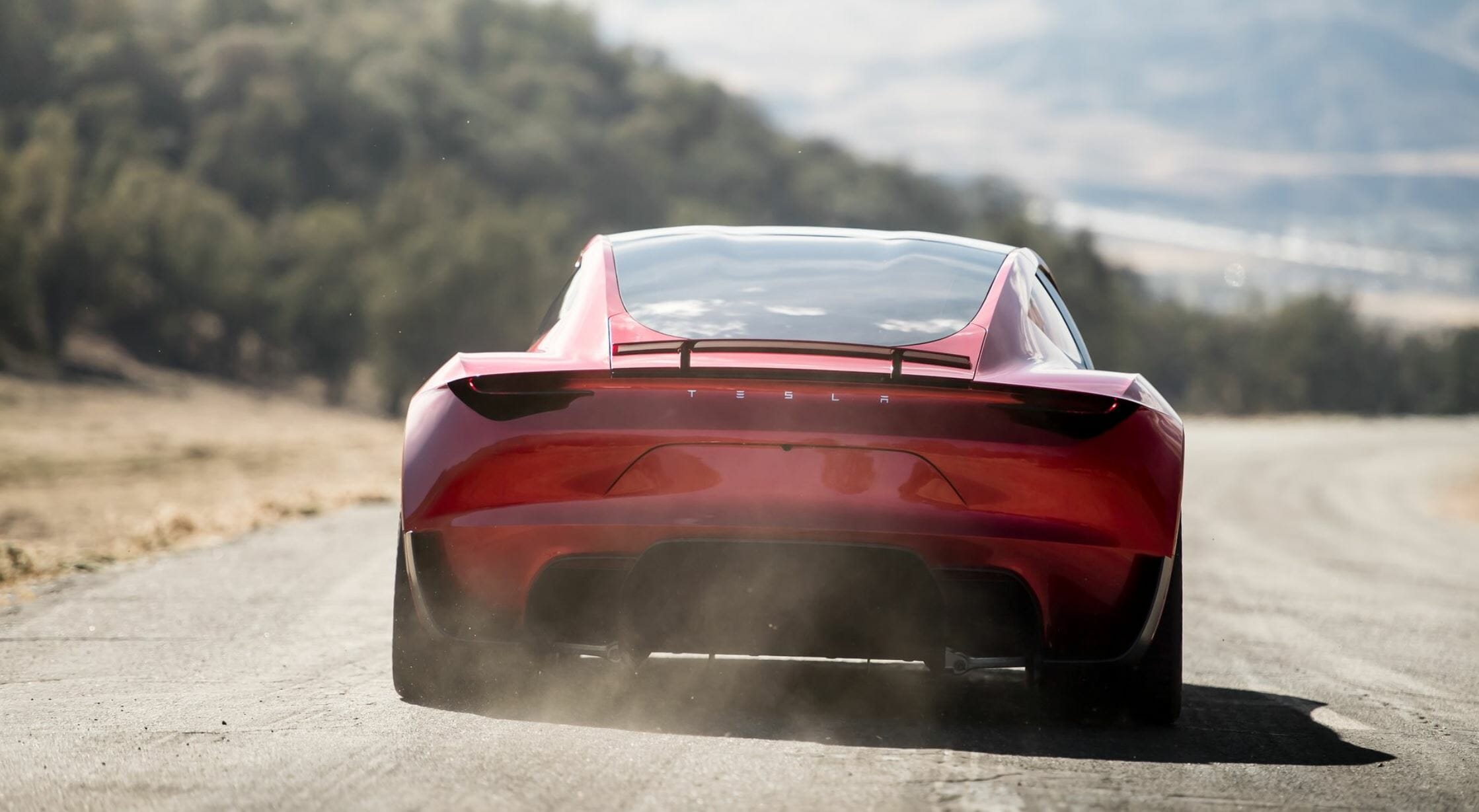 With design cues possibly influenced by the Aston Martin BD10 and McLaren 650S, the gorgeous Roadster is poised to compete with sports cars and supercars alike. It's all-wheel drive and comes with three motors, one up front and two in the rear. It also has a removable roof that can be stored in the trunk.
The second-generation Roadster is predictably expensive. Musk says it will have a base price of $200,000, with a $50,000 deposit required upfront. Tesla is accepting deposits today and is expected to start production in 2020. $200,000 may sound like a lot of money, but the Roadster is a bargain when compared to supercars with anywhere near its performance.
Tesla Semi
Somewhat overshadowed by the Roadster reveal was the long overdue unveiling of Tesla's all-electric semi truck. In stark contrast to the tiny Roadster, the "Tesla Semi" is a hulking, intimidating vehicle with a distinct futuristic aesthetic.
The inside of the cab is equally eye-opening. The driver's seat is in the middle, positioned so far forward that the driver can see the ground. Floating on both sides of the sleek steering wheel are two large 15-inch touchscreens that display navigation, predictive maintenance, diagnostics, and other important information.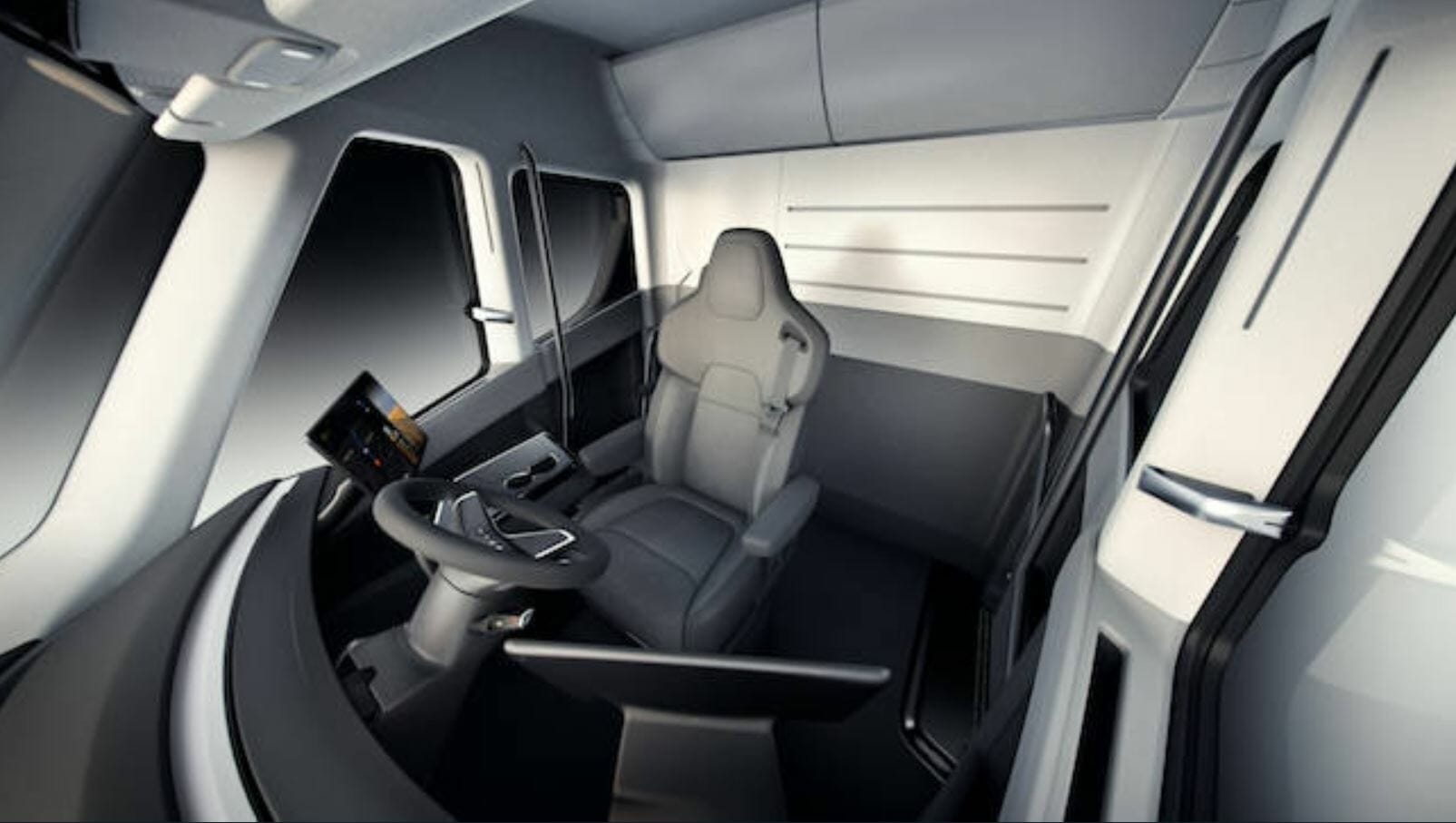 It would be unlike Tesla to release anything but the quickest vehicle in its class, and the Semi doesn't disappoint. Musk proudly announced the Semi can go from 0 to 60mph in just five seconds, an extremely fast result for a Class 8 transport vehicle. It can reach 60mph while carrying 80,000 pounds of weight—the most you can carry on a U.S. highway—in just 20 seconds.
Tesla didn't disclose its battery size but said it has an approximate range of 500 miles at highway speed; with 80 percent of routes being shorter than 250 miles, the Semi could accommodate most drivers for a complete round trip without charging. Equally impressive is its charging time: It takes just 30 minutes to juice up for a 400-mile trip. Another standout claim is that the Semi is more aerodynamic than a supercar, though Musk didn't elaborate on how that was determined.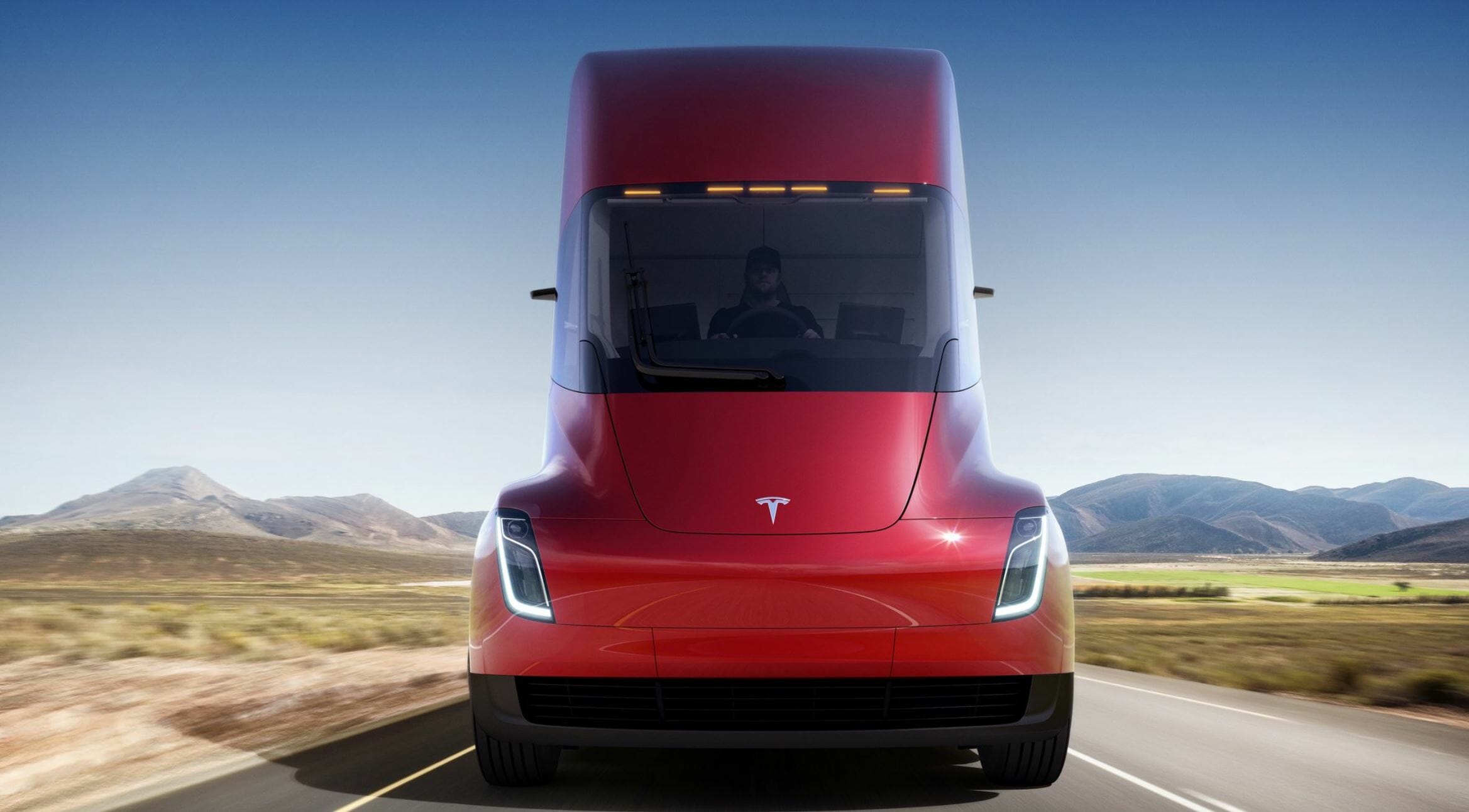 Of course, every Semi will come with Tesla's enhanced autopilot features so the truck will automatically stay in its lane and safely pull over if it recognizes its driver is dozing off.
Each of the Semi's four wheels has its own Tesla 3 motor, which, in total, generate 1,032 horsepower. Tesla did not give torque numbers, a more important statistic for truck drivers.
Tesla also didn't reveal the price of the Semi but claimed its operating costs on day one are lower than that of a diesel semi. On 100-mile routes, the Tesla Semi, considering all variables, costs $1.26 per mile to operate, while its diesel equivalent costs $1.51. Again, it's not clear how those numbers were reached.
Musk promises production on the Tesla Semi will start in 2019. Considering delays plaguing the less-ambitious Model 3, don't hold your breath.