Technology is one of the most profitable sectors of the world economy. But, when it comes down to precisely how profitable, not all firms are created equal. Some take in lots of cash from consumers, but only manage to convert a small amount into profit. Others, despite dominating much of the daily pop-cultural conversation, seem to be making relatively little of either.
U.K.-based payments company WorldPayZinc used publicly available financial data from 2013 to show how much money a dozen of the world's leading tech companies are making in real time.
Click the image to open the interactive version:
Watching the site run is a mesmerizing/mind-numbing experience of seeing global capitalism in action, but it also makes a number of insights into the companies themselves relatively obvious.
1) Hardware is really the name of the game. The most profitable companies on this list are ones that make the majority of their cash producing physical projects. Samsung, Apple, and Hewlett-Packard easily net more than anyone else tracked by the site.
2) The median American household income is around $51,000. It takes Apple about eight seconds to earn that much in revenue, and about 42 to earn that much in profit.
3) Social networking is more hype than dollars. Social networking companies like Facebook, Twitter, and LinkedIn earn far less revenue than companies primarily focusing in other sectors. It isn't just that their profits are low, the total amount of money they take in (before expenses) is pretty small, especially when compared to how ubiquitous they are in people's lives and the amount of media attention they receive.
4) Amazon's reputation of reinvesting the majority of its earnings back into the company is well-earned. The company rakes in a lot of revenue, but only extracts relatively small amount of profit from it. For every dollar in profit Amazon earns, it generates about $100 in revenue. Something similar can be said about Sony and LinkedIn, which generate $65 and $57 respective for each dollar of profit.
5) Microsoft is the best company on the list for converting revenue into profit, netting a dollar for every approximately $3.50 it takes in.
Twitter is losing money at a slightly faster rate than Yahoo is making money. Both of these numbers constitute a rounding error to Apple or Samsung within minutes.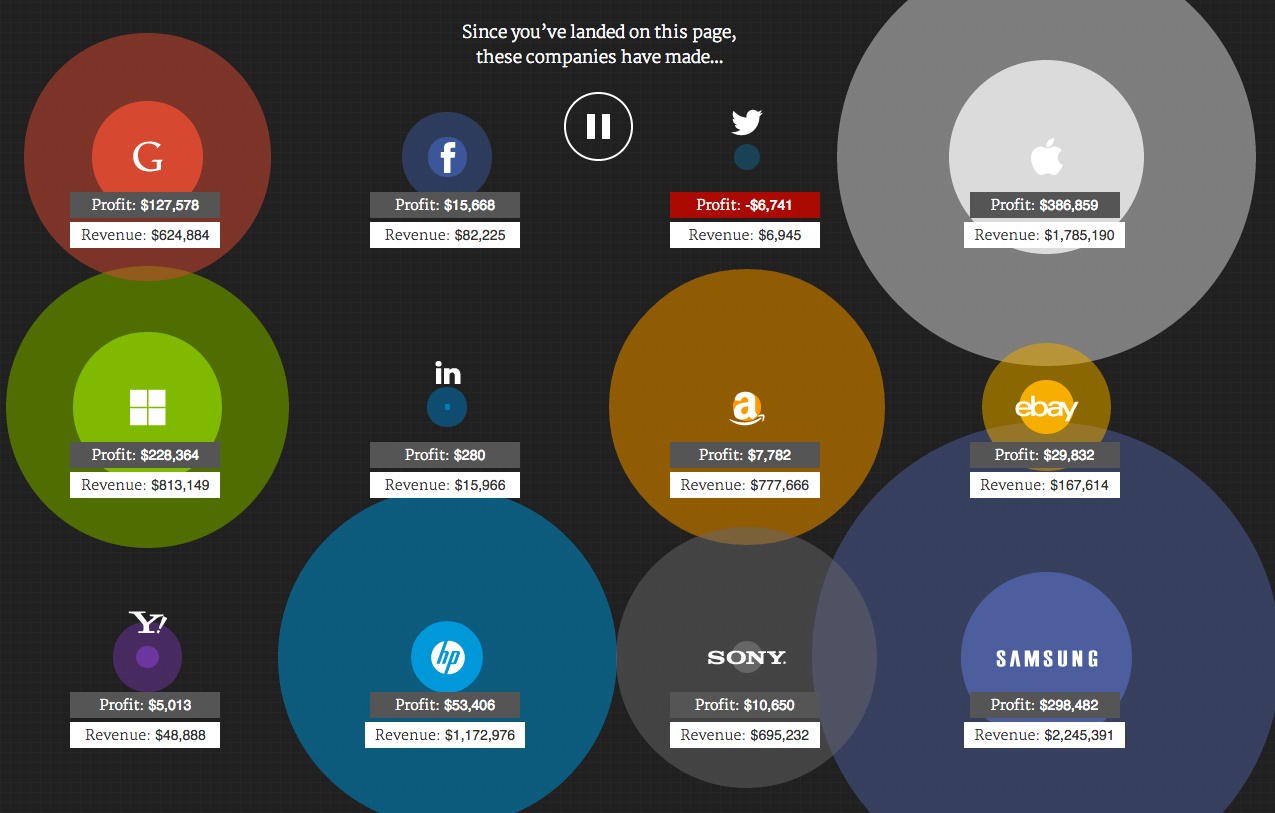 Photo by 2bgr8/Wikimedia Commons (CC BY 3.0)