A couple of weeks ago I discovered one of the most sinister, yet incredibly useful, Google Chrome extensions in existence. Streak is a relatively new addition to Chrome that allows Gmail users to not only track when an email they send is read, but also where and on what platform.
Installing it, I thought it could be useful for making sure emails I send to sources and other contacts are read, but the application does a hell of a lot more than that. Streak is automatically on, you have to manually turn it off—which means that quickly dashed off missives read by friends or family also contain the tracking technology, effectively opening up a window into the lives of your email recipients, one that they would likely rather keep closed.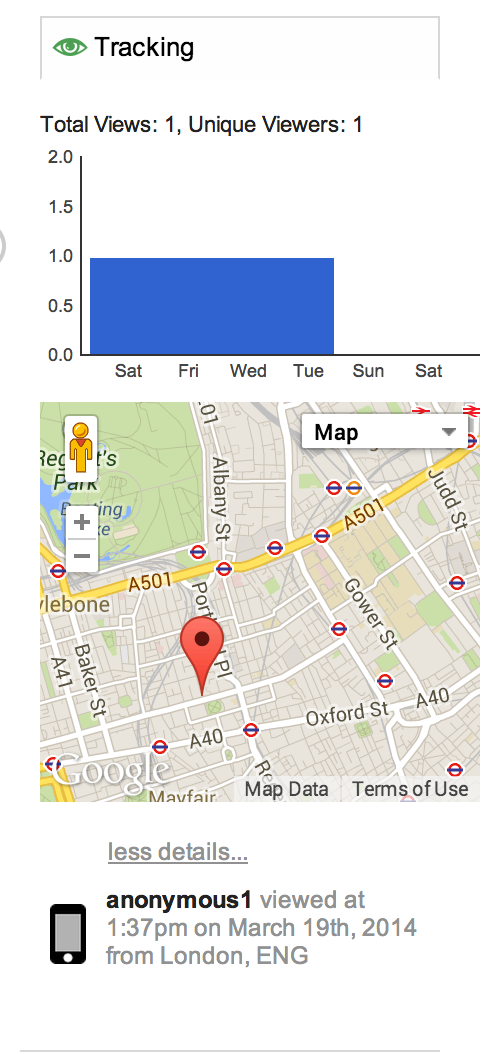 The application hides an invisible image within emails, so the only way to ensure you aren't being tracked is to not allow pictures in received messages, usually only a priority with spam or mailing list emails. Streak also allows scheduled emails, another immensely helpful part of the extension, and helps organize inboxes based on different categories of user.
The horror story of Streak is one that only the sender experiences: One email I wrote to my doctor this week went off without me realizing it would be best to turn off the app. As a result, I not only saw when the Doctor read it, but that it was on his iPad and a worryingly exact location pinpointed as to where he saw it.
This information is innocent enough, but only because I don't plan to misuse it. Anyone with with an email account and an Internet connection could install Streak, send you messages, and hope you open one so that he or she could find those details… and then possibly do something malicious with them. Or maybe just spy on you a little. Not that that should make you feel better.

The future of Streak is unclear, in such a climate of Internet privacy, it is likely that it will come under fire, and to be attached to the Google platform does not help the platform's security credibility. I've decided the best option going forward is to simply remove Streak from my personal email, because so far no other Google extension has made me feel so guilty simply by sending a message.
Illustraton by Jason Reed