If you've been frustrated by the lack of educational resources for children of evil, your day has come: You can now teach kids to Hail Satan! in Vivid Tangerine, Cornflower, or Aquamarine.
A court ruling in Florida last month decreed that religious pamphlets of all kinds could be distributed in school rooms to children. As they've done in the past, the activist religious group the Satanic Temple promptly stepped in.
They've released a fun new coloring book, called The Satanic Children's Book of Activities, that purports to teach children the values of the Satanic religion.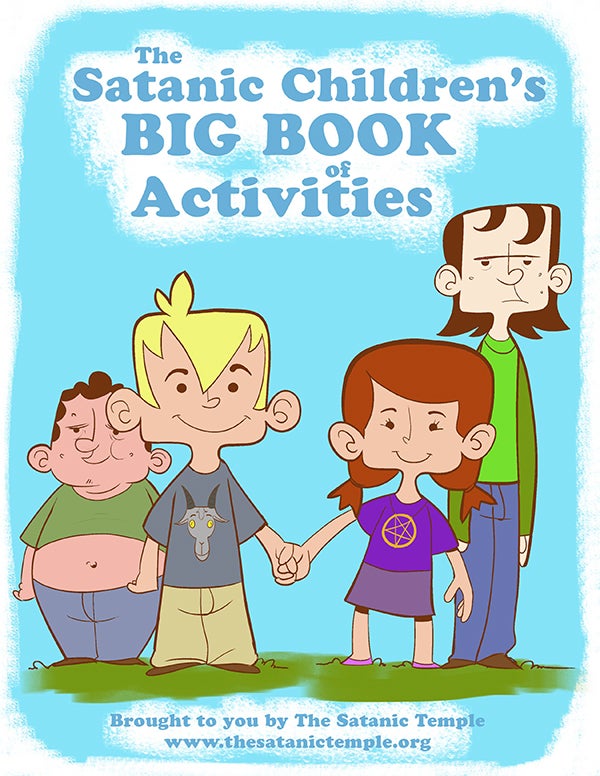 The coloring book's real purpose is to enforce the point of the Florida court's ruling. The court decreed that if an Orange County school district wanted to allow Christian religious organizations to distribute pamphlets to children in its school district, it would have to permit the same for other religious groups, incluing atheists. And, potentially, Satanists. Or atheist Satanists. You get the point. 
In a statement, the Satanic Temple said it believes in the separation of church and state. It only inserts itself into public spaces when that line has already be breached, so one religion isn't the dominating or only viewpoint presented. 
As members of the dark lord's cult of worship know, those who choose the Satanic path need education, too. The Satanic Children's Book of Activities allows your little Satanist to play fetch with Cerberus, read the Necronomicon, and hail Baphomet, all while having fun with crayons.
Satan's Little Helper learns the values of expressing his or her freedom of religion, listening and respecting other points of view, staying open-minded, and, oh, yeah, how to draw a five-point pentagram and use it to summon the Dark One.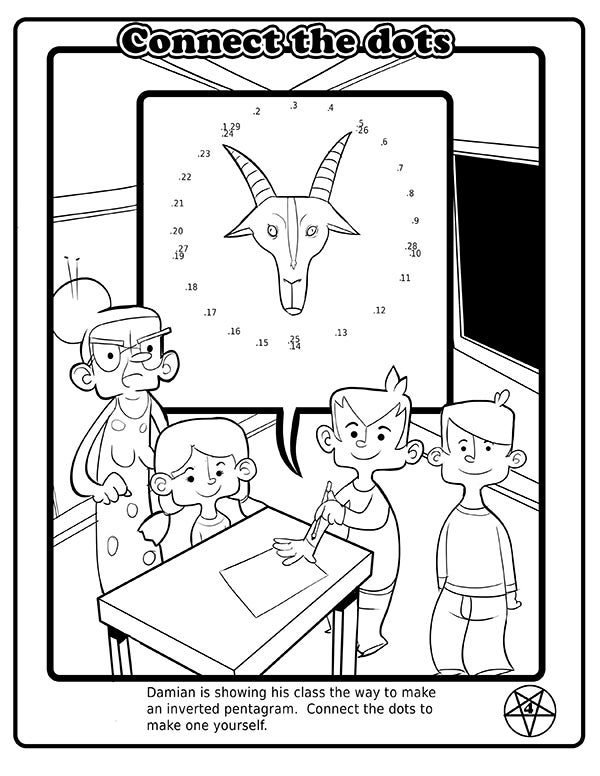 The whole book is downloadable here on the Satanic Temple website. In between the humor, there are moments of real teaching for kids: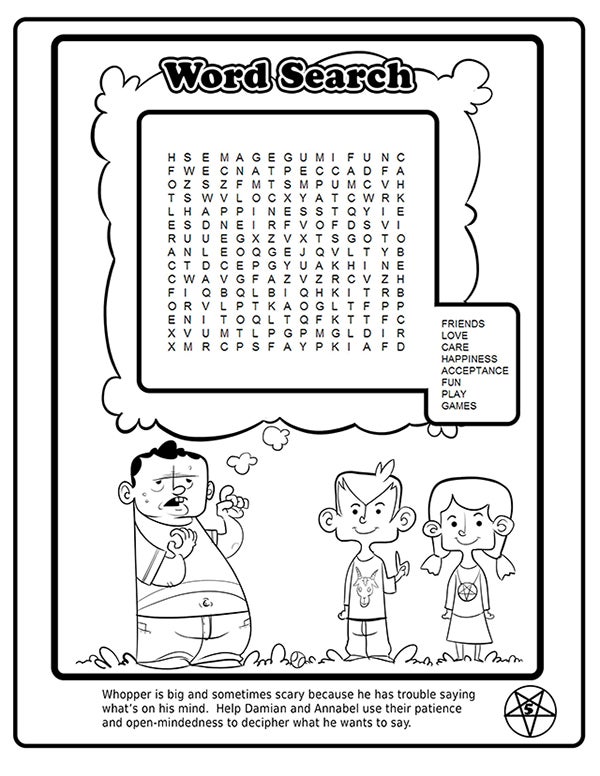 "The mission of The Satanic Temple is to encourage benevolence and empathy among all people, reject tyrannical authority, advocate practical common sense and justice, and be directed by the human conscience to undertake noble pursuits guided by the individual will," wrote the organization. Though their motives may be benign, we have a feeling other religious institutions might not appreciate the gesture.
Then again, it's hard to resent an organization that gives you Necronomicon workbooks.
And let's face it—we've always known coloring outside the lines is a Satanic activity.
Screengrab via the Satanic Temple