Ahead of notorious GOP dirty tricker Roger Stone's prison reporting date, right-wing media outlets are making a fuss about the conditions he could face do to the coronavirus pandemic.
The goal is to cast Stone as the victim of circumstance—all in the hopes of securing a pardon from President Donald Trump.
The websites are busy pushing a healthy does of whataboutism, citing other inmates who have been released due to concerns about coronavirus overwhelming prison populations.
The far-right conspiracy blog the Gateway Pundit published a piece Tuesday headlined, "Roger Stone Forced to Report to Prison in a Week Where a Pedophile and a Wire and Bank Fraud Convict Were Released for China Coronavirus Concerns."
"Citing Coronavirus, Judges Released Child Pornographers From Prison That Will Soon House Roger Stone," the conservative news outlet the Daily Caller penned.
This headline is a far cry from the outlet blaming "left-wing activists and elected officials" for pushing "the mass release of inmates" due to fear of the coronavirus spreading quickly in overcrowded jails and prisons.
Another far-right conspiracy website, InfoWars, where Stone has been a frequent guest, went so far as to blame the judge if Stone dies in jail due to the coronavirus.
Stone didn't respond to the Daily Dot's request for comment on if blaming coronavirus conditions is part of a last-ditch effort to keep him out of jail.
Stone did give a comment to the Daily Caller for their piece.
While influential conservative thought leaders such as primetime Fox News host Tucker Carlson push for schools to reopen and downplay the virus, Stone and others appear to be more than happy to claim it's unsafe for him to report to prison.
Furthermore, Carlson himself has stated that using the coronavirus as an excuse to stop arresting people to serve prison time is "a recipe for chaos."
On Tuesday, Congressman Matt Gaetz (R-Fla.) appeared to hint that Stone might not have to report to federal prison, to which right-wing conspiracy theorist Jack Posobiec suggested in response, "Gaetz knows something."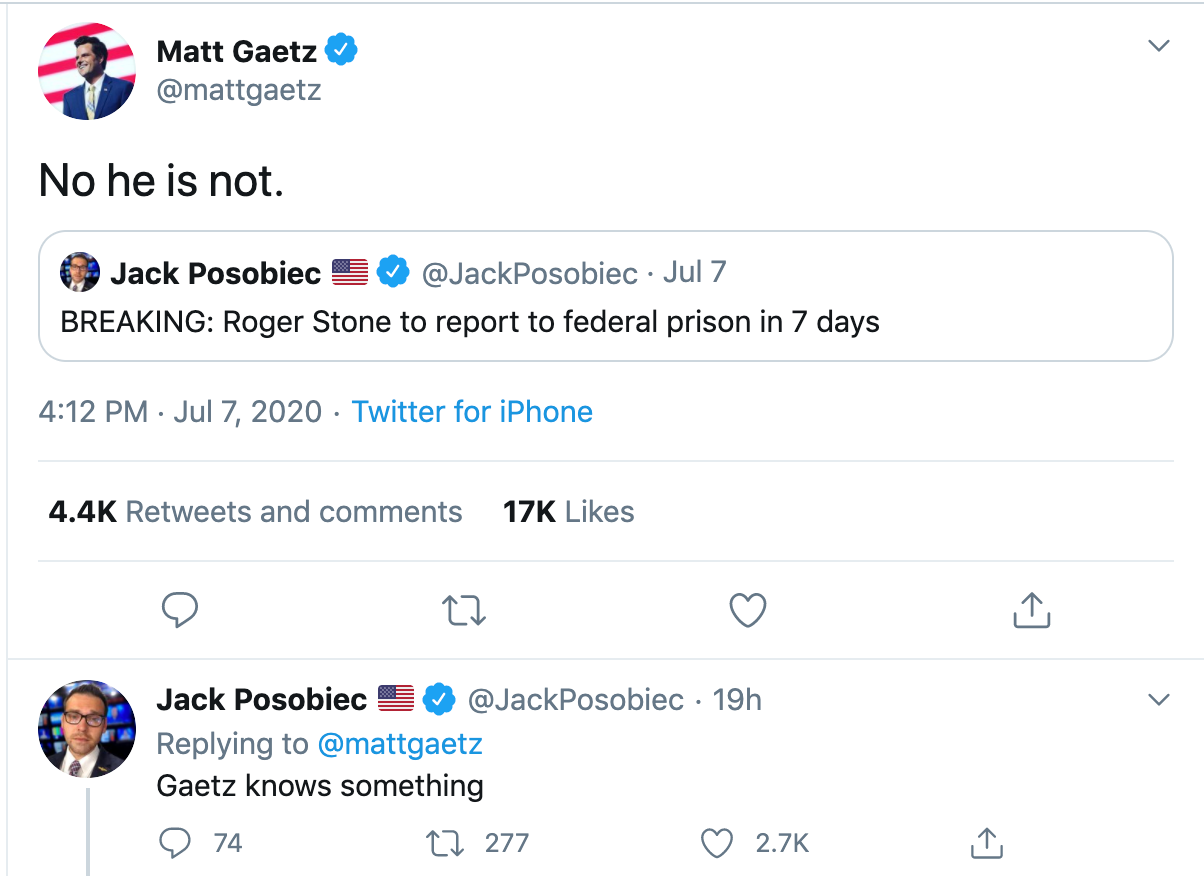 As of now, Stone must surrender to prison on July 14 to begin his 40-month sentence.
Other conservatives pundits on Twitter have continually called on Trump to pardon his former advisor.
Trump has been coy about pardoning Stone, at one point retweeting a petition about it.
READ MORE: