On Tuesday evening, just before the 2020 Democrats took the stage for their last debate before the Iowa caucuses, the House Intelligence Committee released a collection of evidence provided by Lev Parnas, Rudy Giuliani's fixer in Ukraine 
Among the figures featured in those documents were Giuliani, Parnas, and a Connecticut man named Robert F. Hyde, a previously obscure congressional candidate who appears to have been monitoring the movements of Ambassador Marie Yovanovitch.
In terms of Trumpworld hucksters, Robert Hyde is a figure right out of central casting. He appears to spend a lot of time and money at the places where those hoping to get into the outer circles of the president's sphere linger. He's often spotted at Trump's hotel in Washington, D.C. and, like a lot of these figures, he obsessively documents his trips on social media.
In one video, posted to his LinkedIn, Robert Hyde claimed that the Trump administration gave him a necktie at Mar-a-Lago. In another, he filmed himself doing push-ups in the lobby of the Trump International Hotel in D.C.
He has numerous photos with the president and has posted a video of him approaching Trump while the president is riding in a golf cart.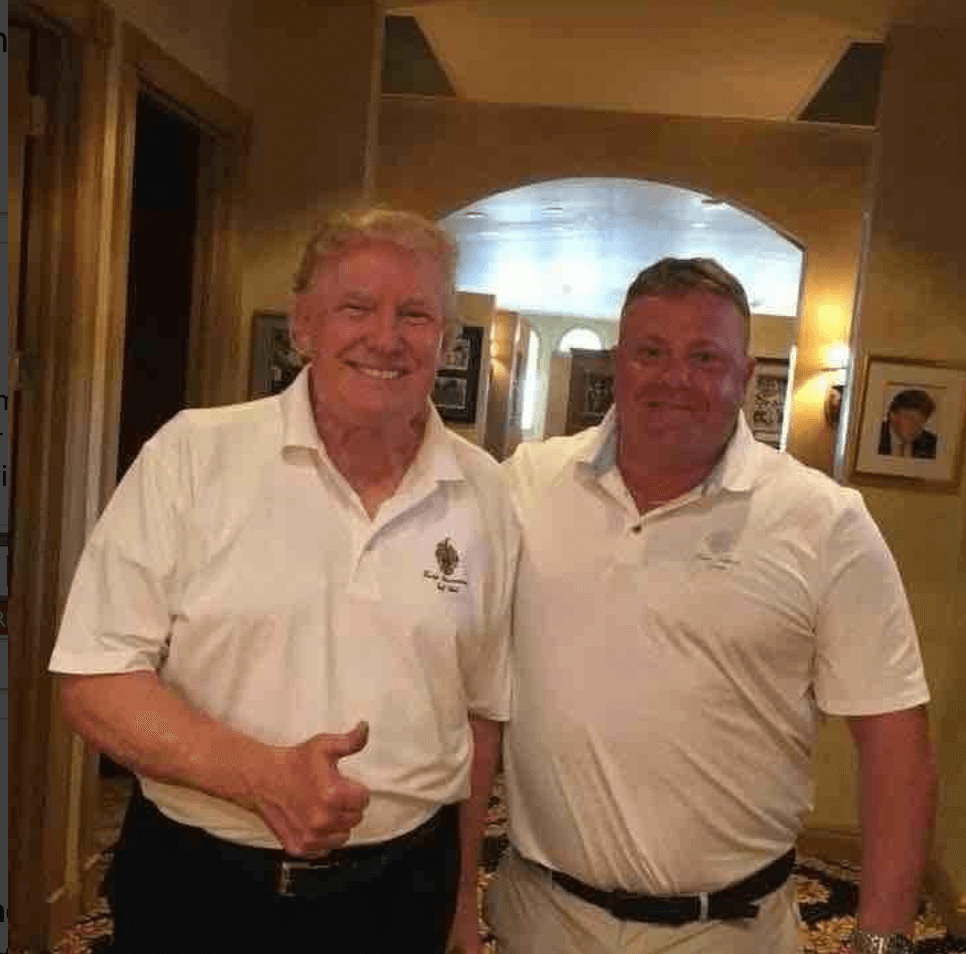 In the documents released by the Intelligence Committee, Hyde appears to be in constant contact with Parnas about U.S. Ambassador to Ukraine Marie Yovanovitch. He responded to a WhatsApp message from Parnas about Yovanovitch by saying "fuck that bitch" and later added, "Can't believe Trump hasn't fired this bitch. I'll get right in that." 
In another message, Hyde indicated that he had associates monitoring Yovanovitch in Ukraine, writing to Parnas, "they are willing to help if we/you would like a price." In another message, he wrote, "they are moving her tomorrow."
In testimony to Congress, Yovanovitch feared she was facing a smear campaign from Trump and his associates, who were working to find ways to oust her.
In a statement, Yovanovitch's attorney said "needless to say, the notion that American citizens and others were monitoring Ambassador Yovanovitch's movements for unknown purposes is disturbing. We trust that the appropriate authorities will conduct an investigation to determine what happened."
Hyde appears to have run a construction company before launching a lobbying firm, though it's not clear whether his firm, Finley Hyde & Associates, ever had any actual clients.
There are no disbursements for the group listed in the FEC filings. However, Hyde does have a long history of donating to candidates. He first began listing his employer as Finley Hyde in June of 2019 but prior to that, he's listed himself as everything from "entrepreneur" to "golf specialist" in FEC filings.
If there is a constant in Hyde's recent pseudo-political career, it's his insistence that he's close to power. 
On LinkedIn, he posted screenshots of invitations to Trump campaign fundraisers and wrote: "please let me know if you have any questions or would like to RSVP." 
On another occasion, he posted a letter from Mike Pence's brother, Congressman Greg Pence (R-Ind.) and in one boast, Hyde posted a photo of him and Florida Governor Ron DeSantis and wrote, "I helped Ron DeSantis win governor of Florida."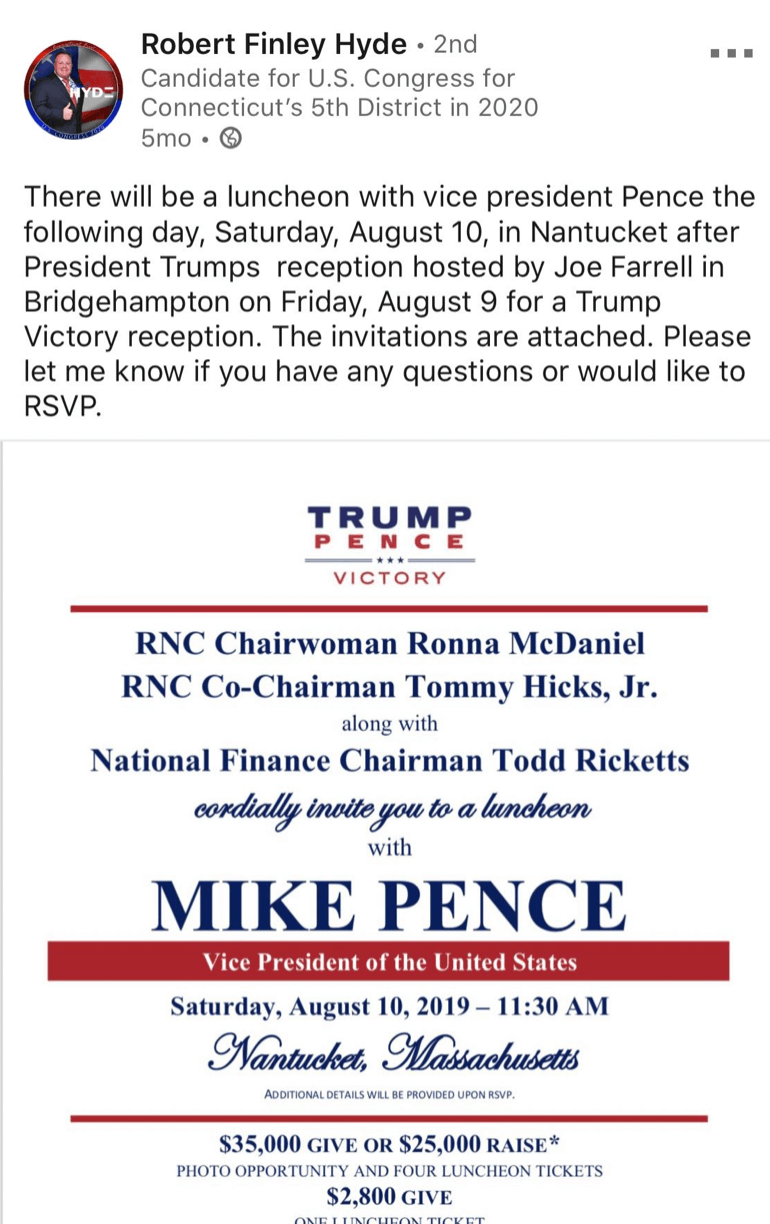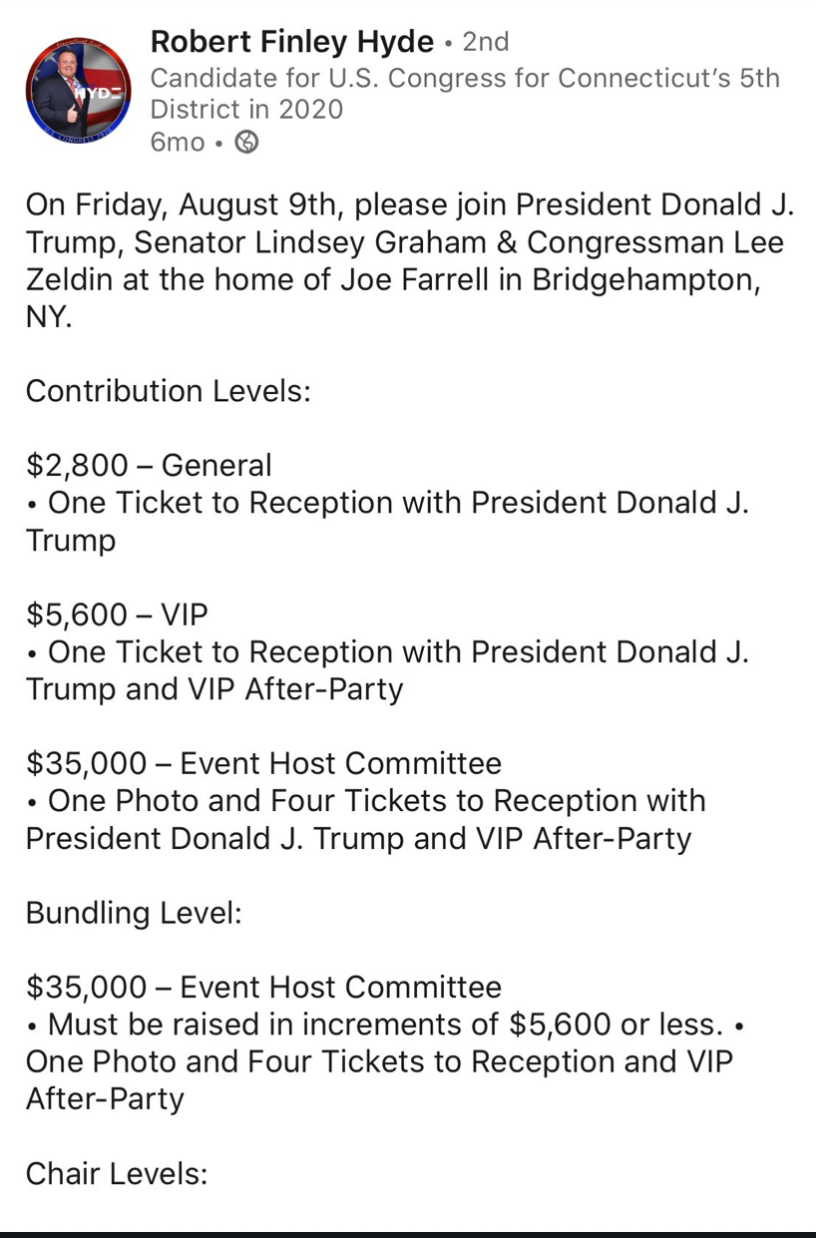 Unsurprisingly, Robert Hyde has embraced his new role as a Trumpworld villain, writing on Twitter, "Liddle Adam Bull Schiff and the Standard Hotel, I wasn't there either or was I… #fuckadamschiff."
Liddle Adam Bull Schiff and the Standard Hotel, I wasn't there either or was I… #fuckadamschiff

— HYDE for U.S. Congress (@rfhyde1) January 15, 2020
And in another, he wrote "CIA name. 00-Scarface.. International Man Of Mystery…"
CIA name. 00-Scarfface.. International Man Of Mystery…

— HYDE for U.S. Congress (@rfhyde1) January 15, 2020
The reference to Rep. Adam Schiff (D-Calif.) and the Standard also adds a QAnon angle to impeachment. 
Hyde's mention of the Standard Hotel and Schiff references one of the most talked-about "incidents" in the timeline of the QAnon conspiracy. According to both the Q poster and subsequent "research" by QAnon gurus, Schiff is alleged to have taken part in some kind of horrific event at the hip West Hollywood hotel, which is in Schiff's district. It's something either sexually deviant or murderous.
But what was the event? As with most conspiracy theories alleging something like this, it's not clear what Q believers think happened. Q's first mention of it, in April 2018, references a helicopter crash, which actually did take place. Three months earlier, a helicopter carrying several executives of the hotel crashed, killing three people.
Q appears to be alleging that Schiff had something to do with the crash, though the poster doesn't explain how or why a member of Congress would murder three people in a helicopter crash
A year later, a March 2019 Q drop linked the Standard Hotel with Rachel Chandler, the celebrity photographer Q spent dozens of posts smearing as some kind of high-level handler for Jeffrey Epstein.
Other rumors have the Standard as the hub of a massive child trafficking or drug smuggling ring, and possibly even the site of the murder of a young girl. None of these conspiracy theories have been proven, and their details change constantly depending on which Q guru is putting them out.
It's not clear what the next steps will be for Hyde and authorities have not said whether they are investigating him, but it seems very likely that he'll have a run-in with the law at some point in the near future. 
READ MORE: