Ride-hailing services like Lyft and Uber are changing the transportation landscape—and it's bad news for your commute.
A new report from the University of California, Davis Institute of Transportation Studies is now shedding some light on the good, and the bad, that ride sharing is doing. The most important finding: It looks like ride-hailing services are making traffic in cities worse.
"We found that a large portion of travelers are substituting ride-hailing in place of public transit, biking, and walking trips," writes study co-author Regina Clewlow for Planetizen. "These trips, which are being substituted for or generated by ride-hailing, are most likely adding vehicles to the road in major metropolitan areas."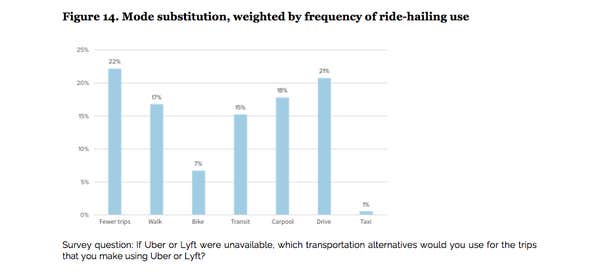 The study found that 49 percent of ride-hailing trips would either have not been made in the first place, or would have been made by walking, biking, or transit, instead. In these cases, people are taking vehicles in situations where they otherwise would not have—which means that there are more cars on our roadways. The main reason for opting for ride-hailing over public transit is that respondents felt public transit is often too slow.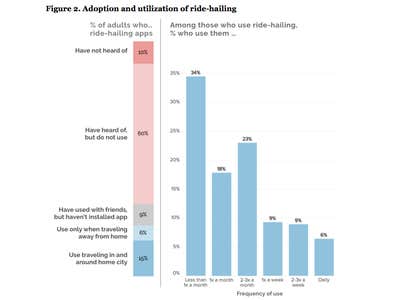 This study puts some other concrete numbers to the ride-sharing trend, too. For example, 21 percent of adults have used a ride-hailing service, researchers found, and roughly a quarter of those adopters use it daily or weekly. The biggest reasons for hailing a Lyft or Uber: not having to deal with parking. Avoiding driving while intoxicated was a big reason, too.
Most ride hailing users (91 percent) haven't changed their vehicle ownership status since starting to use these services, the research found. If they didn't own a car before, they still don't; if they do own a car, they haven't gotten rid of it. Of the few that have sold their personal vehicle, most have replaced those trips with ride share trips—so there hasn't been a net reduction in vehicles on roadways.
It's still possible that ride-sharing could be helping out oversaturated public transit systems. But based on these UC Davis findings, it's pretty clear that overall, ride-hailing services are reducing the number of people on public transit and increasing the number of cars on roads in metropolitan areas, instead.
H/T Planetizen