Opinion
If there's one refrain ardent supporters of gun control laws are tired of hearing after a mass shooting, it's that it's too soon to talk about legislation.
Can the Left let the families grieve for even 24 hours before they push their anti-gun and anti-gunowner agenda? My goodness. This isn't about a gun it's about another lunatic. #FloridaShooting

— Tomi Lahren (@TomiLahren) February 15, 2018
"You're politicizing the tragedy," has become the commonplace response from conservative politicians and their supporters who don't want any gun control action to address America's mass shooting epidemic. Here's Sen. Marco Rubio (R-Fl.) today after 17 of his constituents were killed.
.@marcorubio on reaction to FL school shooting: "People don't know how this happened: who this person is, what motivated them…I think it's important to know all of that before you jump to conclusions that there's some law that we could have passed that could have prevented it." pic.twitter.com/jmIOBGAiVx

— Fox News (@FoxNews) February 14, 2018
It's an issue the right gets extremely defensive about. You can't talk about gun control after a mass shooting. The Daily Caller, a far-right website, was furious at Democrats for even bringing it up.
But there's always a swarm of far-right supporters—voters and online trolls alike—who are quick to politicizing a tragedy, tying it to whatever current issue can whip up a frenzy.
After the name of the Parkland shooter was revealed to be Nikolaz Cruz, he was accused by the far-right of being a Dreamer—one of the children of undocumented immigrants whose future in this country Congress is currently debating, as necessitated by the president.
https://twitter.com/SenatorBrittain/status/963903494875852800
Safer without Dreamers, Nic Jesus Cruz, brought to America through no fault of his, and as in most cases, this dealer, is another nightmare for America. No DACA send them home. https://t.co/z6pQlptxEe

— Thomas Stephens II (@ThomasS85078507) February 15, 2018
When President Trump tweeted this morning about kids reporting their classmates to solve mass shootings, he threaded it to a tweet about DACA.
Mistake or not, it was there.
It's a dogwhistle for his base. He's attempting to tie the shooter (Cruz) to Dreamers. Reprehensible!

— T. Filson Rogers (@tfilson59) February 15, 2018
In the past six months, those on the far-right have attempted, immediately, to tie every mass shooting to the left-wing group antifa, which they believe to be a terrorist organization. Wednesday was no different.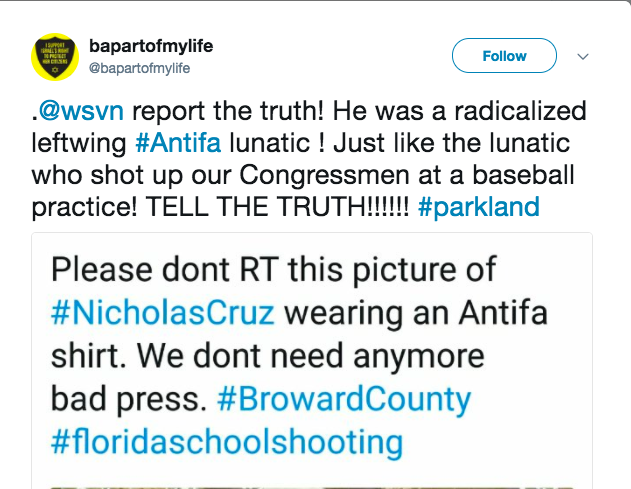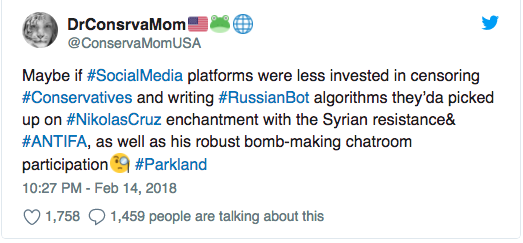 https://twitter.com/intheMatrixxx/status/963968309468237824
It was the third time that online communities jumped on a mass shooting and painted the killer as antifa. After the Vegas shooting, the far-right attempted to brand that shooter as a member of the organization before his name was even revealed. When a man shot up a church in Sutherland Springs, Texas, a similar movement cropped up online.
These hoaxes have persisted, often pushed repeatedly before a name of the shooter is ever released. And it ignores the overarching narrative that most mass shootings don't have political motives—except the ones falsely assigned to them on the right.
That doesn't stop the immediate and inaccurate smears.
When it was revealed the FBI had investigated a comment Cruz made on YouTube, somehow it got looped into an anti-Trump conspiracy.
https://twitter.com/JackPosobiec/status/964142168641241088
The FBI was too busy trying to undermine the president to bother with doing it's freaking job https://t.co/bmRl2ORjFF

— Kurt Schlichter (@KurtSchlichter) February 15, 2018
And while Democrats do lobby for gun control after shootings, the right is there pulling for the polar opposite: less gun-free zones.
https://twitter.com/SenatorBrittain/status/963875493110956032
Most of these pathetic cowards like Nicolas Cruz would turn and run if faced with someone else shooting back.

It's way past time to end Gun-Free Zones and train and arm our teachers to shoot back.#Parkland #StonemanDouglas

— Joe Walsh (@WalshFreedom) February 15, 2018
https://twitter.com/SparkleSoup45/status/963905099197186049
To anyone pushing for gun control while blood hasn't even dried yet:

Schools are gun-free zones & fewer victims would have been injured if we had trained teachers/security guards.#Florida #GunControlNow

— #ThePersistence (@ScottPresler) February 14, 2018
The truth is that it's never too early to politicize a tragedy. Both sides do it. It's just that there are some things that those on the right are unwilling to hear.