If you go into your Facebook settings, you'll find a long list of apps that have access to your account information. Those services were likely granted permission to your data long ago but have been collecting it ever since. If you're one of the millions of people worried about their privacy following the Cambridge Analytica scandal, you'll probably want to delete most, if not all of the apps. But doing so has required far too much effort given that you could only log out of one app at a time.
Now, Facebook will let you log out of third-party apps in bulk. The feature, spotted by the Next Web social media director Matt Navara, lets users select and remove multiple apps simultaneously.
It's a useful tool for quickly securing your personal information from third-party apps, which proved to be the source of Facebook's ongoing data crisis. Political data firm Cambridge Analytica exploited the information of 50 million users it gained via a third-party personality test app that legally gathered the information with user permission before giving it away.
"We already show people what apps their accounts are connected to and control what data they've permitted those apps to use," a Facebook spokesperson told TechCrunch. "In the coming month, we're going to make these choices more prominent and easier to manage. We have more to do and will be sharing more when we can."
How to remove third-party apps from your Facebook profile
If you'd like to remove third-party apps, you'll need to access your app settings. Until Facebook revamps its privacy settings, that means pressing on the down arrow in the top right corner of your profile and selecting "settings." On the left panel, you'll see "apps." The next page will show you all the third-party apps and what data you've permitted them to collect. You'll probably be surprised by what you find. There were more than 100 apps accessing information from my Facebook profile. Of those, I used approximately three of them.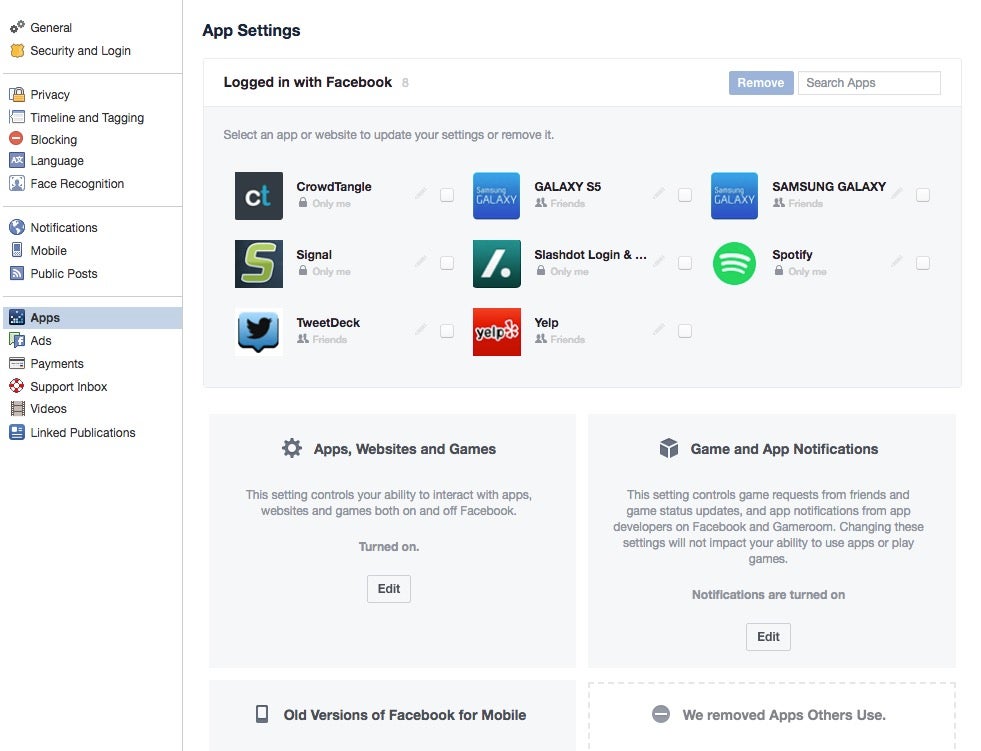 To delete an app, select the checkbox next to its name and press the "remove" button. If you're looking for a specific app, you can use the nearby search box. While Facebook now lets you delete multiple apps at once, it stopped short of adding a "delete all" button for everyone who wants to clean up their permissions without deleting Facebook altogether. Still, the changes make it a lot easier to manage the services that have permission to use your personal data.