Did you watch The Jetsons as a child and wonder what kind of high-tech clothing boutiques Judy Jetson shopped at? Well, wonder no more: Designer Rebecca Minkoff has just opened a boutique in New York City's SoHo neighborhood that uses technology to improve the customer experience. The store features connected touchscreens, high-tech lighting, and RFID technology to track what items the users are and aren't interested in.
While designing her downtown boutique in collaboration with eBay, Minkoff's primary goal was to use technology to minimize the "pain points" of the shopping experience.
"When we began over a year ago talking about what we wanted our store to be, it was an image that we would have technology be there, but how would we make it not so in our face, and how would we figure out the pain points?" Minkoff, who recently launched a line of smart jewelry, said at the Decoding Technology Summit in New York. "How do we retrofit something that's cool, that girls would love to have that feels fashionable?"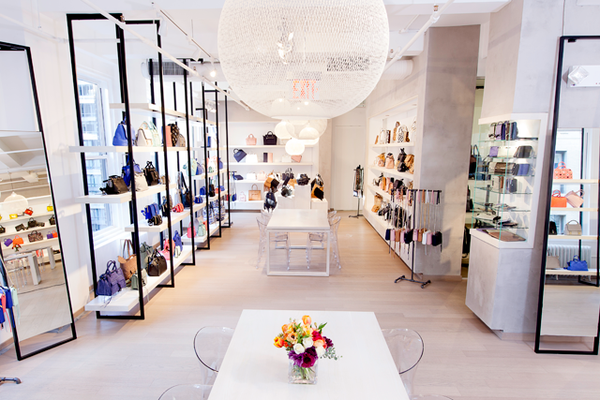 Photo via Google Plus/Rebecca Minkoff
To that end, Minkoff has equipped her boutique with an interactive, 122-inch touchscreen that displays the best looks from her runway show, greeting shoppers as they enter the store. The touchscreen also gives users recommendations for what accessories to pair the item with, and the option to add clothing directly to their dressing rooms, so they don't have to spend hours finding that taupe handbag from the fall 2014 ready-to-wear line on the shelves.
From there, shoppers can track when their dressing rooms are ready via a connected smartphone app, and can also order a beverage, such as coffee, tea, or champagne, while they're waiting. When they finally reach the dressing room, they can adjust the lighting according to the different looks they're trying on—for instance, there's a setting for "Afternoon on the Highline," as well as "Soho After Dark," so you can basically try on Instagram filters IRL.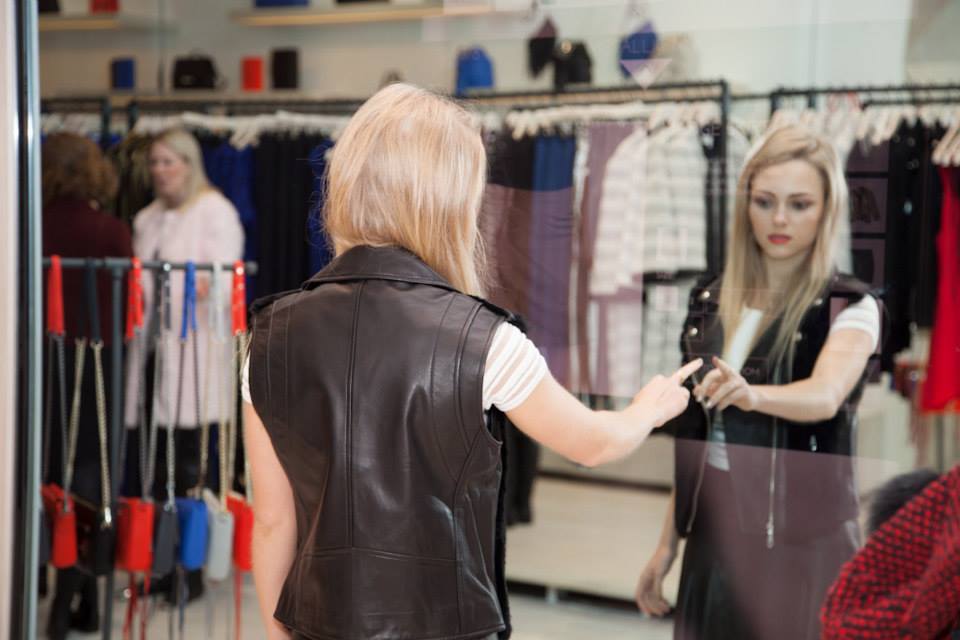 Photo via Rebecca Minkoff/Facebook
If you need something in a different size or color, they can ping a sales associate via the Rebecca Minkoff store app, rather than wandering out into the hallways in their underwear, trying to get someone's attention. And if an item is not available in your requested size or color, a sales associate will tell you right away using RFID technology, which lets them keep track of what is and isn't in stock at all times.
Reducing wait times, using more flattering lighting, not forcing you to interact directly with pesky sales associates—all of this sounds like it makes for a pretty ideal shopping experience. And Minkoff's not the first to try to tailor the IRL shopping experience for the digital age. The makeup chain Sephora, for instance, is developing an augmented reality (AR) mirror to give shoppers the opportunity to try on makeup virtually.
Uri Minkoff, Rebecca's brother and the CEO of the company, says that even in the age of online retail, shopping in real life hasn't become obsolete—they've just improved on the experience.
"Does e-commerce take over for brick and mortar? I don't think the desire to play with product, to be social, and to be guided is going to go away," he said. "I think we're at the beginning of this new age, and it's something we're obsessed with."
H/T Upstart Business Journal | Photo via Rebecca Minkoff/Facebook