When Jeremy Dean first heard about Rap Genius, was teaching a high school English class at St. Stephens Episcopal School in Austin.
Dean, who was also finishing up his PhD in African American Literature at the University of Texas, had always been vocal about his life-long love for hip hop. And his students kept telling him about this site that not only listed the lyrics to almost every rap song imaginable, but also allowed users to make annotations explaining the meaning behind those lyrics. 
When Dean finally checked out Rap Genius, he was immediately hooked. He spent hours delving into the obscure references tucked inside the rhymes of his favorite rappers before he had a sudden realization: Rap Genius was going to change education forever.
Speaking at a panel about at this year's SXSWedu conference, the educational portion of massive annual music and culture festival that invades Austin every spring, Dean recalled: ?At some point I just kind of clicked to me that this would be an amazing teach tool."
He emailed the founders of the site—a trio of Yale grads who have gained a reputation for courting controversy—and asked if he could upload some of the texts he was teaching in his class and have his students annotate them. The site's operators were receptive to the idea. Dean quickly began building Rap Genius into his curriculum, requiring students to annotate texts like Toni Morrison's The Bluest Eye on a weekly basis.
A few months later, Rap Genius flew Dean out to New York City to speak about the platform's educational at a conference at Columbia University. Before the end of the year, the company had hired Dean to lead their education initiative.
While Rap Genius is primarily known for song lyrics, the site has spent much of the past year attempting to expand its brand. ?As long as it has words, it can be annotated in really creative and interesting ways," Dean insisted.
The site has added Poetry Genius, News Genius, and Science Genius programs, where users accomplish a lot more than attempting to decipher precisely what it is that Kanye West is talking about.
Poetry Genius and News Genius have annotations about Charles Darwin's Origin of Species:
The original essay by Satoshi Nakamoto proposing the idea for Bitcoin:
As well as F. Scott Fitzgerald's The Great Gatsby (in its entirety):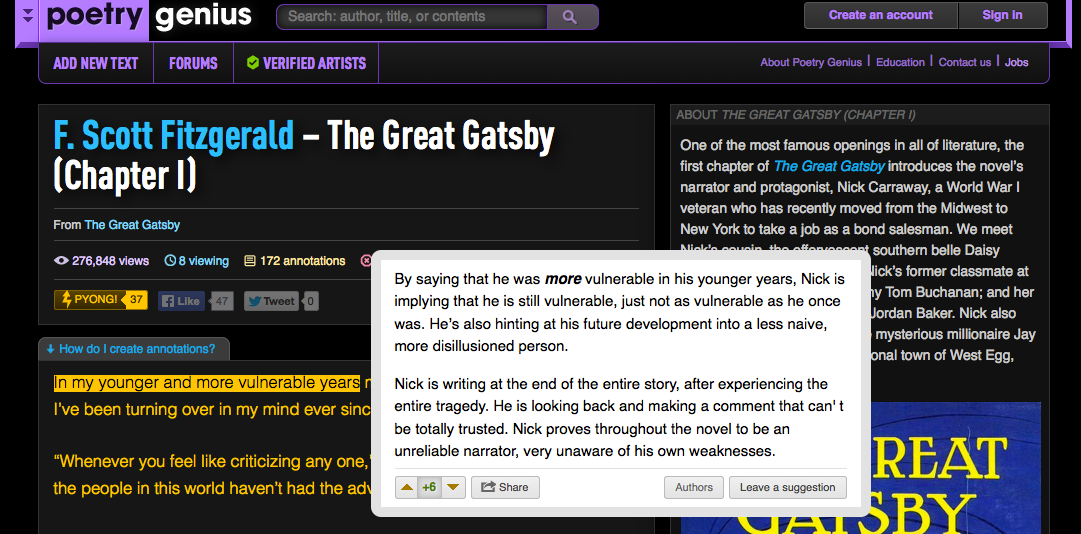 Just as the site has invited rappers like Nas and 50 Cent to annotate their own lyrics, Pulitzer Prize winning novelist Junot Diaz came on to comment on an excerpt of his book The Brief and Wondrous Life of Oscar Wao.
Dean admits that Rap Genius is a powerful tool for educators, especially in light of the recently introduced national Common Core educational standards that put a newfound emphasis on the close reading of individual texts. And, yes, that's despite the fact it wasn't specifically designed for that purpose. 
?It was a ?hack' at first, but we're making it a more robust platform," he said.
One way Rap Genius has shifted to accommodate educators is with specialized, education-centered accounts. These accounts let teachers create private pages inaccessible to the general public and clear of pre-existing annotations. The pages, in turn, allow students to create annotations from scratch in an environment controlled by their instructor.
Louis Lafair, a former student of Dean's who spent a summer interning at Rap Genius and appeared on the same SXSWedu panel, said it was actually the public-facing aspects of Rap Genius' educational potential that got him the most excited. He recalled an instance, prior to his internship, where he left an annotation on a passage in The Great Gatsby for a class assignment about Gatsby's metaphorical relationship to African American culture.
Rap Genius admins called out that comment as being particularly insightful, which was an enormous encouragement for a high school student who suddenly realized that he actually interacting with a group of people far larger than his English class.
Lafair, who writes poetry himself, uploaded some of his work to the site and was pleasantly surprised with other users he didn't even know actually annotated it.
But as Bloomberg Businessweek points out, many have concerns about what happens when something like Rap Genius is brought into the classroom.
Earlier this year, Rap Genius teamed up with Harvard Divinity School for a massive open online course (MOOC) on ?Early Christianity: The Letters of Paul." The course saw thousands of people annotating the assigned texts at once. Around that time, a pair of Rap Genius interns (not including Lafair) gave an interview where they bragged about the party-filled life of a temporary, low-level Rap Genius employee. Predictably, Valleywag found cause to mock it (though, to be fair making fun of these types of things is pretty much Valleywag's entire raison d'être).
However, one of the interns showed up on the comments defending himself by writing that he worked hard on projects like editing and adding links to and annotations to Aristotle's Politics.
Businessweek ponders:
There's no reason a person can't be in the background of a rap video one day and annotate Aristotle for a Harvard professor the next On the other hand, it's probably unusual for the staid university to collaborate with a company whose Twitter…account recently told Warren Buffett to—well, you can read about it yourself. That raises the question: Are Rap Genius interns the people you want to study theology with?
Getting over that skepticism will likely be the single biggest obstacle in the way of Rap Genius's greater adoption within the education community. However, working in the site's favor is that the vast majority of its content is crowdsourced. If someone isn't particularly comfortable with having a Rap Genius intern leading their theology discussion, that's fine because the site has an ecosystem of dedicated volunteer writers and editors that work to ensure the best content rises to the top through a gameified system points that denotes expertise on a given subject.
"If you Google 'rap genius press' a lot of what comes up isn't going to be necessarily positive," Dean admits, ?but once we show people the product and all of its uses for education most of their concerns disappear."
Concerns about Rap Genius have also been voiced by the record industry. Last year the National Music Publishers Association slammed Rap Genius for posting song lyrics, which the organization claimed infringes on the copyrighted content of its members.
Dean told the Daily Dot that, at least on the literary and scientific side of the things the response as been universally positive. He said that authors and publishers have largely been very forthcoming with allowing Rap Genius to host short stories, poems and novel excerpts. 
"To my knowledge, we've yet to get a single takedown notice from a publisher," he said "Will we come up against 'fair use' issues sometime in the future? Maybe. But, for now, everyone's been really excited about it."
?I think rap is the greatest form of American literature of the second half of the 20th century," Dean added. ?So makes sense that people should be discussing Jay-Z lyrics on the same site where people are discussing The Bard."
Photo by Robert Bekil/flickr