Reddit users on The_Donald, a popular subreddit for alt-right extremists, called for violence in support of Republican state senators in hiding over the past week.
In response today, Reddit took the step of quarantining the subreddit, putting up a warning before visitors went to it, while moderators have begun flagging and removing calls for violence against Democrats.
Whoa Reddit quarantined The_Donald for "threats of violence against police and public officials." pic.twitter.com/DDjZBF7BeA

— Brandy Zadrozny (@BrandyZadrozny) June 26, 2019
Eleven Republican senators walked out of a session on Thursday so the state Senate would not have the quorum to pass a carbon cap and spend bill, the Oregonian reported. Oregon governor Kate Brown ordered the state police to search for the senators and return them to the capitol.
Users on the subreddit called for "people (to pick) up rifles" and mobilize.

"Rifles are the only way we're going to get any peace in our lives ever again," one user wrote. "It's either war and we get rid of these guys or a lifetime of listening to this shit over and over again start getting yourself ready."
The rhetoric is aimed at Democrats, who are trying to vote on a climate bill that aims to curb Oregon's carbon emissions.
The comments demanding violence reveal a shockingly widespread community of far-right extremists, though the threatening comments have since been removed.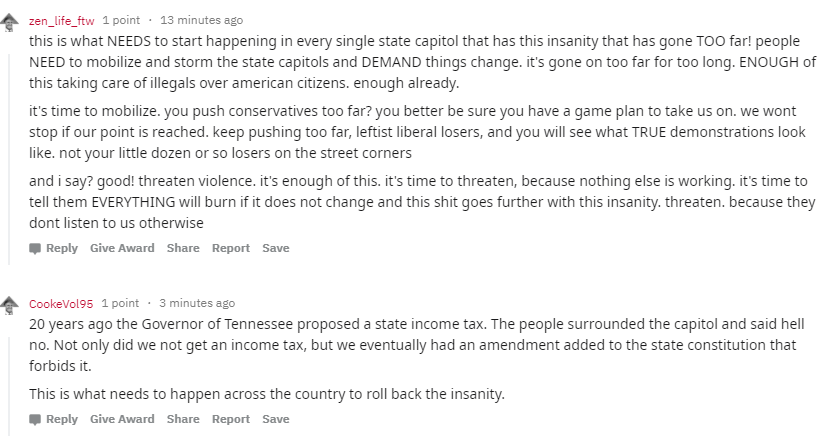 One user said there was "only one way to get rid of a dictatorship like this" while making a racist remark.

"Every time I hear some tradcuck say 'Oh that'll never happen there'd be riots in the streets' I know I'm speaking to a limp-dicked soyboy who would hand over his gun and his daughter to Mohammmed with a really disgruntled look on his face," a user wrote.
In the midst of the threats and calls to arms on The_Donald, the state Senate canceled its session scheduled for Saturday due to a "possible militia threat," according to the Associated Press.
Eric Parker, the president of militia group Real Three Percenters Idaho, told the Daily Beast they are in touch with Oregon militias regarding the senators.
"We're doing what we can to make sure that they're safe and comfortable," Parker said.
Republican Brian Boquist, one of the missing senators, also seems to be resorting to threats.
Boquist told a local news reporter the police should "send bachelors and come heavily armed" when attempting to return him to the capitol.
"I'm not going to be a political prisoner in the state of Oregon," Boquist said. "It's just that simple."
Oregon state senator @BrianBoquistGOP said if R's walk out to stop a vote on Cap and Trade and @OregonGovBrown sends state police to bring him back, they should be single and well armed. Your take? pic.twitter.com/Fcu8NXXl8h

— Pat Dooris (@PatDooris) June 19, 2019
Reddit's pro-Trump forum has frequently been home to violent rhetoric and has continually been the subject of debate over whether it should be suspended and removed from the site.
READ MORE:
Got five minutes? We'd love to hear from you. Help shape our journalism and be entered to win an Amazon gift card by filling out our 2019 reader survey.