President Barack Obama has always been an early adopter to social media platforms. He's even active on Pinterest and Instagram. But he can add another title to his online profile: commander in GIF.
Since January, Obama's social media team has jumped on the GIF animation bandwagon, reblogging animations depicting the president listening to music and giving speeches.
But those animations were few and far between, with his popular Tumblr page posting only about two a month. That has since changed. In the last two months alone, Obama's Tumblr has posted more than 10 animations from around the campaign trail and of the president shooting hoops.
Obama is the first president in history to embrace the format and incorporate it into his campaign, said Tyler Pearson, a front-end developer and designer for New Media Campaigns, a North Carolina-based creative agency that helps build politician's web presence.
"It gets him in front of a much larger audience, especially more and more young people who spend time on the Internet," Pearson said. "From a development approach, GIFs are beneficial because you can share them across platforms very easily."
On Friday, the Obama campaign capitalized on the GIFs ease of use when it decided to send out a quick email to its supporters with four animations of the president high-fiving a crowd of people.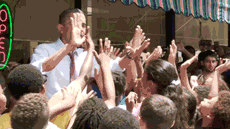 "Thanks for being a part of this campaign," read the email. "Let's go win this thing."
The GIF was originally posted on Tumblr on Aug. 6, where it has collected more than 1,000 notes. It also featured the caption: "So many high fives they couldn't fit in just one GIF."
News of the email caught prominent Mr. GIF's Jimmy Repeat, who's created commissioned works for MTV and XXL magazine, off guard.
"I think it's awesome," Repeat told the Daily Dot.
"GIFs have now become this communication device for people. And he's just talking with the younger generation. It just goes to show that GIFs can be professional. And they're more fun, too. They'll make you smile."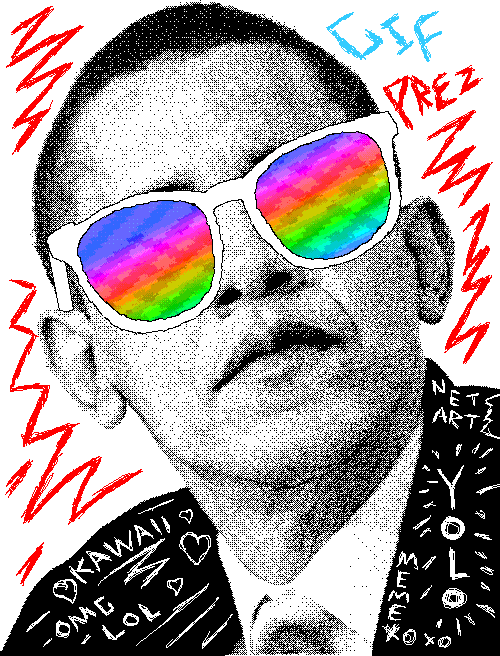 As an artist who has created more than 400 animations in the last year alone, Repeat praised Obama's social media team for their GIF prowess. He only had one suggestion for the president: Make more.
Pearson, on the other hand, is curious to see how presidential hopeful Mitt Romney responds to the animations.
"I wouldn't be surprised if you started seeing Romney do GIFs," Pearson said. "GIFs attract more attention than just a text update."
Original GIF by Mr. GIF