In 2010, Steve Jobs banned all pornographic apps from the App Store. He explained the move to a customer via email in 2011: "folks who want porn can buy an Android." Of course, iPhone users can still access adult sites from their web browser, but if you're looking for porn on Apple TV, it's going to be more difficult.
But it's not impossible. You can't load up a porn app onto your Apple TV, but there are plenty of ways to enjoy the lusty thoughts of the internet. Here's how to watch porn, or as close to it as you can find, on your Apple TV.
How to watch real porn on Apple TV using screen mirroring
The only way to watch actual porn on your Apple TV is with a screen mirroring app on an iOS or OSX device. Apple computers and smart devices can project their screens on Apple TVs.
To watch your favorite pornographic content, fire up the website, hit screen mirroring, and enjoy. You'll control the content using your phone or computer, so make sure you keep a paper towel nearby.
---
Not sure where to start? Check out our picks for:
---
How to find almost-porn on Apple TV with streaming apps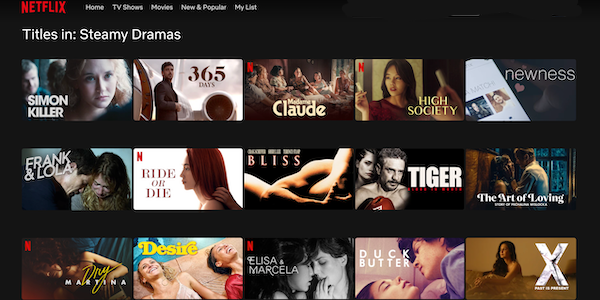 If you're looking for real people having sex without downloading a third-party app, your best bet is, oddly enough, Netflix. While you won't find traditional porn on Netflix, the streaming giant has a wide selection of movies from TV-MA to NC-17 that feature actual sex.
It's not just heterosexual either, with lesbian scenes particularly well-represented. Again, these movies aren't actual porn, just cinematic pieces of art that happen to feature real footage of sex.
Still, real sex is real sex. It may not replace Pornhub, but it's the next best thing. Here's a head start for the service's massive number of sexy subgenres.
---
HBO recently deleted its "After Dark" section, but there's still plenty of porn on HBO. Or, at the very least, a host of erotic and sensual movies and original series packed with nudity.
From Game of Thrones to Insecure to True Blood, HBO original programming has always pushed the boundaries of sexual content on cable.
---
While HBO has the most scripted adult content of the premium movie channels, Showtime has the most actual sex. Series like Sex with Sunny Megatron and Polyamory showcase real couples' real couplings.
These series cut around any penetration, so while you'll be watching real sex, you'll rarely catch all the details. Still, they're sexy delights.
Viewers looking for something closer to porn on Showtime should check out Submission, a BDSM-based kink show starring former porn star Skin Diamond. All this comes in addition to the standard nudity-filled Hollywood hits and indies you've come to expect from premium movie channels.
---
Showtime offers the sexiest original series, but Starz is giving it and HBO something to sweat about. Power is easily the sexiest show on any premium service or streaming channel at the moment, including the ones that feature real sex.
Meanwhile, The Girlfriend Experience and Magic City serve up plenty of graphic sex for horny viewers. Starz movie focus on older hits sometimes keeps it from showcasing much nudity, but there are plenty of sexy classics to check out.
---
The porn on Hulu isn't as strong as Netflix or Showtime, but there are still plenty of erotic treats to be found. Hulu originals don't offer the buffet of nudity found on other services, but its movie selection has plenty to choose from. Occasionally you'll see films with unsimulated sex like Blue Is the Warmest Color, but, for the most part, expect merely explicit R-rated films.
At the moment, however, Hulu is the only service offering a sexy movie featuring a real trans actress. For viewers looking for representation in porn, that's a selling point.
---
Amazon Prime is an odd service, with one of the most extensive libraries of streaming content available. However, much of that content comes from indie film acquisitions, leading to the services sexiest movies being arthouse in nature.
There are always a few sexy Hollywood hits waiting in the wings, but for the most part, expect to find a lot of French explorations of lust and low-budget lesbian dramas. Honestly, you might be surprised by how much you'll enjoy those.
---
Watching porn on Apple TV with Amazon Prime add-ons
If you're looking for a little extra porn on Amazon Prime, here are three of their add-on subscription channels worth considering.
Strand Releasing features the finest in underground indie movies. If you don't mind sifting through some stuffy dramas, there are plenty of erotic art-house dramas full of nudity on this channel. Subscriptions cost $4.99 per month.
---
Brown Sugar specializes in showcasing Black filmmakers and creators throughout history. From classic action to modern stand-up comedy, this channel is an invaluable resource for African-American cinema.
It also features a ton of movies with nudity and strong sexual situations. Bow down at the altar of Pam Grier, and sign up for $3.99 per month.
---
Fans of '80s B-horror may know the name Full Moon from its hits like Puppet Master and Puppet Master II. What you may not know is its catalog also features hundreds of other B-movies, including one of the biggest libraries of softcore porn online.
Thankfully, Amazon Prime brings it all to your house, including titles like Real Naughty Housewives: The Sequal and Secrets of a French Maid. These uncut softies feature as close to porn as you'll officially find on Amazon Prime.
It's worth subscribing for one month just to see the long-lost unedited 1978 sexy comedy Fary Tales. Full Moon Presents costs $6.99 per month.
---
Here TV is an LGBTQ-focused streaming channel for Amazon Prime that featuring a healthy mix of movies and TV shows. While the channel's documentary section can be a little emotionally heavy, it's Popular TV section is full of sexy treats.
The true highlight is the classic softcore series Dante's Cove, featuring plenty of nudity and implied sex to get you started. Here TV costs $7.99 per month.
---
Editor's note: This article is regularly updated for relevance.