Pepper-spray drones are now a real thing. South African company Desert Wolf recently unveiled the Skunk (yes, that's its actual name), which is billed as the first ever "riot control copter."
The drone, whose target market sounds like it should be evil dictators and dystopian supervillains, fires "pepper balls" and paintball pellets. It is also equipped with "bright strobe lights, blinding lasers and on-board speakers" that can be used to keep crowds under control.
According to Desert Wolf's website, each of the Skunk's high-capacity barrels can release 20 pepper balls per second, and multiple drones can be controlled by a single operator.
The first 25 units will be shipped out to a mining company in South Africa, possibly as a means to control strike-related violence at various mining locations. Desert Wolf's page for the Skunk drone specifically namechecks the South African town of Marikana, where 34 miners were shot by police during a wildcat strike in 2012. The idea of using Marikana to advertise a weaponized drone only adds to the intimidating nature of its capabilities.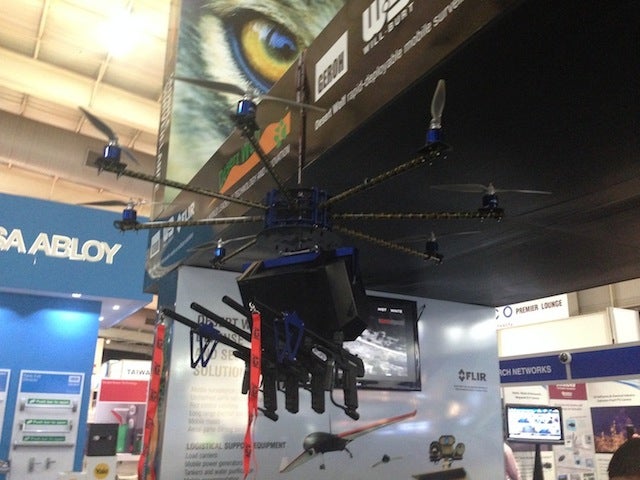 Photo via Desert Wolf
Some people are already pointing out that firing "non-lethal" projectiles at civilians and blinding them with lasers and strobe lights may be against human rights laws.
Noel Sharkey, chair of the International Committee for Robot Arms Control, told the BBC that the public availability of this kind of weaponized drone is a sign of "creeping authoritarianism and the suppression of protest".
"Firing plastic balls or bullets from the air will maim and kill. Using pepper spray against a crowd of protesters is a form of torture and should not be allowed."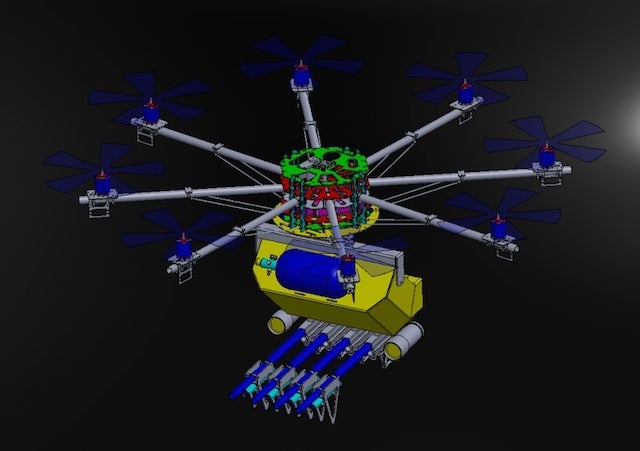 Illustration via Desert Wolf
This isn't the first time someone has introduced a commercially-available drone with the ability to harm or potentially kill. Taser drones were put on display at this year's South by Southwest festival, although they were nowhere near as frightening as a drone whose entire purpose is to "control" crowds by shooting at them with pepper spray bullets, all without the need for direct human intervention.
Illustration via Desert Wolf