House Speaker Paul Ryan announced on Wednesday that he would not seek reelection later this year, and some people online are hoping he parlays that into a Republican primary run against President Donald Trump in 2020.
Ryan, a former Republican vice presidential candidate, confirmed that he would not be seeking reelection during a press conference on Wednesday morning, citing a desire to spend more time with his family.
"This year will be [my] last one as a member of the House," he said, adding: "I will be retiring in January, leaving this majority in good hands with what I believe is a very bright future."
Trump even lauded the House Speaker shortly before the press conference began.
"Speaker Paul Ryan is a truly good man, and while he will not be seeking re-election, he will leave a legacy of achievement that nobody can question. We are with you Paul!" Trump tweeted.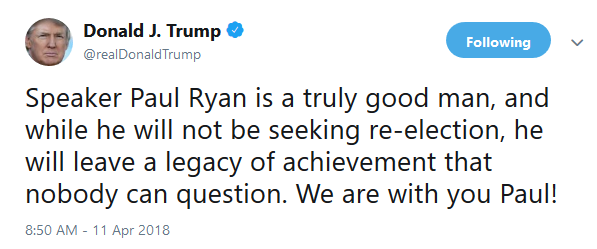 But some people think Trump's praise of Ryan might be too soon, because they think the House Speaker may be gearing up for a Ryan 2020 campaign.
The speculation started quickly, with people even responding directly to Trump's tweet.
Until he runs against you. #Ryan2020

— Clark Kent (@RockNResist) April 11, 2018
He's going to kick your ass in 2020. Challenge on Paul Ryan.

— MSJohnson (@misu3452) April 11, 2018
Others just speculated about the House Speaker's possible political future.
Paul Ryan is strategic. He doesn't wanna be around when GOP loses the house and senate this year. I think he is preparing a run against Trump in 2020. Everything is possible.

— Linda Sarsour (@lsarsour) April 11, 2018
Paul Ryan will likely challenge President Trump in 2020. But Trump has transformed the GOP base making any challenge to him very difficult. https://t.co/G5A7kB5ugb

— Raymond Arroyo (@RaymondArroyo) April 11, 2018
https://twitter.com/Marko__Polo__/status/984063764344594432
We hold these predictions to be self-evident: Paul Ryan will run for President in 2020, and the media will portray him as a policy centrist.

— Kim Weeden (@WeedenKim) April 11, 2018
Calling it now…@JohnKasich and @SpeakerRyan in 2020. Leadership integrity and fiscal responsibility. Take care of the dreamers-sensible gun control. #GotMyVote

— steve anstett (@steveo468) April 11, 2018
But some people were not so convinced Ryan could mount a serious challenge against Trump.
Hey Paul Ryan, you know what would be funny? If you actually believe that you stand a chance at running for president in 2020 against Trump. That would be hilarious, don't you think?

— Stonewall Jackson (@1776Stonewall) April 11, 2018
Paul Ryan and all these republicans "retiring" just so they am turn around and run in 2020 against trump (or 2024 cause they're cowards) think they're slick and we're dumb

— Darth Kriss (@insanityreport) April 11, 2018
The House Speaker didn't let on much about his political future during his press conference, but that hasn't stopped the rampant speculation.
He also said he was "grateful" for Trump, not exactly a harbinger of a 2020 election fight to come.