A Canadian running for public office has incurred the wrath of Reddit after he accused commenters of slander.
Paul Alves, who is running in Toronto's Ward 18 for city councillor, held an AMA ("ask me anything") Saturday morning on r/toronto. Instead of answering questions about policy or Toronto's biking paths, Alves went on the defensive after one redditor brought up his comments on the Dufferin subway station renovations.
On his website, Alves questions where the $10 million in renovations went: "New tiles. No bathroom, no coffee shop, no extra benches so the elderly and disabled can sit down."
"The 10+ million dollars spent could have been used much more wisely," Alves added.
Redditor themightiestduck claimed that Alves's comment made him sound like Rob Ford, the current mayor of Toronto who admitted to smoking crack.
"Unless you have a cost breakdown that shows me how those $10 million were spent, and an alternative to how you would have spent them 'more wisely', this point is just Ford-calibre bluster," themightiestduck added.
This comparison did not sit well with Alves.
"Slander, in its purest form," Alves commented under his username, paulthebookguy. "Do you happen to work for the Ana Bailao campaign? What's your motive? You do know you can be identified by reddit account and slander is illegal, yes? Share your opinion, be a troll but ease off on the fantasy. I normally support Liberal but this year i may hold my nose closed and vote Tory."
From there, redditors pounced on Alves's misinterpretation of slander and how it took him about nine hours to respond to questions on Reddit in the first place, and called him a child. 
Instead of moving on, Alves doubled down on his outrage and claimed that he would "gladly retain counsel and sue for slander anyone who claims I'm what i am not."
Shortly after the Reddit backlash, Alves removed his name from the AMA while still responding to some comments.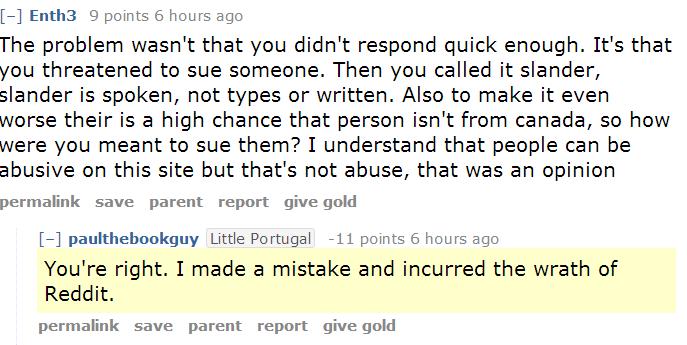 The people of Toronto will vote on Oct. 27. For Alves's sake, let's hope they don't visit Reddit.
Photo by  paul bica/Flickr (CC By 2.0)