Snapchat's ability to keep user information secure has never looked more questionable. On New Year's Day, a huge security breach left 4.6 million users' phone numbers exposed, and CEO Evan Spiegel wasn't exactly apologetic about it. This isn't the only security issue Snapchat has experienced. As the app grew in popularity, users  discovered you can screenshot or otherwise capture the supposedly fleeting images, while security groups found ways to resurrect snaps that were supposed to be gone.
Snapchat's security credentials are about as durable as a mesh shirt from Forever 21, but it's popular as hell with teenagers and young adults. Young people who live at home like it because they don't have to worry about parents going through their snaps, since the messages disappear from user inboxes after a set number of seconds (although the new replay feature means a snooping mom could at least get a glimpse of what's going on if she finds a phone at the right time).
A lot of very qualified tech professional have written about—and exposed—the dangers of Snapchats. By now, we know all the technological reasons we shouldn't use this app if we're concerned about privacy. But the latest anti-Snapchat advocate, a pastor, has a new reason why.
Adam McLane is a pastor who now mostly focuses on educating parents about social media (he wrote A Parent's Guide to Understanding Social Media) wrote a blog post called "Why You Should Delete Snapchat" and it's one of the more convincing arguments I've read against keeping Snapchat in your app lineup. He does not mince words, as you can see from the opening to his blog:
The premise of SnapChat is simple. You take a picture, send it to a friend, and they can only see it for up to 10 seconds before it's deleted. And that's where the lie begins. I want to be blunt. My goal for this post is to motivate you to delete Snapchat from your phone.
Some of the reasoning McLane lays out are arguably true and accepted—everything on the Internet can be made public and no interaction is truly anonymous, respectively—but they were a little too vague to convince me that they were huge problems for Snapchat. These things are generally known about the Internet: nothing is kept secret; things never die.
McLane says that there's no such thing as privacy online anymore, only perceived privacy. If a service like Facebook, Google, or Snapchat wants to, they can give your information to governments, advertisers, marketers… and sure, there will be lawsuits filed, but the information you've shared is in control of these services. This is true of all Internet services, but what McLane is saying is specifically creepy about Snapchat is their insistence that a level of privacy exists when it does not exist. And here's a disturbing sidenote he included:
"Ironically, a text message is more private than something sent with Snapchat. The FCC guarantees that a text is a private exchange between two devices and it takes a search warrant to access your texts. With SnapChat you are willingly sharing something over a network that is not secure and you are not protected, legally, from them revealing all of your messages down the road. When you agree to the terms of service you agree that all of the data is theirs and they can do with it whatever they want."
Facebook has the same problem, and similarly is a deeply problematic service when it comes to privacy and we should all consider deleting it, too, or at least treating private messages as though they could be read by others at any time.
We know all this (though it deserves constant repeat); but McClane finally gets to a unique and important argument: despite attempts to gloss it over it in interviews, Snapchat was created as a sexting app by young fraternity brothers. And it targets young women. While I'd argue that Spiegel, CTO Bobby Murphy, and the Snapchat team have (purpose unintentionally) created an app that is commonly used for silly, fun, lighthearted messages much more than it is for sexual messages, the court documents from the infighting between Spiegel and Murphy and their former co-creator Reggie Brown reveals that the men knew from the beginning that the app would be used for sexting.
McLane was equally forthright when I spoke to him on the phone. "I've never seen anything that baits the trap quite like Snapchat does. It convinces their target audience—I think their target demographic is teenage girls, or young adult females—that everything goes away, that's the marketing line. And I look at that and think, that's not what we know to be true about social media."
McLane points to the language Spiegel and co. used to describe women ("betches") as evidence that they're misogynists, but I'd say they're describing a certain demographic of female college students who self-identify as such—in the context it's used, it seems to me that's not meant as a pejorative. But his overall idea that we should take the creators' intentions into account makes sense. Snapchat is supposed to be a system that can be used to send sexually explicit messages. You have to imagine that the "outing" blogs that followed had to have been forseen.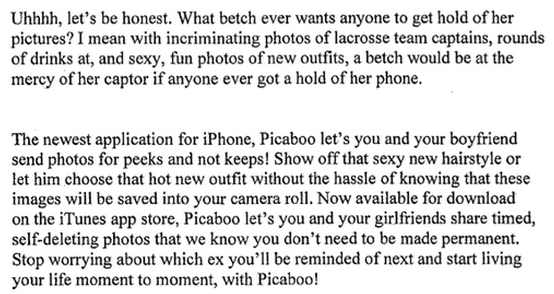 From one of Snapchat's (formerly called Picaboo) original pitches; via ValleyWag
The creators have also repeatedly shown that they are not on top of their security game, and they haven't even bothered to properly acknowledge groups like Gibson Security who are pointing out security issues and getting stonewalled as thanks. If Snapchat wants to be above-board at providing a truly safe sexting app, it needs to stop royally screwing up security and keep users safe. If you want to lure people into a sexy time, you should also protect them, as you originally advocated. And if you aren't… well, then you deserve to get uninstalled en masse. 
Personally, I only use Snapchat to send ugly selfies to my friends and I'm not that concerned about my snaps going public. Still, McClane's is a compelling argument that hasn't snagged as much spotlight as Snapchat's security issues have. 
Photo via Ed Yourdon/Flickr