Brad Parscale, who reportedly has been named President Donald Trump's campaign manager for his 2020 reelection campaign, liked a tweet on Tuesday where someone referred to the president as an "idiot."
Parscale, the head of Trump's 2016 digital operation, was named the campaign manager for the president's upcoming reelection campaign, according to reports. However, on Tuesday, Parscale made a curious like on Twitter, especially considering his future employment.
Twitter user @ashish_space replied to Trump's tweet where he quoted Jonathan Turley, a legal scholar who said he was "skeptical" about collusion between the Trump campaign and Russia and the obstruction of justice claims made after the president fired former FBI Director James Comey.
The tweet by Trump was one of several the president sent on Tuesday morning.
https://twitter.com/ashish_space/status/968463127237967872
Update 3:42pm CT, Feb. 27: It appears @ashish_space deleted their tweet to Trump.
While @ashish_space's tweet was one of 9,400 replies to Trump's tweet on Tuesday, one of the eight likes it received was from Parscale's Twitter account.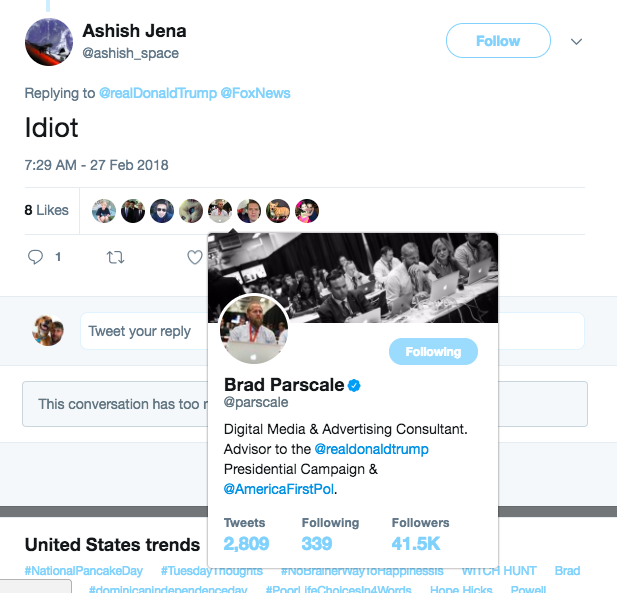 Here's another look:

@ashish_jena told the Daily Dot over Twitter that he does think President Trump is an idiot and was "surprised" by Parscale's like.
"Those are my views. He is surely not my president."
It's a view that he's reiterated often.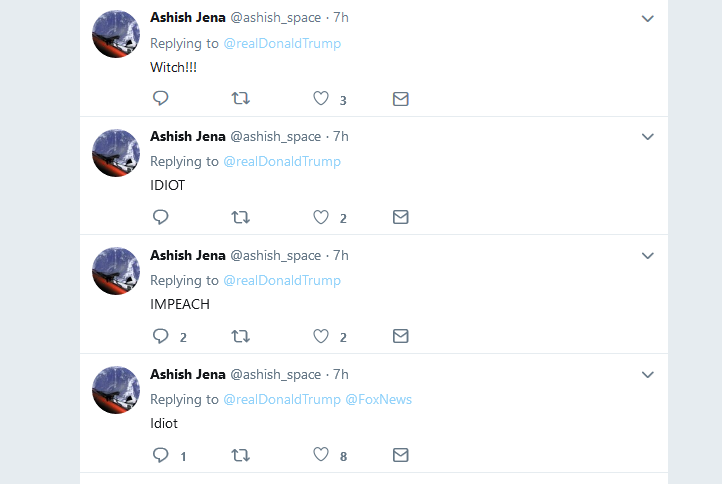 Parscale has been lauded for his digital-media savvy, but liking a tweet calling your boss an "idiot" is not the way you probably want to kick off your employment.
Parscale did not respond to a request for comment.