Over the last two months, the Occupy Wall Street movement has spread far past the alleyways and avenues of the Big Apple and into dozens of cities across America.
Now the movement is occupying U.S. currency.
This new incarnation is called Occupy George, and its message is spread through clever and insightful messages stamped on dollar bills in bright red ink.
Occupy George is the brainchild of Ivan and Andy, two 20-somethings from San Francisco. Due to the sensitive, and potentially illegal, nature of their work, they would not share their full names.
"My friend Andy was watching TV and saw people getting kicked out of their homes because they couldn't pay their mortgages, and that was sort of the tipping point," Ivan said. "He called me up and said, 'We got to do something about this. This is ridiculous.'
"So we wanted to find a way to covey the facts in a manner that wasn't just the same old, dry infographics. We wanted to find a new venue of conveying this information."
The pair started the movement about a week ago and have since distributed "a lot" of altered bills, working sometimes until 4 a.m. Most of the bills have been distributed in person through the exchange of regular dollar bills for ones with a stamp. People can also print out the illustrations on their own dollar bills using a template provided on their site. (Ivan would not comment on the specific number of bills distributed because of its potential legal consequences.)
The altered dollar bills are made with custom rubber stamps that feature illustrations about the share of income growth in America and the average worker pay versus the average CEO pay. In terms of communication, the pair wanted their message to be as clear and public as street art.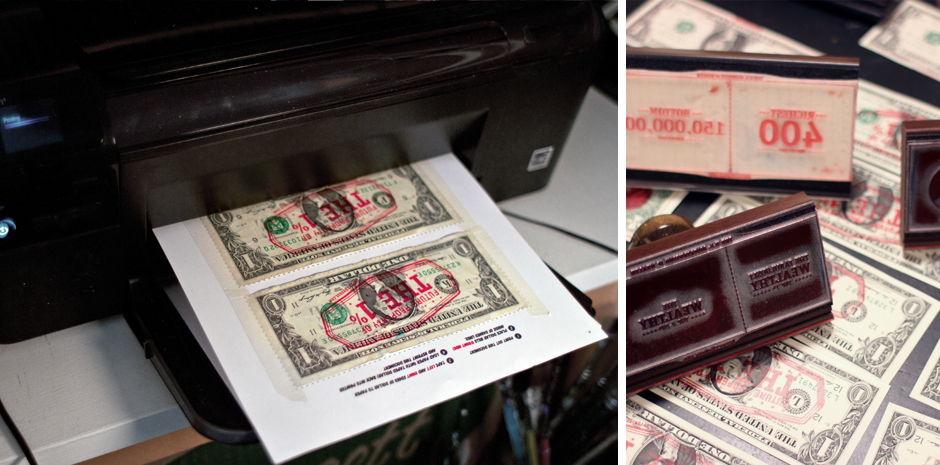 "The real magic sauce [with street art] is this idea that anyone one can go out, find a wall, and spread their message to the entire city," Ivan said. "And we feel like on a much more micro level, putting our artwork on the dollar bill allows it to be self-circulating. The more hands that goes through, the more informed people will be."
The pair have not been in any legal trouble yet, but they do recognize the perilous territory they've ventured into with this movement.
"From what we can tell, the law says that if you're defacing money with the intent to render it unusable, that's illegal," Ivan said. "But according to a disclaimer on the bottom of our site, we want this money to be spent as much as possible so that the maximum number of people are informed. We're just trying to gauge what our next step will be. In the planning process, it would be helpful to have a criminal lawyer who can advise us and let us know where we stand."
The two are working to develop a Facebook application and are also looking for a vendor to mass produce the rubber stamps. For now, Ivan and Andy hope that people will at least put the bills to good use.
"We've had some people email us looking to commission us to make a certain number of bills for money. People are treating it as art," Ivan said. "My hope is that people will circulate it and not keep the money."
Images by Occupy George.