Tumblr user Barack Obama, who also happens to be President of the United States, has some advice for his fellow social bloggers when it comes to higher education.
"It continues to be a very smart investment for you to go to college," Obama said, citing statistics that show how college graduates earn higher incomes than those with less formal education.
That being said, Obama sees American student loan debt, which has now ballooned to more than $1 trillion, as a serious problem.
In his first-ever Tumblr question-and-answer session on Tuesday, Obama discussed his newest executive order aimed at curbing student debt. Tumblr founder David Karp led the discussion at the White House, asking Obama questions submitted by the site's users.
Since it wouldn't be Tumblr without a GIF, here's a few from the event.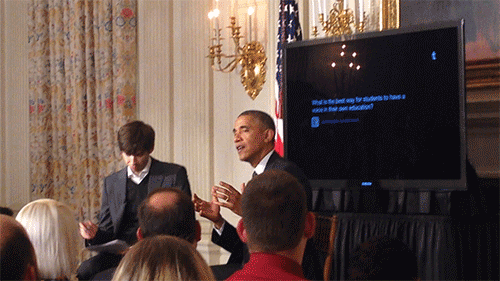 And, of course, a remix, just for fun:
As for the executive action announced by Obama on Monday, the move seeks to expand the pool of eligible beneficiaries in the "Pay As You Earn" repayment plan.
Currently, only those who borrowed after the law was passed in 2011 can take advantage from the plan, which limits participating borrowers' student loan payments to 10 percent of their income, and forgives any debt that remains unpaid after 20 years. Obama's action could extend this option to anyone with student debt as early as next year.
Critics of the program say it is underutilized because it's not easy to understand. Rep. Tom Petri (R-Wis.), a member of the Education & the Workforce Committee, has called it "too confusing and bureaucratic."
Much as he conveyed his healthcare message to a youthful audience by appearing on Zach Galifianakis' web series "Between Two Ferns" in March, Obama is aiming for a similar viral effect from Tumblr's users.
"There's not a lot of knowledge of [the income-based repayment plan], and I hope the Tumblr community helps spread the word," Obama said.
In addition to discussing the executive action, Obama offered advice to prospective students on a range of topics, from career paths to lack of women in engineering and science industries.
With the chat coming just weeks after a shooting rampage left six dead near the campus of University of California at Santa Barbara—and other ravaged a high school in Portland, Ore., not long before the Tumblr chat on Tuesday—Obama addressed school violence by expressing frustration that he has not been able to convince the public and Congress to move on gun-control reform.
"We're the only developed country on Earth where this happens," Obama said. "And it happens now once a week, and it's a one-day story."
For more, a full playback of the discussion between Obama and Karp is copied below.
Photos by the White House/Tumblr (CC BY-SA 2.0)