The leader of President Barack Obama's communications team suffered a rather unfortunate gaffe Tuesday when he failed to proofread a hastily-posted tweet. 
Dan Pfeiffer inadvertently used the N-word in a message to his more than 54,000 Twitter followers.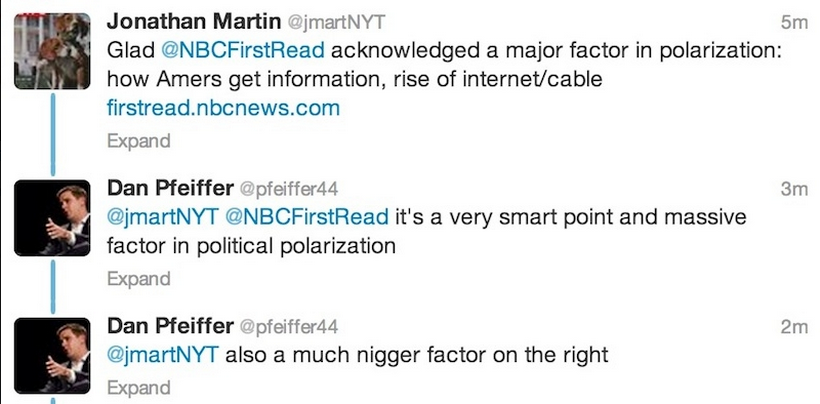 /
Screengrab via Hypervocal
Obviously, the word Pfeiffer meant to use was "bigger." He quickly deleted the tweet and issued an apology.
Obviously a horrendous typo in my previous tweet. My apologies

— Dan Pfeiffer (@pfeiffer44) October 8, 2013
But his prompt apology hasn't kept some from having a few laughs at his expense. 
Curse you autocorrect! Er, why is that word IN your autocorrect? https://t.co/Mgvz6VuQNi

— Michael Z Williamson (@mzmadmike) October 8, 2013
Freudian slip LOL @pfeiffer44

— ComfyPaws™ (@ComfyPaws) October 8, 2013
Others were not cutting him as much slack.
I'll accept @pfeiffer44's apology just as soon as he accepts Perry's rock story. Until then, his tweet is obvious evidence of closet racism

— Greg Pollowitz (@GPollowitz) October 8, 2013
Imagine, if you will, a right-wing pundit/activist/politician even accidentally sending out the n-word in a tweet. @jmartNYT @pfeiffer44

— SunnyRight (@sunnyright) October 8, 2013
Photo via Netroots Nation/Flickr