Today at its Windows 9 event, Microsoft announced… Windows 10. The Internet was mildly curious about the naming for the next version of Windows preceding the event, but no one called Microsoft's somewhat inexplicable move to jump a generation and head to the next even-numbered version of its operating system (in any seriousness, anyhow).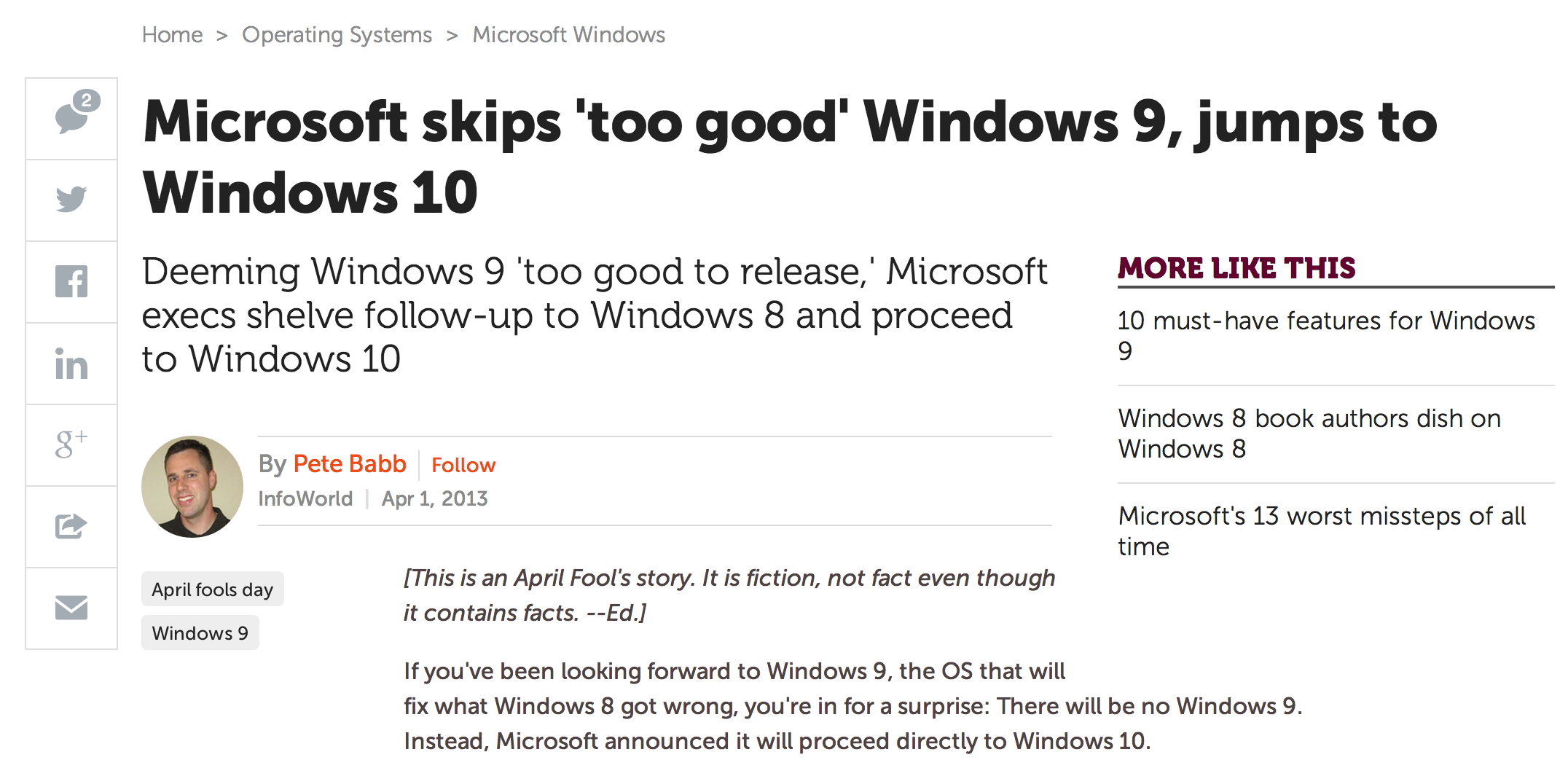 Windows 10 will mute the tiled interface introduced with Windows 8 without ditching it entirely, while addressing concerns around the disappearance of the Start Menu.
Introducing the best one yet. #Windows10 pic.twitter.com/LDPSJF6pUH

— Windows (@Windows) September 30, 2014
That much makes sense. But Windows 10? Is Windows 9 gagged and bound in a trunk headed toward the Puget Sound? No, really. What happened to Windows 9? As always, Twitter bears answers.
It will always be Windows 9 to me (because, um, I can count).

— dwight silverman (@dsilverman) September 30, 2014
Historically, good versions of Windows have had odd numbers (3, XP, 7). That's why Microsoft is skipping Windows 9. Oh, wait.

— Jean-Baptiste Queru (@jbqueru) September 30, 2014
So does this mean I can call my next game "windows 9"?

— Markus Persson (@notch) September 30, 2014
Windows 10. Because 7 ate 9.

— Nerd³ (@DanNerdCubed) September 30, 2014
Someone Microsoft doesn't like must have bought https://t.co/dBn5A7zq7c or something.

— Gareth Soye (@GarethSoye) September 30, 2014
But remember: We saw this coming. Uh, sort of.
Hey @infoworld, thanks for the scoop, in 2013! You DO have vision! https://t.co/uR3KCbJ6ng

— Santiago do Rego (@atilo) September 30, 2014